The Supreme Court granted bail to Lieutenant Colonel Shrikant Prasad Purohit on Monday in the 2008 Malegaon blast case, setting aside the Bombay High Court order denying him bail.
Purohit, a former Indian Army officer who was arrested two months after the Malegaon blasts, has already spent nine years in jail without trial.
Before being arrested, Purohit's stint in the army was described as "exemplary" according to Tehelka. Purohit joined the Indian Army in 1994. He was 22. A Lieutenant in 15 Maratha Light Infantry, he graduated from the Officers' Training Academy in Chennai before he became an intelligence officer, Tehelka reported. By the time he turned 46, he'd been named as 'accused number 9' in the Malegaon blast case.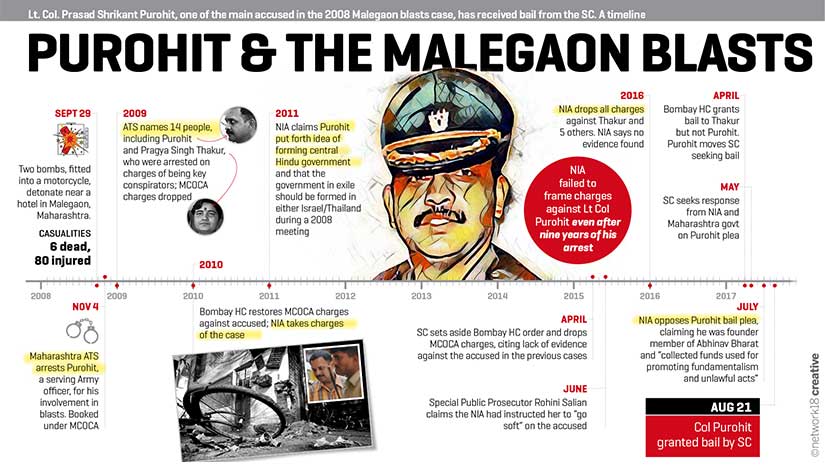 Between 2002 and 2005, Purohit was part of counter-terrorism operations in Jammu and Kashmir as a member of MI-25 and the Intelligence Field Security Unit, according to NDTV.
After being posted at Deolali near Nashik in Maharashtra, Purohit allegedly came in contact with Ramesh Upadhyay, a retired major who had set up Abhinav Bharat, an extreme Hindutva group, that Purohit became a part of, the report said. Upadhyay, too, is in jail.
Purohit has repeatedly denied that his association with Abhinav Bharat had anything to do with the blasts.
In an interview with Outlook, when asked if he is in trouble because of his right-wing views, Purohit said, "This is a tricky question, involving both the army services and sub judice matters. I won't be able to comment on this."
He added, "Having a particular ideology does not make me a terrorist or anti-national."
Seven people were killed in a bomb blast on 29 September, 2008, at Malegaon, a communally-sensitive textile town in Nashik district of north Maharashtra.
A special MCOCA (Maharashtra Control of Organised Crime Act) court had earlier ruled that the Maharashtra Anti-Terrorist Squad wrongly applied this law against Purohit, Pragya Singh Thakur and nine others.
The 4,000-page charge sheet had alleged that Malegaon was selected as the blast target because of its sizeable Muslim population.
Thakur, Purohit and co-accused, Swami Dayanand Pandey were named as the key conspirators. It alleged Pandey had instructed Purohit to arrange for RDX, while Thakur owned the motorcycle which was used in the blast.
Rakesh Dhawde, Shyamlal Sahu, Shivnarain Kalsangra, Sudhakar Chaturvedi, Jagdish Mhatre and Sameer Kulkarni are the other accused, along with Ramesh Upadhyay.
Purohit was accused of stealing 60 kg of RDX from the army — some of which was allegedly used in the Malegaon blast. He was also charged with funding and training Hindu extremist groups like Abhinav Bharat, which was believed to have planned and executed the blast, according to NDTV.
The report added that Purohit was stationed at the Army Education Corps Training College at Panchmarhi, Madhya Pradesh, where he was learning Arabic, when the police allegedly found and decoded some texts that he had sent out to Upadyay after the Malegaon blasts.
On 14 August, the apex court had set the date of 17 August to hear Purohit's plea, saying that the "matter requires lengthy hearing".
Earlier, a bench of Justices RK Agrawal and MM Shantanagoudar observed that the issue of granting bail to Purohit and cancellation of bail of Thakur needed detailed consideration, as both the pleas are on similar facts.
Purohit moved the apex court challenging the Bombay High Court's order dismissing his bail plea, while the father of one of the blast victims has challenged the Bombay High Court order granting bail to Thakur, alleging she was a "powerful person" and could influence the witnesses.
On 28 July, the NIA said there were "several incriminating circumstances" against Purohit, which proved his "deep involvement and complicity" in the 2008 Malegaon blast case, but there was no evidence against Thakur.
Although the Malegaon blast case initially made headlines as the first case of saffron terrorism, it remained in public discourse also because of military's role in the matter after Purohit's arrest.
Your guide to the latest seat tally, live updates, analysis and list of winners for Lok Sabha Elections 2019 on firstpost.com/elections. Follow us on Twitter and Instagram or like our Instagram or like our Facebook page for updates from all 542 constituencies on counting day of the general elections.
Updated Date: Aug 22, 2017 06:56:04 IST