2008 Malegaon blast case: Accused claims investigators tried to frame Yogi Adityanath to prove 'theory of saffron terror'
Sudhakar Chaturvedi, one of the accused in the 2008 Malegaon bomb blast case, on Wednesday claimed that investigators had tried to 'frame' Yogi Adityanath
Mumbai: Sudhakar Chaturvedi, one of the accused in the 2008 Malegaon bomb blast case, on Wednesday claimed that investigators had tried to "frame" Yogi Adityanath, the then BJP MP and current Chief Minister of Uttar Pradesh, and other Hindu leaders in it.
Chaturvedi, currently on bail, also alleged that Hindu activists were falsely implicated in the case by the erstwhile Congress-NCP government in a bid to prove the "theory of saffron terror" and for minority appeasement.
"During my questioning, I was asked questions related to my affiliation with the RSS and its chief Mohan Bhagwat. There were specific questions about Yogi Adityanath. They tried to frame him through me," Chaturvedi claimed at a press conference.
The blast case was initially probed by the Maharashtra ATS before it was taken over by the NIA.
He and another accused Sudhakar Dwivedi alias Shankaracharya were granted bail by a special NIA court last month. Chaturvedi and others have been accused of attending conspiracy meetings where the terror attack was planned.
Six people were killed and nearly 100 others injured when a bomb strapped to a motorcycle exploded in Malegaon town in Nashik district, about 200 kilometre from Mumbai, on 29 September, 2008.
"When I was arrested, the Congress-led UPA government, also comprising the NCP, was in power. We were falsely implicated to appease Muslim voters in a bid to prove the theory of saffron terror," Chaturvedi said.
He alleged that a "lot of hue and cry" was created when Sadhvi Pragya Singh and Lieutenant colonel Prasad Purohit were granted bail in the blast case.
While the Sadhvi, accused of plotting the blast, was granted bail by the Bombay High Court in April this year, the Supreme Court granted the relief to Purohit in August.
Chaturvedi questioned why no inquiry was ordered against an ATS official who was named by the NIA in its supplementary chargesheet for planting RDX at his residence in Deolali near Nashik.
Chaturvedi said he suspected that an attempt was being made to "save" fugitive underworld don Dawood Ibrahim's brother Iqbal Kaskar, arrested by the Thane Police in an extortion case.
"The arrest of Iqbal Kaskar is a big thing. But not much has been made public about the statements he has given (to police) which raises suspicion that there is an attempt to save him," he claimed.
Explainers
Rahul Gandhi has joined a small 'infamous' club of politicians who have been disqualified as MPs or MLAs after being convicted in a crime. Here's a look at the other prominent names
Explainers
Ex-US president Donald Trump failed to disclose gifts worth $250,000 given to the First Family by foreign leaders, including $47,000 from Indian leaders. Among the gifts were cufflinks by Prime Minister Modi, a rug by former President Kovind, and a vase by Uttar Pradesh CM Yogi Adityanath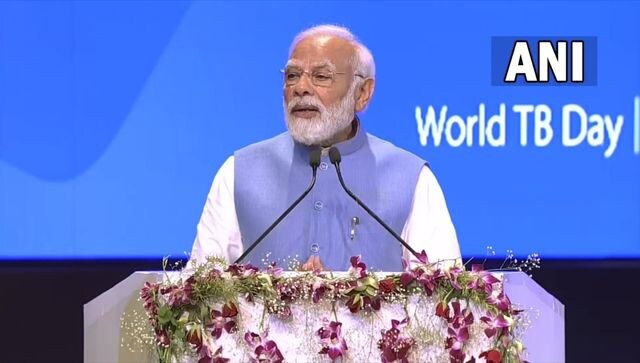 World
2030 is the global target to eradicate TB but India is now working on the target of ending TB by the year 2025: PM Narendra Modi at the 'One World TB Summit' in Varanasi, Uttar Pradesh.