19th India-Russia summit: Defence plans, North-South corridor, nuclear ties on agenda as leaders meet in backdrop of US sanctions
As India and Russia prepare for the 19th India-Russia summit on 5 October, much attention is on the meeting between Narendra Modi and Vladimir Putin.
As India and Russia prepare for the 19th India-Russia summit on 5 October, much attention is on the meeting between Prime Minister Narendra Modi and Russian president Vladimir Putin. In the light of US sanctions on Russia and India's growing bilateral relationship with the US, Russia's cooperation with China, and anticipation of several deals being signed, the 19th summit between the two neighbours assumes major global significance.
Putin is scheduled to arrive in New Delhi on 5 October. The upcoming summit comes after an informal meeting between Modi and Putin in Russia's Sochi city in May this year. The aim of the informal summit was to use the friendship and trust between the two countries to create convergence on key global and regional issues.
The October summit is likely to have important government-to-government (G2G) agreements for the 'Make-in-India' project. Also likely to be included in the agenda is the discussion regarding the North-South Corridor which will allow for a shorter route from Mumbai to Europe through Iran, Armenia, Azerbaijan, and Russia. Further, the training of astronauts for India's first manned space mission 'Gaganyaan' for 2021 is likely to happen in Russia's Star City.
India-Russia defence ties
With almost 60 percent of India's defence arsenal comprising of Russian-made arms, defence plans are likely to be top priority during the summit. Earlier in September, defence minister Nirmala Sitharaman had indicated that India will not allow its time-tested security ties with Russia to be impacted by the US sanctions on military transactions with Moscow.
Russia has been one of India's key suppliers of arms and ammunition. After years of negotiations, both countries are on the verge of inking a Rs 40,000 crore deal to procure S-400 Triumf air defence missile systems for the Indian Air Force. On 17 September, the defence minister had said that negotiations on the S-400 missile deal with Russia were almost complete, hinting that India was on course to finalise it soon.
"India has maintained its sovereignty as regards to its relationship with countries. We shall maintain it in all earnestness," she said. The deal is currently with the Cabinet Committee on Security for final consideration.
The Economic Times reported that Russian officials said that India would need to sign the deal by the end of this year for the arms to be delivered by 2020, which is the timeline New Delhi is aiming for. The S-400 system has been ordered by China, for whom the deliveries are almost in order, and also by Turkey, Saudi Arabia, and Qatar. In 2016, defence plans showed that the S-400 would save Rs 49,300 crore for the taxpayer over the next decade, as it would significantly cut the costs of short and medium range missiles.
However, the US' imposition of CAASTA (Countering America's Adversaries Through Sanctions Act) law, which is partly aimed against Russia, has caused some uncertainty about the deal. CAATSA mandates the Donald Trump administration to punish entities engaging in significant transaction with the defence or intelligence establishment of Russia.
In 2016, India and Russia signed an agreement on the 'Triumf' interceptor-based missile system which can destroy incoming hostile aircraft, missiles and even drones at ranges of up to 400 kilometre. S-400 is known as Russia's most advanced long-range surface-to-air missile defence system.
Apart from the S-400 missiles, India and Russia might discuss plans for several defence systems in the October summit. According to reports, these are: Nuclear-powered attack submarines; AK-103 assault rifle worth $2 billion; Krivak/Talwar class stealth frigates for the Indian Navy; an agreement for the production of Ka-226 light utility helicopters which will be jointly manufactured by Hindustan Aeronautics Limited (HAL) and Russian company Rostec; and IL-78 transport aircrafts.
Nuclear ties
The discussions surrounding furthering the neighbours' nuclear relations are likely to include plans of a second site for a Russian nuclear plant in India. The Russia-supported Kudankulam Nuclear Power Plant (KNPP) is one of the largest nuclear power stations in India.
In Sushma Swaraj's visit to Russia earlier in September, a topic of priority was to negotiate a plan to expand civil nuclear partnership with Russia. At the moment, Russia is the only country to be in the process of construction of a nuclear plant in India.
In the past, Russia has been instrumental in the operations of India's third nuclear leg which included the nuclear-based submarines armed with ballistic missiles.
During the 5 October meeting, India and Russia are likely to sign a deal which will signify the former's increased investments in Russian oil fields. India is hoping to develop energy ties as one of the strong stilts of the strategic partnership.
US' relations with India and Russia
In spite of US sanctions on Russia, India has signalled a determination to maintain defence ties with Moscow. However, In the first week of September, a senior US official said that there would be no blanket waiver for defence trade with Russia.
The India-Russia summit comes on the heels of the 2+2 dialogue between India and the US. The dialogue ended with the signing of the Communications Compatibility and Security Agreement (COMCASA), which will allow Indian military platforms to access US tactical communications and purchase sensitive electronic equipment, according to India Today.
During the dialogue, no official position had been taken on whether CAATSA would be invoked against India.
A source of concern for Russia is India's growing equation with the US, after the signing of the COMCASA this year and 2016's Logistics Exchange Memorandum of Agreement (LEMOA), which allows for Indian warships and aircraft to refuel in US military bases and vice versa.
An India Today report, 'Ballet with the Bear',  said that, "Russia has now insisted India sign similar protocols with them, hence, one of the items on the agenda of the India-Russia summit is believed to be a LEMOA-like logistics supply agreement," adding that, "Signing such agreements with Russia will help the Modi government balance the relationship with Russia and the US, both of which are needed at this critical juncture."
In the past few months, India and Russia have set up an arrangement as a possible way to work around the US sanctions by agreeing to conduct the transactions for the military purchases in rupees instead of dollars.
With inputs from agencies
World
After resistance, the US and Germany are poised to deliver battle tanks to Ukraine. Experts believe the latest arsenal could prove decisive in the country's survival as it mulls a spring offensive against Russian forces
World
Poland and the Baltic states drove the 'moral argument' to back Ukraine early in the war, when Europe's traditional leaders, France and Germany, appeared 'paralysed'. An expert says the conflict has 'confirmed the reality that Europe can no longer be ruled from Paris and Berlin'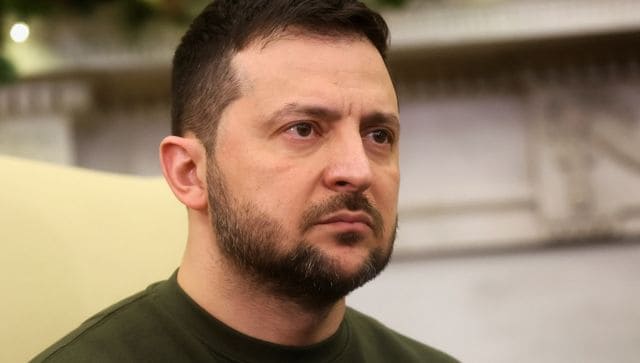 World
Ukraine is fighting two wars, one is against corruption. It has now launched a campaign to tackle the entrenched problem. But are dismissing ministers and raids on high-profile figures enough?