100th anniversary of end of World War-I: Memory of Indian soldiers who took part should evoke rage against British Empire
By valorising the sacrifices of Indian soldiers during World War-I, we insult the memories of those who resisted the empire—and exonerate those who sent soldiers to fight.
Editor's note: The month of November 2018 marks 100 years since the end of World War-I, fought between 1914 and 1918. The commemoration of Indian soldiers who fought for the British empire during World War-I remains a fiercely contested topic. In this article, the author argues that the memory of Indian soldiers who participated in the war is one that should evoke anger against colonial powers, rather than nostalgia. For a contrary opinion, read this article.
"God knows whether the land of France is stained with sin or whether the Day of Judgement has begun in France", Amir Khan wrote to his brother on 18 March, 1915, as the 129th Baluchi fought to breach the maze of German trenches facing them at Neuve-Chapelle. "There is now a deluge, bodies upon bodies, and blood flowing", he continued. "God grant us grace, for grace is needed. Oh God, we repent".
This month, as the world marks the 100th anniversary of the end of the Great War of 1914-1918, Indians are being called on to commemorate the sacrifices of the 1.4 million of their countrymen who fought in it.
Fallen soldiers from British India, Hindu, Muslim and Sikh, have already been honoured at memorials in the United Kingdom in France. India's prestigious United Services Institution has even joined the British High Commission in New Delhi to mark the occasion.
This ought to be an occasion for rage, not nostalgia-suffused remembrance: rage against the Empire, and also the Princes and politicians—among them Mahatma-in-making Mohandas Gandhi—who collaborated in sending them to die in a foreign land for a foreign king.
Indian troops landed in France at the end of September, 1914. The Great War, it was already clear, would be won by the side that had more soldiers available to feed the trenches. Providing half the attacking force at Neuve-Chapelle and handling key operations at the Battle of Loos, Indians also participated in the counterattack at Ypres after Germany's epoch-defining April, 1915, use of chlorine poison gas.
From historian David Omissi's monumental work on soldiers' letters home, we have some sense of the hell that became their home.
"At some places corpses are found of men killed in 1914, with uniform and accoutrements still on," soldier Daya Ram wrote to his family in Ambala. "Large flies, which have become poisonous through feasting on dead bodies, infest the trenches, and huge fat rats run about there".
Rajbir Singh, twice injured in battle, and about to go back to the trenches again, made this pithy observation: "The butcher does not let the goat escape."
Indians played a key role in making these peasant recruits available to the Empire. "Gandhi", the historian Aaravind Ganachari has noted, "who received the Kaiser-i-Hind (first class) in 1915, was a 'recruiting agent' for the British from the beginning".
In one speech at Ahmedabad, Gandhi invoked memories of its conquest by Muslim warlords: "To wipe out the blot on the face of Gujarat, people should take to careers in army. This is the best way of learning to defend Ahmedabad. In another, at Ras, he claimed "voluntary recruiting is a key to swaraj and will give us honour and manhood".
Popular enthusiasm was limited. L Robertson, a senior bureaucrat, delicately called for "a measure of coercion, [though] the name may be avoided". In Bijapur district, that meant village-level quotas, "selected by ballot or any other method".
Even millions more, economic historian Amiya Bagchi has demonstrated, paid with their lives thousands of kilometres from the battlefield. Imperial Britain's government paid a staggering £1 million outright in 1914, and another £20-£30 million annually, to fund the war.
Large-scale levies of wheat and rice were extracted from India, by a small cartel of Imperial companies. Faced with war-time economic pressures, the imperial government did not declare a famine in many districts desperately needed it.
Following the end of the war, a global influenza broke out; in India, it would extract a macabre toll among a population weakened by years of enforced famine. From July 1918-November 18, alone, it claimed 800,000 lives.
Bar Bengal, every single major British Indian province showed a decline in population between 1911 and 1921—the censuses bracketing the years of the Great War.
This was, simply, a genocide.
For eleven rupees a month, for the honour of their castes and communities, for the prospect of land, and possible favour with the colonial bureaucracy, 62,000 Indians gave their lives. They did so, too, because politicians promised them India would be rewarded by its grateful rulers. Instead, India got mass killing—and the anaemic Montague-Chelmsford reforms of 1919.
That we are commemorating the fallen of 1914-1918, not the millions starved during that war, illustrates that something is profoundly rotten at the core of our culture.
Indians who fought to save empire in 1914-1918, it is true, ought not be reviled: they were victims of a culture of servility that sustained the empire. It is important to remember that serving the empire was a choice; others joined the ranks of the Ghadar movement, or the Bengal terrorists.
By valorising the sacrifices of India's Great War dead, we insult the memories of those who did resist the empire—and exonerate those who sent soldiers to fight, and die, for a foreign king.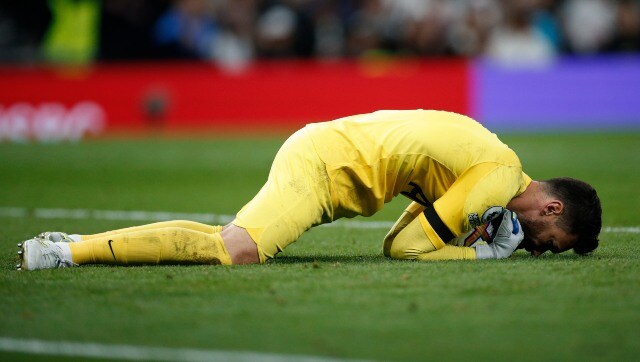 Football
Lloris suffered a right thigh injury while Hernandez has a torn right adductor, further weakening the world champions who have been hit by a wave of injuries.
World
EAM S Jaishankar arrived in New York on Sunday to participate in the high-level 77th session of the UN General Assembly, which kick-starts 20 September with the opening of the General Debate
Football
Mbappe and his advisers argue that current image rights deal with French federation is unfair because images of some high-profile players are used more often than others.