Things heated up a bit between Indian off-spinner Ravichandran Ashwin and former South African batsman Herschelle Gibbs on Monday. There was a jibe, an angry retort that was as caustic as mocking and then an eyewash of an effort to patch up.
Ashwin had posted on Twitter his approval of a running shoe brand with which he was associated, praising its design and comfort, among other things. Gibbs, however, decided to engage in a bit of leg-pulling, tweeting to Ashwin, saying that he hoped the new brand of footwear helped Ashwin to "run faster".
Ashwin, for all his guile with ball and bat, wasn't exactly known to be the fittest player to have ever set his foot on the cricket field. So understandably, Gibbs' tweet would not have gone down well with the ace spinner, and it didn't.
"Surely not as fast as you did, mate, unfortunately I wasn't as blessed as you were. But I was blessed with a wonderfully ethical mind not to fix games which put food on my plate," Ashwin replied, venom dripping from every word.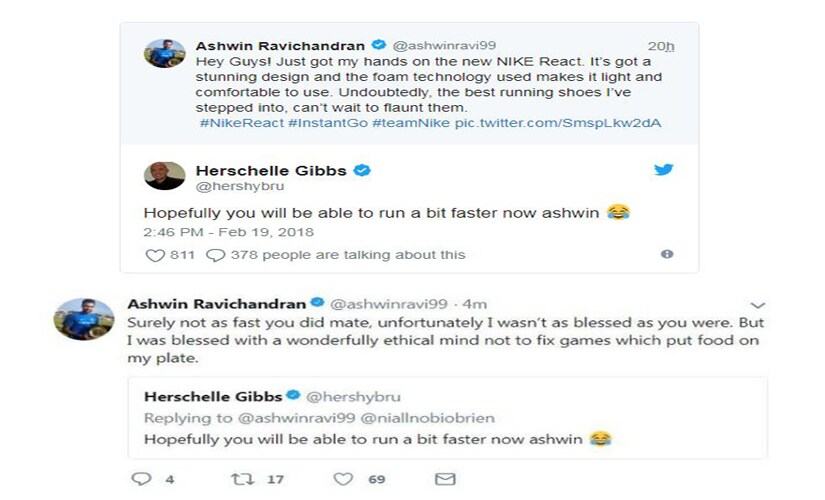 One would remember, Gibbs was alleged to have been involved in the match-fixing scam which shook the cricket world to its core at the start of the millennium. He was for a long time hounded by the Delhi Police, which made him avoid tours to India.
In 2006, he accepted that he was offered money to 'throw' matches in 2000 and that the message was passed onto him by the disgraced former South African skipper, the late Hansie Cronje. Gibbs, however, was named in the South African squad for the 2006 Champions Trophy in India and had to visit India and talk to the Indian authorities. In 2008, he joined the Deccan Chargers franchise in the in the Indian Premier League (IPL).
Gibbs tried to douse the fire with a subsequent tweet, and Ashwin made a rather ungainly attempt to mend frayed nerves.
Can't take a joke i see?? anyway moving swiftly on..

— Herschelle Gibbs (@hershybru) February 19, 2018
Ashwin later deleted his tweet, saying that: "What's sensitive to me isn't to someone else, and what's sensitive to you isn't to me."
What's sensitive to me isn't to someone else, and what's sensitive to you isn't to me. I want to respect my family of fans and hence pulled the tweet down, and now entertainment over for all my haters. See you later?? — Ashwin Ravichandran (@ashwinravi99) February 19, 2018
However, he was given a dressing down by the Twitterati for what was perceived as a boorish reaction. Here is a collection of tweets:
Somebody please tell Ravichandran Ashwin that Herschelle Gibbs didn't coach Chahal and Kuldeep Yadav..

— Writer Thakur (@IndianWriterV) February 19, 2018
Sorry Ashwin, but this is harsh. @hershybru is a legend of the game and do you have proof that he fixed the match? I'm an Indian and I dont expect a player like you who is representing #IND to disrespect other players. We all know what CSK did, your former IPL team.

— Tejan Shrivastava (@BeingTeJan) February 19, 2018
unnecessary from @ashwinravi99 ! nothing wrong in what @hershybru tweeted. and by the way Gurunath Meiyappan fans aka CSK players should never utter any word about "ethics" in cricket! https://t.co/pJRJsxqeBN

— Amol (@Imamol97) February 19, 2018
Instead of insulting other cricketers, R Ashwin should concentrate on improving his form to outclass Chahal-Kuldeep Jodi. https://t.co/MyeAFmMy1J

— Mihir Jha ?? (@MihirkJha) February 19, 2018
No one supports him.... Is it necessary to bring that issues now..... And who is that cricketer who supported the betting king by saying Meiyappan just a cricket enthusiast??

— Recruiter (@Kingsleyrules6) February 19, 2018
Lmao, maccha himself had his boss and team CSK banned for fixing and is giving sermons to other about fixing. #TeamGibbs

— Arsenélogist (@IconicArsene) February 19, 2018
It wasn't a joke ash. It was an insult. Getting too personal was uncalled for.

— Sairith Stevens (@Psyrith) February 19, 2018
Lol. What idiotic cover up! Pull up bro! Frustration of not being in team is getting better of you. A simple apology would have been nice but you are still neck deep in arrogance. Not your fan anymore.

— THE SKIN DOCTOR (@theskindoctor13) February 19, 2018
Too late to cover it up dude. Funny that you got enraged over an obvious observation ??. Hopefully those Nike shoes somehow miraculously help you move ??

— Aayush Jain (@aayushjtweets) February 19, 2018
*On a date*

Girl: I will have the non veg platter. And you? Ashwin: I was blessed with a wonderfully ethical mind not to fix games which put food on my plate. — Iyeronical (@LosingMotion) February 19, 2018
Updated Date: Feb 20, 2018 10:09:29 IST