Is there anything else left to be written about Virat Kohli? Is there any plaudit that has not been used to describe him? Are there too many milestones that are still out of his reach? Are there too many bowlers or teams that have been spared his wrath? Is there a format of cricket where he has failed to sparkle? Has there been a role model bigger than him in Indian cricket who has been such a fine blend of batsmanship, captaincy and fitness? Perhaps the late Mansoor Ali Khan Pataudi or MS Dhoni would have come close on this count, but there is no gainsaying that Kohli is fast taking himself to a level where not many would even dream of reaching for many years to come. And he is not even 30!
The Indian captain slammed a double century in the first Test he played in 2017, against Bangladesh in Hyderabad, and ended the year with another double century, against Sri Lanka in Delhi. In between there were runs, runs and runs galore. Five centuries, three of them being double tons, and a fifty in the longform version of the game in 2017 tells you of a phenomenal conversion rate of fifties into hundreds and of hundreds into double hundreds. He played 10 matches last year, scoring over 1,000 runs at an average of over 75.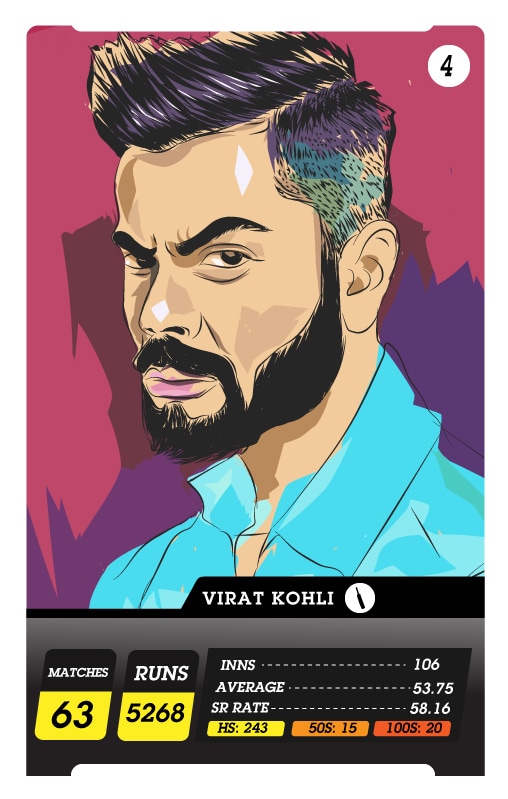 The year before was even better for him, when he amassed 1,215 runs over 12 Tests  at a rate of 75.93. Four centuries and two fifties again bear testimony to his tremendous conversion rate. Indeed after the trough of the Test series in England in 2014, there has been no stopping the Delhi batsman.
But there is more to Kohli than these numbers. Yes, they can be befuddling and can leave one dazed. But what Kohli also brings to the table as a batsman is his aggression, his technical skill of the highest calibre, and the sheer impact that he is able to make, over and over again.
And you don't have to look farther back than the Eden Gardens Test against Sri Lanka in November for an example. India had ridden roughshod over the Lankans when they visited the Emerald Isle only a few months back, blanking them across Tests, ODIs and T20Is. Nobody gave the islanders even the slightest of chance. But then the pitch at a rain-soaked Kolkata was a bowlers' paradise and Suranga Lakmal and Co were all over the Indian batsmen.
Soon the hosts were reduced to 50/5 and then 79/6, with Kohli getting an 11-ball blob. It took a resolute Cheteshwar Pujara to take India to a score with a semblance of respectability, with some steadfast support from the lower order. Sri Lanka took a 122-run lead, but with one-and-a-half days' play left and two innings still to be played, and with the spectre of rain and bad light looming large, it looked next to impossible to get a result.
But Kohli had other ideas. India's reply was strong and they were 171/1 at the end of Day 4. Kohli came in early on Day 5 at the fall of KL Rahul's wicket, and looked like he had a job on his hands. He wanted to win the match. He soon lost Pujara, but he wanted to make amends for the first innings failure, and the bowlers who were looking like incarnations of the Wasim Akram and Allan Donald were soon looking pedestrian in the face of Kohli's assault.
He raced to his century, going into overdrive after Wriddhiman Saha's dismissal and got to his 50th international century with a six. After Pujara's departure, Kohli hardly got anybody to stay with him for any substantial length of time at the other end. But Kohli is a one-man army. Ajinkya Rahane, Ravindra Jadeja, Ravichandran Ashwin, Saha and Bhuvneshwar Kumar came and went, but Kohli was unfazed. It looked like he was playing a different match and on a different wicket altogether.
And then came a bold declaration, just before tea. India needed 10 wickets in little more than a session, Sri Lanka needed 231 to win. But really going after the target wouldn't have been at the top of their agenda; it was the thought of surviving on a spiteful fifth-day pitch that would have hounded the visitors. From a position of hopelessness after the first two days, India, on the other hand, suddenly found themselves in with a fighting chance of winning. And here lies the magnificence of Kohli, for he turned the game completely on its head, and almost single-handedly.
The situation was tailor-made for the Indian pacers. Mohammed Shami, Bhuvneshwar and Umesh Yadav scythed through the Lankan batting line-up, and had the visitors tottering at 75/7 by the 27th over of the innings. In the end, fading light came to Sri Lanka's rescue and at least 20.3 overs could not be completed. The Indians stopped a whisker short of what would have been a thoroughly deserved victory, but nobody saw the script unfolding the way it did when the Lankan pacers were breathing fire in the early part of the match. And it couldn't have been possible without Kohli. Remember this was a match in which, as pointed out by VVS Laxman, more than 180 overs were lost to inclement weather and poor light.
The next two innings saw Kohli score two more centuries, making it a hat-trick of centuries in the series, and what's more, the last two were double tons. His scores after the duck in the first innings in Kolkata read 104*, 213, 243 and 50. He became the first Test captain to score three back-to-back centuries in a three-match series. He ended the year like he started — on a high. In 2016 too, he very nearly started and ended his Test engagements with double tons. He scored 200 against the West Indies in Antigua in the first Test he played in 2016, with which he broke Mohammad Azharuddin's over two-decade-old record of the highest score by an Indian captain in an overseas Test, and collected another double century in the penultimate innings of that year, against England in Mumbai.
One can't be blamed if he finds himself lost in the maze of statistics that Kohli has already made his own, and on which yards of newsprint have already been spent. But what really stands out is his ability to completely change the complexion of matches. He has done it on numerous occasions across formats — his 86-ball 133* in a ODI versus Sri Lanka in 2012, his innings against Pakistan in the Asia Cup in 2016 and that against Australia in the World T20 the same year readily come to mind. He scored a sublime 141 in his very first match as Test captain, nearly helping India chase down a mammoth 364-run target on the final day against Australia in Adelaide in 2014. He was the first Test captain to score three centuries in his first three matches at the helm of the side.
Kohli's record in Tests against South Africa is a bit middling, compared to those against Sri Lanka, New Zealand and Australia, and considering the incredibly high standards he sets. He started with a bang against the Proteas, hitting 119 and 96 in his first Test against them, in Johannesburg in 2013, but has been able to score only one other half-century in the eight innings he played thereafter. He has scored 472 runs against the Proteas at an average of 47.2. He will be looking to improve on this record. He is fresh after his marriage and should be raring to go. When asked at a press conference before the team's departure to South Africa, he made it clear that the break didn't take his focus away from the game.
"I was away for something which was much more important in my life but I had been training. Switching back to cricket was not difficult at all. Cricket is in my blood," Kohli said.
His success will be crucial if India are to have any chances of winning the Test series in South Africa, something that they have never achieved.
"This series will be about India's batting versus South Africa's batting," said India coach Ravi Shastri in a recent interview to CNN News18. "Both sides have very good bowling attacks. I think our bowlers will do a pretty good job; it will be how our batsmen's stand up. If the batsmen stand up and put runs on the board, you could have a very, very competitive and entertaining series."
And that is where Kohli, the game-changer, figures prominently. If he strikes form, India could well be on their way to creating history in the Rainbow Nation.
Click here to read profiles of other Indian players involved in the India-South Africa Test series.
Click here for the full schedule, when and where to watch the matches, live coverage on TV, online streaming
Updated Date: Jan 02, 2018 10:12:00 IST