"ODIs will bring batsmen more into the game, so a good chance to make a statement and win our first-ever series here," Virat Kohli said in a pre-ODI series press conference.
After losing the first two Tests, India showed gumption and won the third Test with a complete team effort. The Indian pacers are in some form as they picked up 20 wickets in the last Test of the series played at the Wanderers, in Johannesburg.
AB de Villiers will be unavailable for the first three ODIs with a finger injury and this will be the first time since December, 2005 that South Africa will play an ODI against India without him. It will be a big opportunity for the player who comes in his place and captain Faf du Plessis confirmed that Aiden Markram will take his place.
"AB is not playing this game, so Aiden Markram is coming into his place, giving him an opportunity to bat in different places in the batting order, because I feel it's a great way to evolve your own game and learn in difficult situations and times in ODI cricket. So that will be a nice learning curve for him and hopefully it will yield some good runs for us," the South African skipper added.
It will be interesting to see whether India will go in with two spinners or not as they have been the game-changers for them in the middle-overs in the past two years. The big challenge for India will be to find a satisfactory answer to who bats at No 4. Shreyas Iyer has played well in his first ODI series, against Sri Lanka, while Dinesh Karthik has the best average among all the Indian batsmen at No 4 in the past two years.
The ODI series will be of six matches, so it will always provide a chance to both the teams to make a comeback in the series, but it will be vital for India to win as many matches as they can and as early as possible.
Let's look at some important numbers from ODIs played between India and South Africa over the years.
India have a poor record against South Africa in South Africa. They have won only around 18 percent of the matches that they have played against South Africa in the Rainbow Nation. Their five ODI wins in South Africa is the lowest that they have won in an overseas country against that particular country. This is taking into account countries in which India have played a minimum of five ODIs.
However, their record against the Proteas at home is 15-13, which is decent. Overall, South Africa have an advantage over India as far as ODI battles between the two nations is concerned.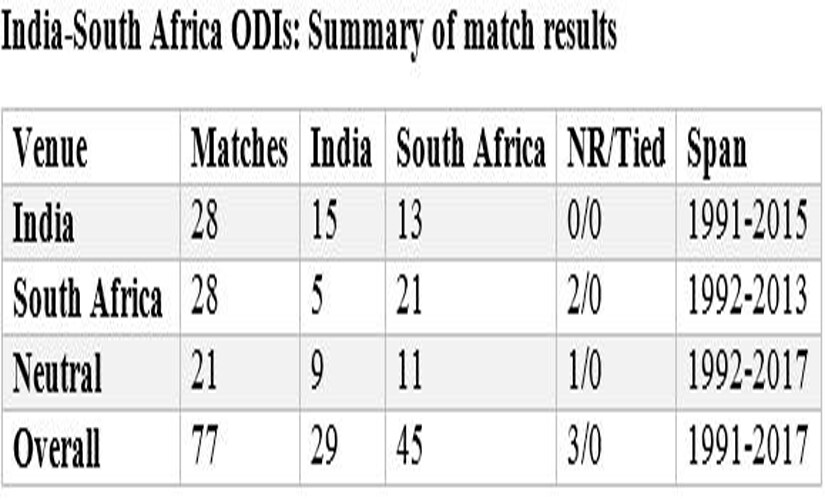 India have never won a bilateral ODI series in South Africa, while they have never lost a bilateral ODI series under the captaincy of Virat Kohli. So it is palpable that it will be a close battle in a 50-over format this time around.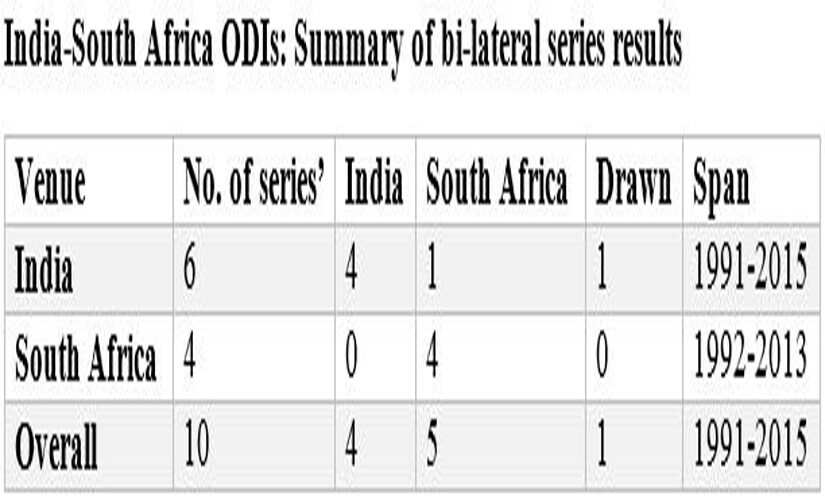 India have never won more than two matches in a bilateral ODI series in South Africa. They have to win either three or more than three matches to draw or win the series. It will be difficult but this Indian team is capable of doing so.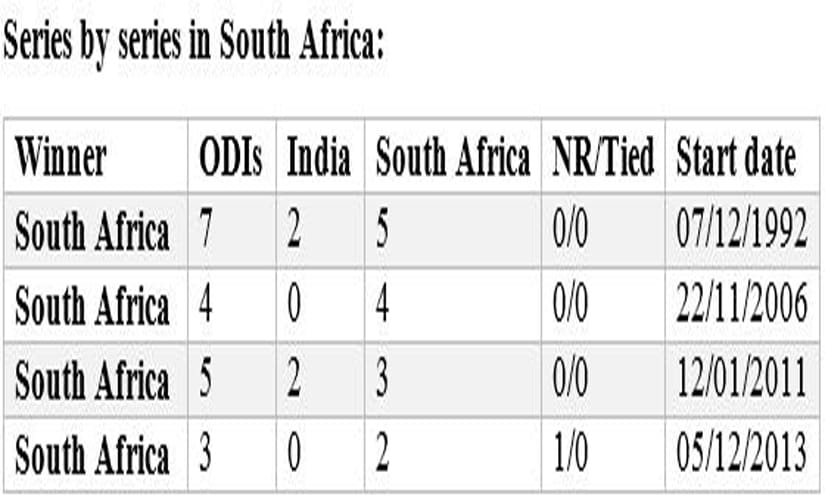 The two teams' recent form is somewhat similar but South Africa have won their last 17 ODIs at home which is the most number of consecutive matches won by a team at home in ODIs. They last lost an ODI at home against England at Port Elizabeth in 2016.
Recent form (past 10 ODIs) – Most recent shown first
India: W, W, L, W, W, L, W, L, W, W
South Africa: W, W, W, L, L, W, W, L, L, W
The first ODI will be played at Kingsmead, Durban where India have lost six ODIs which is the most that they have lost against South Africa at a specific venue. The onus will be on India to break the streak and open their account in the series.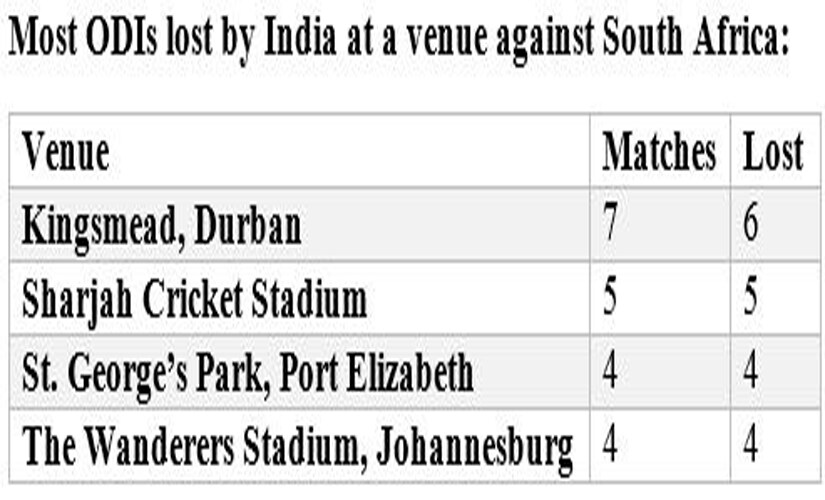 South Africa have the best win/loss ratio at home in ODIs in the past two years. They have played 19 ODIs and lost only two out of those. India will look to stop this juggernaut.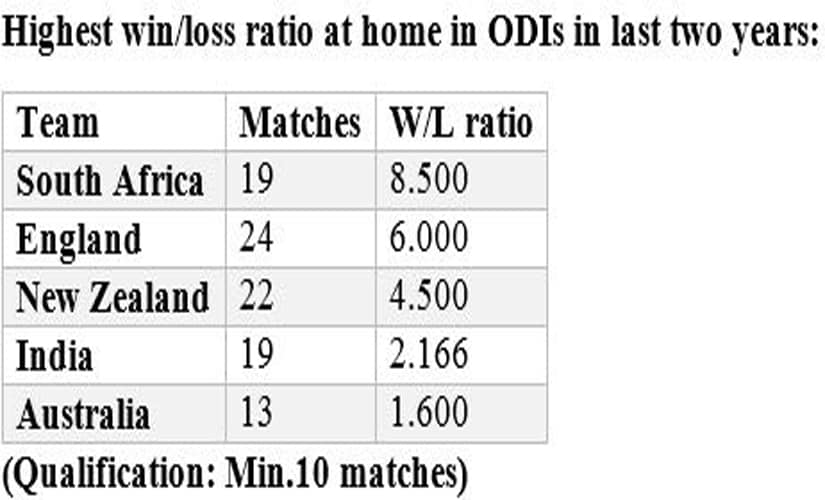 Virat Kohli has scored 32 hundreds in ODIs, but interestingly, he has not scored a ton in his ODI career in South Africa and it is the only country in the world where he has not scored a century. He has played 11 ODIs in South Africa and amassed 319 runs at an average of 45.57.
Rohit Sharma had a dream year in ODI cricket last year and his form will be crucial for India if they are to beat South Africa in the forthcoming ODI series. The following table shows that it will not be a walk in the park for Rohit as his batting average of 12.28 in South Africa in ODIs is the fifth lowest among all top-order batsmen who have at least played five innings in South Africa.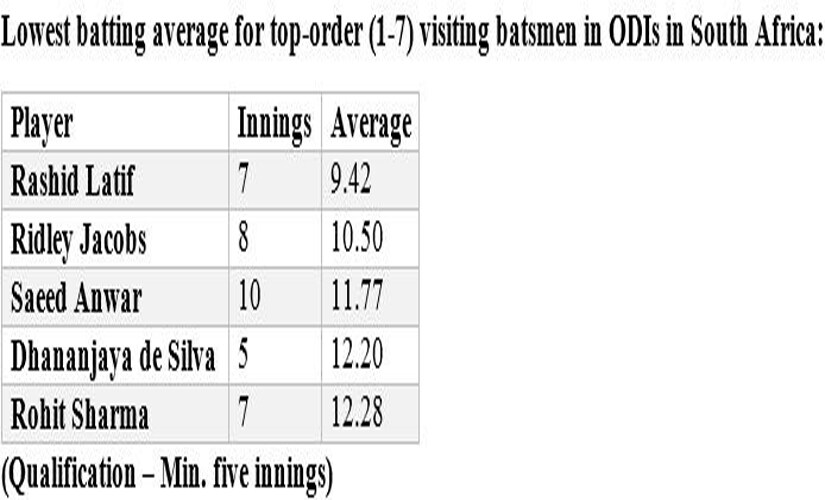 India have tried many players at No 4 in the past two years and none of their batsmen have batted at the least 10 times at that position. It's like a musical chair but it will now be important for India to give one player a longer run by keeping in mind the 2019 World Cup.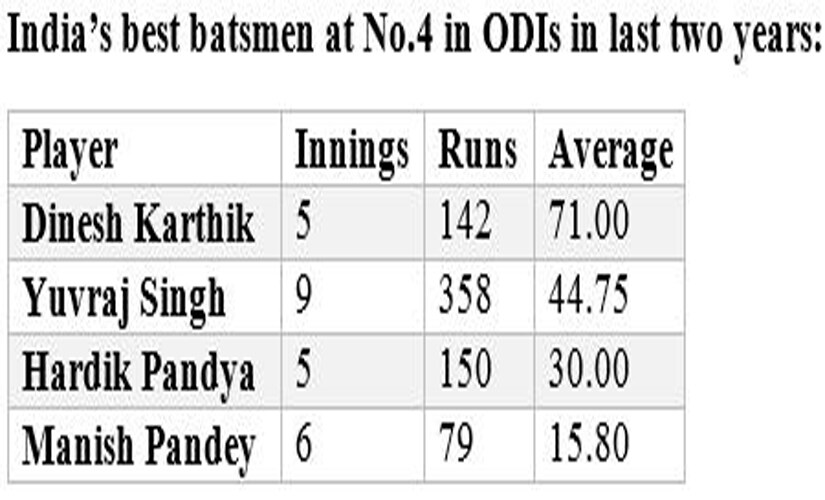 Some individual records in India vs South Africa ODIs in South Africa:
Highest total
India: 279/5 at Johannesburg in 2001
South Africa: 358/4 at Johannesburg in 2013
Lowest total
India: 91 at Durban in 2006
South Africa: 189 at Johannesburg in 2011
Highest individual score
India: 127 by Sourav Ganguly at Johannesburg in 2001
South Africa: 135 by Quinton de Kock at Johannesburg in 2013
Leading run-scorer
India: 553 by Sachin Tendulkar (average – 25.13) from 22 matches
South Africa: 532 by Jacques Kallis (average – 53.20) from 14 matches
Leading wicket-taker
India: 15 wickets by Zaheer Khan (strike rate – 31.7) from nine matches
South Africa: 23 wickets by Shaun Pollock (strike rate – 30.4) from 13 matches
Best bowling
India: 4/29 by Munaf Patel at Johannesburg in 2011
South Africa: 5/32 by Hansie Cronje at Cape Town in 1992
Most catches
India: Six by Sachin Tendulkar from 22 matches
South Africa: 12 by Graeme Smith from nine matches
Most wicket-keeping dismissals
India: 13 by MS Dhoni from 12 matches
South Africa: 15 by David Richardson from 12 matches
Most matches
India: 22 by Sachin Tendulkar
South Africa: 16 by Jonty Rhodes
Milestone alerts
- MS Dhoni needs to affect two dismissals to become the fourth wicket-keeper to affect 400 dismissals in ODIs.
- Dhoni needs to score 102 runs to become the fourth Indian batsman to score 10,000 runs in ODI cricket.
- Quinton de Kock needs to score 194 more runs in the next two innings to become the third fastest to score 4,000 ODI runs.
- Mohammed Shami needs to pick up nine wickets in the series to become the fastest Indian to take 100 ODI wickets.
Follow all the live updates of the first ODI between India and South Africa, here. 
Updated Date: Feb 01, 2018