What is NISAR, the NASA-ISRO satellite that will help scientists better understand climate change?
The NASA-ISRO Synthetic Aperture Radar (NISAR) will observe nearly the entire planet every 12 days, night and day, in all weather conditions. Likely to be launched into near-polar orbit in 2024, it will also help scientists gain a better understanding of the Earth's crust
The NASA-ISRO Synthetic Aperture Radar (NISAR) is all set to begin its voyage to India.
The NISAR, an earth-observation satellite jointly developed by NASA and ISRO, will help study the Earth's land and ice surfaces in greater detail.
Details about a launch remain scarce. Some have reported that NISAR will possibly be launched in September but others say the satellite will likely launch in 2024.
On Friday, ISRO chairman S Somanath visited NASA's Jet Propulsion Laboratory (JPL) to oversee NISAR's final electrical testing.
"Today we come one step closer to fulfilling the immense scientific potential NASA and ISRO envisioned for NISAR when we joined forces more than eight years ago," Somanath said at the formal send-off ceremony organised at the JPL which was attended by senior scientists from the two space agencies.
"This mission will be a powerful demonstration of the capability of radar as a science tool and help us study Earth's dynamic land and ice surfaces in greater detail than ever before," Somanath added.
ISRO Chairman S Somanath, JPL director Laurie Leshin, and dignitaries from NASA headquarters including Bhavya Lal, NASA's associate administrator for technology, policy, and strategy were present at NASA's Jet Propulsion Laboratory (JPL) for the send-off.
Let's take a closer look at NISAR:
Origins and aim
In 2014, ISRO and NASA signed an agreement to build the 2,800 kg satellite.
According to the NASA website, NISAR will help scientists to gain a better comprehension of the speed and impact of climate change.
It will also collect data aimed at helping people across the world manage natural resources and hazards better.
NISAR will also help scientists get a better understanding of the Earth's crust.
The satellite will help researchers detect slow-moving variations of a land surface that can precede earthquakes, landslides, and volcanic eruptions.
Data about such movements could help communities prepare for natural hazards such as the Joshimath land subsidence.
Measurements of melting sea ice and ice sheets will improve understanding of the pace and impacts of climate change, including sea level rise.
According to the NASA website, "NISAR will add a tremendous new data set to create new and greatly improve upon existing applications."
The space agency stated that the planned frequent and regular sampling of some of the world's most hazard-prone areas will result in data that will be a "rich source of information to guide development of applications and their associated scientific studies."
"They will be a reliable data source over the life of the mission for proactive planning for disasters, and will have a store of pre-disaster images available to rapidly understand what transpired in the disaster, leading to the development of actionable applications that could inform the government for consideration of future operational missions," the website stated.
The website added that access to these data would revolutionise water resource monitoring, infrastructure monitoring, and other value-added applications.
How will it work exactly?
Over the course of its three-year prime mission, the satellite will observe nearly the entire planet every 12 days, making observations day and night, in all weather conditions.
NISAR will systematically map Earth using two different radar frequencies – the L-band SAR provided by JPL and the S-band SAR built by ISRO.
As per NASA, NISAR will be the first satellite mission to collect radar data in these two microwave bandwidth regions.
These will monitor resources such as water, forests, and agriculture.
Engineers and technicians at JPL have been integrating and testing NISAR's two radar systems since March 2021 – when ISRO sent its S-band payload to NASA.
NISAR will gather radar data with a drum-shaped reflector antenna almost 40 feet in diameter.
As per NASA, the reflector, made of a gold-plated wire mesh, will be used to focus "the radar signals emitted and received by the upward-facing feed on the instrument structure".
It will use a signal-processing technique called interferometric synthetic aperture radar, or InSAR, to observe changes in Earth's land and ice surfaces down to fractions of an inch.
The instrument's imaging swath — the width of the strip of data collected along the length of the orbit track — is greater than 240 kilometers, as per NASA.
The mission will provide important earth science data related to ecosystems, Earth's surface, natural hazards, sea level rise, and the cryosphere.
The SUV-size payload will now be dispatched to the UR Rao Satellite Centre in Bengaluru.
There it will be merged with the spacecraft bus in preparation for a 2024 launch from Satish Dhawan Space Centre in Andhra Pradesh.
NASA on its website says it plans to launch NISAR into near-polar orbit.
NASA says it requires a minimum of three years of global science operations with the L-band radar, and ISRO requires five years of operations with the S-band radar over specified target areas in India and the Southern Ocean.
As per NASA, all the scientific data will be "freely available and open to the public" in accordance with its long-standing NASA Earth Science open data policy.
NASA has selected the Alaska Satellite Facility Distributed Active Archive Center (DAAC) to host the mission's data and products.
'Important milestone'
The event at JPL was marked by the ceremonial breaking of coconuts in front of a scale model of the satellite by NISAR project heads of NASA and ISRO Phil Barela and C V Shrikant respectively.
"This is one of the most complex satellites. The elements that are built by JPL are excellent," Somanath said.
The JPL director also presented the ISRO delegation with a jar of JPL lucky peanuts to be eaten during the launch of the satellite.
This marks an important milestone in our shared journey to better understand planet Earth and our changing climate," Leshin said.
"NISAR will provide critical information on Earth's crust, ice sheets, and ecosystems. By delivering measurements at unprecedented precision, NISAR's promise is a new understanding and a positive impact in communities. Our collaboration with ISRO exemplifies what's possible when we tackle complex challenges together," added Leshin.
Dignitaries from the US and Indian space agencies witnessed NISAR's science payload in a Jet Propulsion Laboratory clean room.
Somanath, Deputy Chief of Mission, Supriya Ranganathan, Counsellor Space, Krunal Joshi and NASA officials toured the High Bay 2 clean room, where they saw engineers and technicians putting the science instrument payload through final electrical testing.
With inputs from agencies
Read all the Latest News, Trending News, Cricket News, Bollywood News,
India News and Entertainment News here. Follow us on Facebook, Twitter and Instagram.
World
Environmental litigation against governments and fossil fuel firms has surged in recent years -- but this is the first case filed by Indonesians against a foreign company for climate-related damage. It is also the first instance of a Swiss company being sued for its alleged role in climate change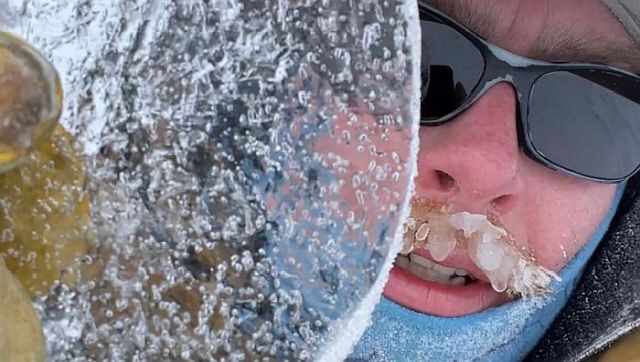 Explainers
A growing number of scientists are using the short-form video app TikTok to increase climate change literacy, campaign for action, and combat online misinformation. Some of them have gone viral
Explainers
The early days of March have seen record-breaking temperatures in parts of Argentina. Experts say that while the La Nina weather phenomenon has driven the heatwave, climate change may be making matters worse