Fishy Business: Tinned fish is running out in the US. It's TikTok's fault
The trend of 'tinned fish date nights' in which a person and their partner enjoy several canned fish items like sardines and anchovies has gone viral on TikTok, receiving millions of views. However, this surge in consumption has led to a supply shortage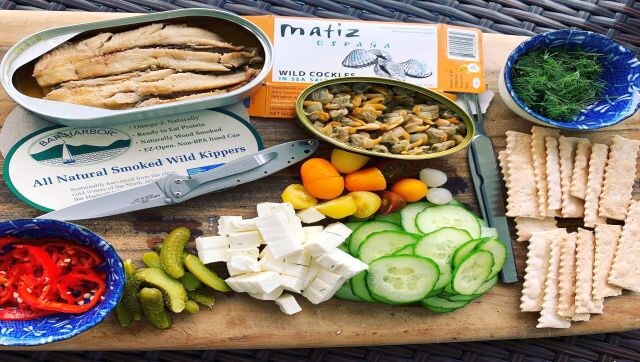 It's o-fish-ial: America is facing a shortage of tinned fish. Many Americans are complaining that they aren't being able to buy their favourite canned tuna, anchovies or sardines at stores.
But before you think to blame the Russia-Ukraine war or the supply chain or something more serious, think again. The shortage of canned fish in the US is being caused by none other than TikTok and the viral tinned fish trend.
Let's take a look at the fishy business going on.
TikTok and its love for tinned fish
Late last year, American chef and mumfluencer Ali Hooke uploaded a video of the "tinned fish date nights" she and her husband enjoy on TikTok.
View this post on Instagram
Soon enough, tinned fish date nights ¬— where you and your partner crack open a few tins of canned fish, surround them with other snacks and then dig in — became a viral trend and soon it was the 'thing' to do.
However, why would something as simple go viral? TikTok influencer Danielle Matzon may have the answer. She explained to TIME that the attraction to tinned fish may be the convenience of it all. "It becomes this gourmet snack that literally took five minutes to put together. I think that's what really resonated with my audience."
Harrison Weinfeld, a tinned fish expert who goes by @TheSardinfluencer on Instagram, says it has to do in part with the fact that people are becoming increasingly intentional about their food choices. He told PopSugar, "Like most things related to food in Europe, tinned fish is about coming together around the table to enjoy a leisurely meal. It's about community and slowness of experience. The tinned-fish boards we are seeing go viral are a natural progression of this history, offering a 'choose your own adventure' version, in which any destination is delicious."
Ali Hooke, who birthed the trend, attributes the boom to its accessibility because there are no cooking or culinary skills necessary to enjoy.
Today, tinned fish videos have received 27 million views on the platform and counting and there's even a tinned seafood subreddit with over 28,000 enthusiasts sharing their favourite brands, their favourite condiment pairings and everything else related to the topic.
According to Euromonitor International, sales of canned seafood shot up by 10 per cent (to $2.7 billion) in the US in 2022. Niche brands have been especially prosperous. Alaska's Wildfish Cannery doubled wholesale revenue last year whereas Vancouver's Scout Canning grew revenue 82 per cent to $4 million (Rs 32.6 crore).
And if the trend continues, the canned fish market size is expected to reach over $11 billion (Rs 89,664 crore) by 2027, as per IndustryARC.
Rise in demand, supply shortage
However, this rise in demand — which is being celebrated — is also a headache for retailers.
For instance, Patrick Martinez, founder of UK-based the Tinned Fish Market, says that he sources his products from Spain and Portugal, where canned fish is a popular cheap food option. However, the higher demands is leading to a delay of up to five months. "This type of artisanal production can't be scaled up easily," he told the Wall Street Journal.
History of canned fish
While America's young may have woken up to canned fish today, this food style has been around for years.
Fish canning emerged in the late 1700s in France as a solution to providing nutritious, shelf-stable foods for French military. The sterilisation and preservation process was invented by Nicola Appert, now known as the 'father of canning' and the new product caught on quickly and spread throughout Europe.
In the following century, Spain and Portugal emerged as leaders in the tinned fish category (which they referred to as "conservas"). What began as a utilitarian food source lauded for its lack of necessary refrigeration evolved into an artisanal, cultural delicacy.
Today, tinned fish's long shelf life, lack of refrigeration requirements, and recyclable packaging make it more environmentally friendly than many other meats.
With inputs from agencies
Read all the Latest News, Trending News, Cricket News, Bollywood News,
India News and Entertainment News here. Follow us on Facebook, Twitter and Instagram.
World
The Australian outback town of Lajamanu was shocked when it rained fish. However, this phenomenon called 'animal rain' is real and not a joke. Experts say it's caused by tornadic waterspouts, which pick up animals from the water and carry them across a distance
World
California Attorney General Rob Bonta said the petition alleges TikTok has failed to preserve some potentially relevant evidence, in the form of internal employee chat messages "and is hampering the investigation of Tennessee and other states across the country, including California."
Sports
Videos under the hashtag #Ozempic , a diabetes drug, have nearly 600 million views on TikTok, where many users regularly update followers about their weight loss. The drug's active ingredient, semaglutide, binds itself to the receptors of a hormone which controls blood sugar, stimulating the release