SOS: From India to the US, how the world is stepping up to assist earthquake-hit Turkey, Syria
After powerful earthquakes and aftershocks devastated Turkey and Syria, rescue teams from across the globe have joined hands to assist with the search for survivors buried under the debris. India has sent the first batch of the NDRF team and specially trained canine squads with crucial equipment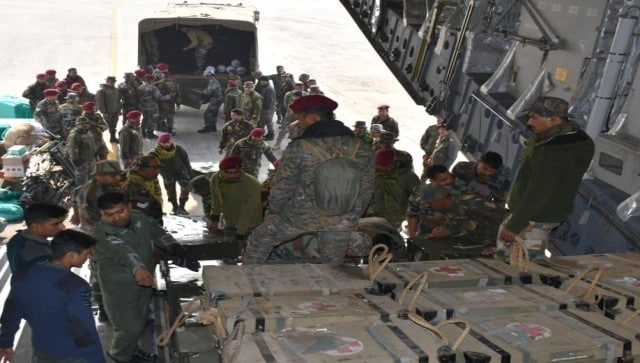 As powerful as 7.8 and 7.7 magnitude earthquakes struck southern Turkey and northern Syria, leaving a tremendous trail of destruction and human casualties.
It was Turkey's biggest disaster since a 1939 earthquake that killed over 33,000 people.
Over 4,300 people have been dead in both countries as a frantic hunt for survivors buried under the debris continues, reported AFP.
As per Associated Press, 5,400 people were injured, while around 2,470 people were rescued from collapsed structures.
Over 330,000 earthquake victims have been relocated to hostels and university campuses, reported The National News.
There are fears that the death toll will continue to increase inexorably, with WHO officials predicting that up to 20,000 people may have died.
President Recep Tayyip Erdogan has announced seven days of national mourning.
Several countries and organisations have pledged to help with rescue attempts in Turkey and Syria.
Rescue teams from around the world have begun to arrive in Turkey to help with the massive search for survivors buried under the wreckage after the quake destroyed numerous buildings.
Here is a list of worldwide mobilisation and aid offers received since the quake battered Turkey and Syria.
Also read: Turkey, Syria jolted by over 70 aftershocks after 7.8-earthquake: What are they and how destructive can they be?
India 
India has dispatched National Disaster Response Force (NDRF) teams with 100 personnel and specially trained canine squads, as well as vital equipment such as medical supplies, advanced drilling machines, and other critical aid instruments, to Turkey for search and rescue operations.
Prime Minister Narendra Modi-led administration also dispatched the first batch of relief material to Turkey aboard an Indian Air Force aircraft.
According to the Prime Minister's office, the Indian government has been working with Turkish authorities, and the decision to deploy emergency assistance was decided at a high-level meeting held by Dr PK Mishra, Principal Secretary to the Prime Minister, at the PMO in South Block.
According to his Principal Secretary, PM Modi directed his authorities to provide Turkey with all available support.
"It was decided that Search and Rescue Teams of NDRF and Medical Teams along with relief material would be dispatched immediately in coordination with the Government of the Republic of Türkiye," the PMO's statement read.
The UK
According to AP, the United Kingdom is sending 76 search-and-rescue specialists with equipment and dogs, as well as an emergency medical team, to the disaster-hit country.
The Britain government said the teams, due later Monday, were bringing equipment including seismic listening devices, concrete cutting and breaking equipment, and propping and shoring tools.
British Ambassador-designate Jill Morris said that "the British Embassy in Ankara is in close contact with the Turkish authorities to understand how we can best support those on the ground."
The UK also says it's in contact with the UN about getting support to victims in Syria.
Also read: Turkey, Syria earthquake kills more than 4,000 people: Why is the death toll so high?
The US
President Joe Biden called Turkey's President Recep Tayyip Erdogan on Monday to express condolences. The White House in statement said that Biden underscored "the readiness of the United States to provide any and all needed assistance" to its NATO ally Turkey.
As per AP, White House National Security Council spokesperson John Kirby said the Biden administration was sending two, 79-person urban search and rescue teams to support Turkey's efforts.
Biden and Erdogan discussed other assistance that may be needed by people affected by the earthquakes, including health services or basic relief items, according to the White House.
Japan
Japan's Foreign Ministry says the country is sending a group of about 75 rescue workers to Turkey to help in search and rescue operations, reported AP.
An advance team of 18 people, including officials from the ministry, police, the Fire and Disaster Management Agency, Japan Coast Guard and the Japan International Cooperation Agency, is to leave later Monday to set up their operation.
The ministry said Japan is dispatching the team as part of its emergency humanitarian support at the request of the Turkish government and based on humanitarian considerations as well as Japan's friendship with Turkey.
Also read: Can earthquakes be predicted? What Dutch researcher said about Turkey, Syria on 3 February
Russia
Russian Federation President Vladimir Putin told Syrian President Bashar Assad in a phone call Moscow will deliver urgent aid and send rescue workers to assist the earthquake-hit country.
According to the Kremlin's statement, the President has flown two Ilyushin-76 aircraft with rescuers on board to help with Turkey's rescue effort.
Russia's emergency ministry also noted that Putin has ordered 100 rescuers on alert.
Additionally, the Russian military in Syria has deployed 10 units numbering 300 people that started clearing the debris and searching for survivors, the Russian Defense Ministry said, according to AP.
"Please accept my deep condolences on the numerous human casualties and large-scale destruction … in your country," Putin said in a statement released by Kremlin. "We are ready to provide the necessary assistance in this regard," he added.
Ukraine 
The president of war-torn Ukraine, Volodymyr Zelenskyy, has sent a message of support to Turkey to offer assistance in the aftermath of the devastating earthquake that hit south-eastern Turkey and northern Syria on Monday.
"I am shocked to learn of deaths and injuries of hundreds of people as a result of the earthquake in Turkey," Zelenskyy wrote in a tweet.
"We send our condolences to the families of the victims and wish the injured a speedy recovery. At this time, we stand by the friendly Turkish people and are ready to provide the necessary assistance."
Notably, Ukraine has close ties with Turkey, which helped negotiate a Black Sea grain agreement last summer to resume vital exports as the war in the country continues.
NATO
NATO Secretary General Jens Stoltenberg said members of the alliance were mobilizing support to help Turkey deal with the aftermath of Monday's devastating earthquake.
Stoltenberg expressed "full solidarity with our ally Turkey in the aftermath of this terrible earthquake … NATO Allies are mobilizing support now."
In a tweet, Stoltenberg said he was in contact with Turkish President Recep Tayyip Erdogan and Foreign Minister Mevlut Cavusoglu. Several NATO members have already said they are planning to send support to help victims of the earthquake in Turkey and Syria.
Qatar
Qatar's Emir, Sheikh Tamim bin Hamad Al Thani, called Turkish President Recep Tayyip Erdogan and expressed his support. Qatar has extended its support for the "sisterly" country "in alleviating the devastating humanitarian ramifications of the earthquake," according to the state news agency QNA.
Pakistan
Pakistan has dispatched two troops of its army for rescue and relief operations, according to Pakistan-based BolNews.
According to the Inter-Services Public Relations (ISPR), among the troops going to Turkey, the Urban Search and Rescue Team includes experts, tracking dogs, and modern equipment, while a medical team consisting of army doctors, nursing staff, and technicians also left for Turkey.
Israel
Israel's newly elected Prime Minister Benjamin Netanyahu said authorities are preparing to send aid and assistance to Turkey following the deadly earthquake there. He added Israel was readying to send search and rescue teams and medical aid, after a request from Turkey's government.
Israeli Defense Minister Yoav Gallant stated that Israel's security forces are ready to be dispatched to assist the disaster-affected nations. Also, Israeli Foreign Minister Eli Cohen established a Turkish aid programme.
It should be noted here that the two countries, once close regional allies, are in the process of mending ties after years of tensions.
China
China is willing to provide humanitarian emergency aid to earthquake-struck Turkey and Syria, State Council's foreign aid agency said on Monday, according to Reuters.
China expressed condolences and concern for the loss of life and property, and is in communications with both Turkey and Syria, a spokesperson from China International Development Cooperation Agency said.
Turkey's archrival Greece
Neighbour and historic regional rival Greece Greece is sending Turkey a team of 21 rescuers, two rescue dogs, and a special rescue vehicle, as well as a structural engineer, five physicians, and seismic planning experts in a military cargo jet.
Prime Minister Kyrikos Mitsotakis expressed condolences to the Turkish people and provided support to those affected by the catastrophic accident.
Taiwan
Taiwan's foreign ministry said it would donate $200,000 (~ Rs 16.54 million) to help Turkey with the rescue efforts and was coordinating with Turkey about sending specialised search and rescue teams.
According to Republic TV, Taiwan is sending at least 40 firefighters, three search and rescue dogs, and four to five tonnes of aid to help Turkey with search and rescue operations.
South Korea
South Korea says it will dispatch a 60-person search and rescue team and also send medical supplies to Turkey, reported AP.
The regional government of Gyeonggi Province, near the capital Seoul, said it plans to provide $1 million (~ Rs 82.74 million) in humanitarian assistance to Turkey to support rescue efforts and the medical response.
Announcing the plan, South Korean President Yoon Suk Yeol described Turkey as a "brother nation" that swiftly sent troops to fight alongside South Korea during the 1950-53 Korean War.
European Union (EU)
The European Union is ready to send 10 search-and-rescue teams comprised of at least eight of its member countries, according to a statement from the European Commission. These search and rescue units are from Bulgaria, Croatia, Greece, the Netherlands, the Czech Republic, Romania, France, and Poland, according to AP.
The German Foreign Ministry stated that it is coordinating its humanitarian response with EU partners and is preparing to supply emergency generators, tents, blankets, and water treatment equipment.
It has also volunteered to send teams from the THW civil protection agency to assist with the response in Turkey. The group International Search and Rescue Germany was also planning to fly dozens of physicians and rescue personnel to Turkey late Monday.
Italian Prime Minister Giorgia Meloni declared that Italy's Civil Protection had been informed to prepare first aid for people affected by Turkey's terrible earthquakes. Turkey has been offered assistance by the country's Civil Protection Agency. A firefighting team was prepared to depart from Pisa, and the Italian military has stated that transport flights will deliver equipment as well as health and other personnel.
In a statement, Polish Interior and Administration Minister Mariusz Kaminski stated that a rescue group HUSAR, consisting of 76 firefighters and eight rescue dogs, will be sent to Turkey.
Spain has announced the deployment of urban rescue teams. According to the interior ministry, the Spanish military ministry has been working with officials to get the personnel to Turkey as soon as possible.
Romania is sending specialized personnel and material to Turkey on two military aircraft. Croatia is sending 40 men and 10 dogs, rescue equipment and vans to Turkey.
Serbia is sending 21 rescuers and three liaison officers, while Montenegro is sending at least 24 firefighters to Turkey. Moldova's president says 55 rescue workers have been sent to Turkey.
Separately, Switzerland's rescue dog service REDOG said it is preparing to send 22 rescuers with 14 dogs to the earthquake-hit region of Turkey.
Also read: From Turkey to Nepal, the deadliest earthquakes that rocked the world
Iran
According to Republic TV, Iran's Foreign Ministry spokesperson Nasser Kanaani said that it is making preparations to help the disaster-hit Turkey and Syria with humanitarian assistance as it is a "moral, human and Islamic responsibility."
Kanaani expressed "condolences and sincere sympathy," saying that the country is willing to assist victims and survivors. "If the presence of aid and health institutions from the Islamic Republic of Iran is required in earthquake-affected areas," he added.
WHO
UN World Health Organization head, Tedros Ghebreyesus, has ordered emergency medical teams to travel to Turkey. The organization's chief stated that WHO is prepared to give health care to people who have been hurt.
Hans Kluge, head of the WHO in Europe, said Monday that regional offices of the United Nations agency in the eastern Mediterranean were assisting the expanding international effort to swiftly transport medicine and relief equipment to quake-hit areas, as per AP.
Kluge wrote in a tweet, "Amid the devastation wrought by today's earthquake in Turkey ‒ a WHO Europe member state ‒ and Syria, deep condolences to all affected communities."
With inputs from agencies
Read all the Latest News, Trending News, Cricket News, Bollywood News,
India News and Entertainment News here. Follow us on Facebook, Twitter and Instagram.
World
Polish ambassador to France Jan Emeryk Rosciszewski blamed Russia for the hostilities which have been ongoing in Ukraine for over a year
World
Berlin has shifted away from a traditionally pacifist stance since Moscow sent its forces into Ukraine last year, becoming one of Kyiv's biggest military backers
World
Spokeswoman Oana Lungescu said the western allies had not yet "seen any changes in Russia's nuclear posture that would lead us to adjust our own"