Not Just Stormy Daniels: Donald Trump's affair with Playboy model Karen McDougal and the hush-money deal
The grand jury that indicted Donald Trump has heard evidence of another hush money payment made to Playboy playmate Karen McDougal. Experts say this could mean additional charges for the former president or that lawyers are attempting to show a pattern with regard to paying off women
News that Donald Trump was indicted by a Manhattan grand jury over his alleged involvement involving a payment made to porn star Stormy Daniels left many stunned.
But now it is being reported that the grand jury also heard evidence of a second hush money payment allegedly made by Trump over another affair – this time to Playboy playmate Karen McDougal.
Let's take a closer look:
How did Trump and McDougal meet?
McDougal was the Playboy playmate in the year in 1998.
She first met Trump at the Playboy Mansion in 2006, as per The New Yorker,
McDougal says Trump, who then had a newborn at home with his wife Melania, took a shine to her. She claimed their first date was in a bungalow at the Beverly Hills Hotel, as per The New Yorker.
McDougal says Trump tried to pay her after they became intimate.
"…I actually didn't know how to take that," McDougal told CNN's Anderson Cooper in 2018. "But I looked at him and I said, 'That's not me. I'm not that kind of girl.'"
She cried on the way home and didn't think she would see him again, but agreed to go on other dates with him after he called her back, she said. McDougal repeatedly described Trump as "very charming" and "sweet."
McDougal said she continued the relationship with Trump for about 10 months and broke it off in April 2007 because she felt guilty.
She recalled travelling to meet Trump at his properties in New York, New Jersey and California and said she had sex with him "many dozens of times."
McDougal had feelings for Trump, but the affair was "just tearing me apart," she said.
"There was a real relationship there. There were real feelings," she said. "He would call me baby or he would call me beautiful Karen."
This was the same period Trump was allegedly seeing Daniels – who was paid $130,000 in 2016 by Trump's then lawyer Michael Cohen.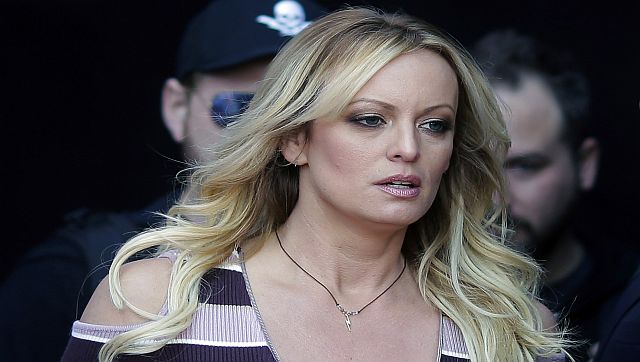 'Catch and kill'
McDougal says that when Trump became the Republican nominee in 2016, American Media Inc (AMI), publisher of the National Enquirer tabloid, paid her $150,000 for exclusive rights to her story.
McDougal said her lawyer at the time, Keith Davidson, secretly negotiated with Cohen.
The company suppressed McDougal's story until after the election, a dubious journalism practice known as "catch and kill."
Cohen has since acknowledged arranging to pay Daniels for her silence during the 2016 presidential campaign. He was sentenced to three years in prison in federal court in New York for orchestrating hush payments to Daniels and McDougal.
American Media Inc. has acknowledged that its payments to McDougal were done specifically to assist Trump's election bid and were made "in concert" with his campaign.
Pecker, AMI's former chief executive officer and a longtime friend of Trump and Cohen, told prosecutors of their hush-money deals with McDougal and Daniels before the 2016 U.S. election won by Trump, the Wall Street Journal reported in 2018.
McDougal in 2018 filed suit in California  seeking release from a legal agreement requiring her to stay silent.
"AMI lied to me, made empty promises, and repeatedly intimidated and manipulated me. I just want the opportunity to set the record straight and move on with my life, free from this company, its executives, and its lawyers," McDougal said.
McDougal during the 2018 CNN interview apologised to Melania.
"I'm sorry. I wouldn't want it done to me," McDougal said.
"What can you say except I'm sorry?"
McDougal said she never wanted to discuss her relationship and repeatedly rebuffed inquiries from reporters about the alleged affair.
But after the story became public, she wanted to get out and tell her side of what happened, she said.
McDougal also told CNN she was a Republican who voted for Trump.
As per The Guardian, evidence being presented to the grand jury about McDougal could either mean more charges for Trump or that lawyers are attempting to show a pattern in Trump's behaviour.
Trump has denied affairs with Daniels and McDougal.
With inputs from agencies
Read all the Latest News, Trending News, Cricket News, Bollywood News, India News and Entertainment News here. Follow us on Facebook, Twitter and Instagram.
also read
Explainers
Invented by French physicist Léon Foucault in the mid-19th Century, the pendulum provided the first laboratory demonstration in history to show that the Earth spins on its axis. The pendulum in the new Parliament is meant to symbolise the 'integration of the idea of India with that of the universe'
Explainers
Overweight people face prejudice from landlords, difficulty finding seating at restaurants and theatres, and are even paid lower wages. The new law, according to New York mayor Eric Adams, will help level the playing field and protect against discrimination'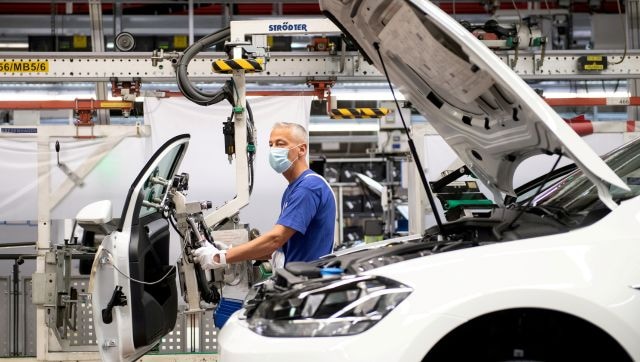 Explainers
Germany's GDP fell .3 per cent in the first quarter of 2023 following a .5 per cent decline in the last quarter of 2022. Though Chancellor Olaf Scholz described the outlook for the economy as 'very good' experts say this is a rude awakening for the country and the entire continent