French president, EU chief in Beijing: Why European leaders are flocking to China to meet Xi Jinping
French leader Emmanuel Macron and European Commission president Ursula von der Leyen are in Beijing to hold talks with Xi Jinping on several issues, including trade and Russia's invasion of Ukraine. Their joint trip comes within months of German Chancellor and Spanish PM meeting the Chinese leader
Two European bigwigs are in China as they seek to convince President Xi Jinping to use his influence with Russian leader Vladimir Putin to end the Ukraine war.
French president Emmanuel Macron and European Commission president Ursula von der Leyen will meet Chinese leader Xi on Thursday (6 April) in Beijing.
Before their meeting with Xi, Macron and von der Leyen separately met Chinese premier Li Qiang earlier today.
Their joint trip comes within months of other European leaders – German Chancellor Olaf Scholz and Spanish prime minister Pedro Sánchez – visiting the Asian country.
Why are Macron and von der Leyen in China? Can their trip bring peace to Ukraine? Let's take a closer look.
Boosting economic ties
The French president is in China, along with his finance and foreign ministers as well as a 50-strong business delegation, including nuclear energy group EDF and European planemaker Airbus.
China is the European Union's one of the biggest trading partners.
As per a CNBC report, Beijing was the third largest buyer of EU goods in 2022.
The Asian giant is also Europe's biggest source of imports, which underscores its economic importance for the bloc.
Though the United States wants to isolate China amid growing mistrust between the two countries, Europe is not ready to play ball.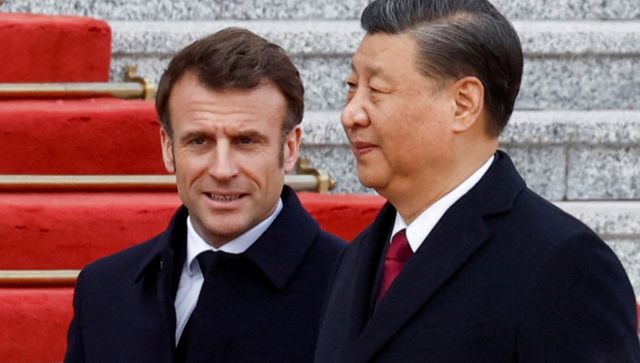 "With Macron, this business delegation, it's definitely a signal towards Beijing that economic cooperation is still very high on the agenda in Paris, but also at the level of the EU as a whole," Alicja Bachulska, a policy fellow at the European Council on Foreign Relations, told Euronews.
Dr Andrew Small, a senior fellow with think-tank the German Marshall Fund, told BBC that Macron's arrival in Beijing with around 50 business delegates sends the message that "Europe and France still want to do business", despite China's position on the Russia-Ukraine war.
China has offered to play the role of a peacemaker between Moscow and Kyiv. However, due to Xi's close ties with Putin, the West is wary of China's offer.
An Elysée official told Politico on condition of anonymity that that the European leaders' trip could result in a deal with Airbus, which is discussing a big plane order with China.
However, some analysts say that signing any business deal at a time when the US and China's relations have reached a record low due to myriad issues, including Russia's invasion of Ukraine and Taiwan, would appear "opportunistic".
"It's not the time to announce business deals or big new investments," Noah Barkin, an analyst with Rhodium Group, told Reuters. "It would essentially be a vote of confidence in the Chinese economy and send the message that France is not on board with the US approach."
EU chief's different approach
As BBC put it if the French president will likely play the "good cop" during the China visit, some see von der Leyen as the "bad cop from Brussels".
In remarks that did not sit well with Beijing, just days before her China visit, von der Leyen called on Europe to reevaluate its diplomatic and economic ties with China.
She also emphasised on"de-risking" from Beijing, which would include Europe lessening reliance on key materials, limiting China's access to sensitive technology and expanding its trade sources.
Reacting to her statement, Fu Cong, China's ambassador to the European Union, told state-owned broadcaster CGTN that he was "a little bit disappointed", adding that the EU chief's speech "contained a lot of misrepresentation and misinterpretation of Chinese policies and the Chinese positions".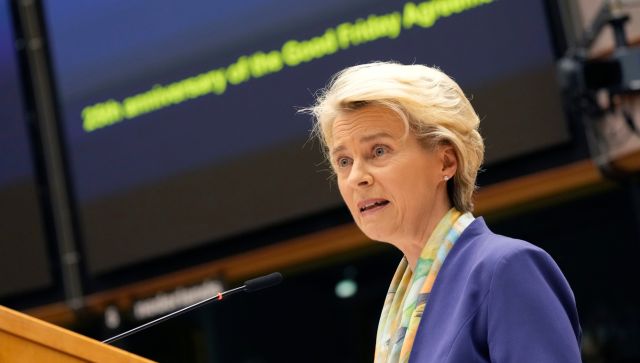 Von der Leyen "dismissed in her speech the idea that Xi could be counted on to play a constructive role in the Ukraine conflict and pushed for a de-risking of Europe's economic relationship with China," Noah Barkin of the German Marshall Fund of the United States, was quoted as saying by The Washington Post.
"Paris sees it differently. French officials close to Macron have indicated in recent weeks that he is considering offering Xi a deal along the lines of this: France will resist US pressure to decouple from China if Beijing invests diplomatic capital in bringing about peace in Ukraine."
Russia-Ukraine war
Besides trade, the focus will be on Russia's invasion of Ukraine which affects the economic growth of the EU.
Macron said Wednesday that he would "try to build, and somehow engage China toward a shared responsibility for peace and stability on international issues" such as Ukraine, Iran and North Korea, reported Associated Press (AP).
He will make attempts to dissuade Xi from "getting any cozier" with Putin, as per Politico.
On his first visit abroad since becoming president for the third time, Xi went to meet his "good friend" Putin in Moscow where the leaders deliberated on Beijing's 12-point peace plan for the Ukraine war.
This plan was mostly dismissed by the US and its Western allies.
"Both (Macron and von der Leyen) have not only business in mind but also Ukraine," Joerg Wuttke, president of the EU Chamber of Commerce in China, told Reuters.
"I'm sure it's not going to be an easy visit."
France also wants China to play peace broker in the Ukraine war. An Élysée Palace spokesman said Macron found "points of convergence with Chinese proposals" on ending the war, reported BBC.
However, Paris does not expect a big shift in China's position, which has refused to condemn Russia's war in Ukraine.
Moreover, von der Leyen is not on board with China's peace plan. Reiterating Europe's doubts over the proposal, she said last week: "Any plan that consolidated Russian annexations was simply not a viable plan", reported The Guardian.
The US also has no expectations that Macron's talks with Xi on the war will result in any breakthrough. "Xi is unlikely to act on Macron's requests or curtail any of China's assertive moves in the Pacific," US officials said, as per Politico.
Meanwhile, the US and NATO have claimed China is considering sending arms to Russia, which Beijing has denied.
Macron is expected to bring this as well as he meets Xi and will send "some messages" to Beijing on backing Russia.
"We aren't going to threaten (with sanctions), but send some warnings: The Chinese need to understand that [sending weapons] would have consequences for Europe, for us … We need to remind them of our security interests", a senior French official told Politico.
The two European leaders are also likely to press Xi to hold talks with Ukrainian president Volodymyr Zelenskyy.
'Personal touch'
On Friday, Xi and Macron will visit the southern port of Guangzhou, to which the Chinese leader has a personal attachment.
Xi's late father, Xi Zhongxun, worked there as provincial first secretary, as per Reuters.
"Altogether the president will spend six to seven hours in discussions with the Chinese leader. The fact that he will be the first French president to visit Guangzhou is also a personal touch, since President Xi's father used to be a party leader there," an Elysee official was quoted as saying by Politico.
On the Guangzhou visit, Henry Huiyao Wang, president of the Centre for China and Globalisation, a Beijing-based think tank, told Reuters: "We believe that this has very large symbolic significance and suggests that (France) is ready to relaunch cooperation with China".
With inputs from agencies
Read all the Latest News, Trending News, Cricket News, Bollywood News,
India News and Entertainment News here. Follow us on Facebook, Twitter and Instagram.
also read
World
China has started building a new link road and helipad at different locations like Poling Jindu and Sarang -- just opposite to India's Niti Pass
Opinion
In these complex geopolitics of Central Asia in particular and Eurasia in general, one witnesses India's emergence as a major geopolitical actor in shaping the geopolitical trajectories
World
Borrell said foreign ministers gave broad backing to a plan to adjust policy on China to place greater emphasis on its role as a political rival, while continuing also to see Beijing both as a partner on global issues and an economic competitor