Explained: Why the US has issued an alert against India-made eye drops
The Food and Drug Administration (FDA) has warned against using Artificial Tears eye drops produced by a Tamil Nadu-based firm after an outbreak of drug-resistant infections was linked to the drug in the US. This is the third such controversy involving an Indian pharma company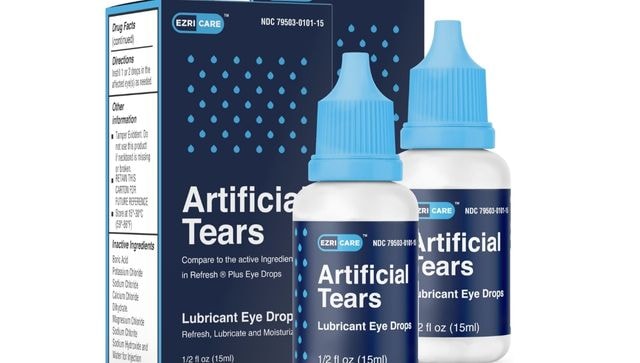 Another controversy has hit India's pharmaceutical industry as the United States warned that an eye drop manufactured by a Tamil Nadu-based firm has caused an outbreak of drug-resistant bacteria – pseudomonas aeruginosa.
Following the reports, India's Central Drugs Standard Control Organisation (CDSCO) has suspended the manufacturing of these eye drops at the Chennai-based company Global Pharma Healthcare Private Limited, reported Mint.
Union health ministry's CDSCO and Tamil Nadu's State Drug Controller also carried out searches on Friday (3 February) night at the company's plant, located 40 km south of Chennai, sources told India Today.
Earlier, Global Pharma had voluntarily recalled its eye drops, distributed in the US by EzriCare LLC and Delsam Pharma, after they were linked to infections.
Health ministry sources have told Indian Express, "It is a contract manufacturing plant supplying through others to the US market. This specific drug is not sold in India".
What is pseudomonas aeruginosa? What has the US said about the eye drops? How India's pharma industry has been in the eye of a storm since last year? Let's take a closer look.
Pseudomonas aeruginosa 
According to US Centers for Disease Control and Prevention (CDC), pseudomonas is a group of bacteria mostly found in the environment, such as in soil and water.
Pseudomonas aeruginosa is a kind of pseudomonas that causes infections in humans by affecting blood, lungs (pneumonia), or other parts of the body after surgery, the CDC said on its website.
This bacteria generally develops in healthcare settings, but people can also catch infections from hot tubs and swimming pools, as per Everyday Health report.
These bacteria are increasingly hard to treat as they are antibiotic resistance.
In 2017, pseudomonas aeruginosa led to 32,600 infections in hospitalised patients and about 2,700 fatalities in the United States, as per CDC.
US' alert on India-made eye drops
The US Food and Drug Administration (FDA) warned against using Artificial Tears eye drops produced by Global Pharma earlier this week.
It said the eye drop has potential bacterial contamination.
Accusing Global Pharma of flouting current good manufacturing practices, FDA said 55 patients in 12 states have been detected with infections linked to the eye drop distributed by EzriCare.
"Associated adverse events include hospitalisation, one death with bloodstream infection, and permanent vision loss from eye infections," the US federal agency said, as per Reuters.
The CDC has also issued an alert to doctors, saying the EzriCare Artificial Tears has been recalled from the market.
A CDC spokesperson said that five of the 11 patients who had infections directly in their eyes have lost their vision permanently, reported CBS News.
CNN reported that the pseudomonas aeruginosa bacteria was found during the testing of open EzriCare bottles.
The CDC said the antibiotic resistant-bacteria could have come from contamination "either during use or during the manufacturing process", as per CNN.
Meanwhile, EzriCare has stopped the sale and distribution of the Artificial Tears eye drops.
In a statement, the company said it is not aware of any testing that "definitively links" the bacterial outbreak to the product which is used as a lubricant to treat irritation and dryness, reported Reuters. 
A Delsam Pharma spokesperson also said that they have removed the product.
Meanwhile, the FDA has collaborated with CDC, state and local health departments to probe the outbreak.
Recent rows surrounding Indian pharma
The incident in the US comes months after two similar instances were reported in Uzbekistan and The Gambia.
Last December, the Uzbekistan government claimed that 18 children died after allegedly consuming Doc-1 Max cough syrup, manufactured by Noida-based Marion Biotech.
Uzbekistan's health ministry said the syrup had the contaminant ethylene glycol.
In October last year, the death of 70 children in The Gambia was linked to the consumption of cough and cold syrups made by Haryana-based Maiden Pharmaceuticals Ltd.
The World Health Organisation (WHO) said at the time that these cough syrups had "unacceptable" amounts of diethylene glycol and ethylene glycol.
Experts say these controversies "don't bode well" for India which is one of the world's biggest drug exporters and the leading manufacturer of vaccines globally.
The country is also the largest producer of generic drugs, accounting for more than 20 per cent of the global supply, noted Deutsche Welle (DW).
Prashant Reddy, a public health activist in India, told Al Jazeera last December that "the main problem is that there is no transparency about how the drug regulator works".
"It obviously doesn't bode too well for India that there have been two such incidents in a matter of few months," Reddy said after the Uzbekistan tragedy.
He also called on the Indian government to "convince not just the global market but Indians that the medicines manufactured in the country meet acceptable standards".
"The India pharma regulator has to be a lot more transparent. They have to ensure that quality measures are followed," Reddy said, as per Al Jazeera.
With inputs from agencies
Read all the Latest News, Trending News, Cricket News, Bollywood News,
India News and Entertainment News here. Follow us on Facebook, Twitter and Instagram.
World
Ramping up US capacity in a global race to produce the tiny, high-tech components at the heart of most modern technology has been a Biden priority since he took office in 2021
World
Biden has previously made clear, without formally announcing, that he intends to run for a second term in 2024 when he'll be just under 82 years old on election day
World
Senators voted 68-27 to move forward on legislation that would repeal the 2002 measure that greenlighted the March 2003 invasion of Iraq and also a 1991 measure that sanctioned the US-led Gulf War to expel Iraqi leader Saddam Hussein's forces from Kuwait