Explained: Why Scotland is being rocked by a row over a trans woman rapist
Isla Bryson, formerly known as Adam Graham, was convicted this week of raping two women in Scotland in 2016 and 2019. News that Bryson was sent to a women's prison while awaiting sentencing stirred outrage – especially amid a heated debate over a Scottish gender reform bill blocked by the UK
Scotland is being rocked by an unusual case.
News that a trans woman, who changed gender before being found guilty of raping two women, was sent to a women's prison sparked an outcry.
Isla Bryson, formerly known as Adam Graham, was convicted this week of raping two women in Scotland in 2016 and 2019.
Bryson was sent to Cornton Vale women's prison in Stirling while awaiting sentencing.
However, after an uproar, officials have stated that Bryson will now serve her sentence alongside male inmates.
Let's take a closer look at the case:
As per Yahoo News, Bryson was found guilty of the crimes when she was previously Adam Graham.
Bryson during the six-day trial told the jury the sex was consensual and that she "would never hurt another human being."
Bryson further told the court she knew she was trans at age four but did not decide to change her gender till age 29.
Bryson decided to transition in 2020, as per Yahoo News.
Bryson's case made headlines as it came in the backdrop of Scotland last month passing a law allowing people to change their legally-recognised sex easier.
As per Yahoo News, the law lets people aged 16 and older obtain a gender recognition certificate after living in their new gender for three months. The law further does not require that gender dysphoria be diagnosed.
The UK government, however, has stymied the Gender Recognition Reform Bill due to its possible impact on equality laws in Scotland, Wales, and England, as per BBC.
As per The Guardian, Bryson has been sent to custody till 28 February.
The judge will gather "as much information as possible" before rendering the sentence.
Bryson's incarceration at an all-women prison stirred outrage.
The BBC quoted Scottish Conservative leader Douglas Ross as saying that his outfit had for months warned that "violent criminals just like the sex offender, the absolute beast we are discussing today, would try to exploit loopholes in the law and attack and traumatise women."
Meanwhile, Bryson's estranged wife Shonna Graham told BBC she was sympathetic to "real trans people". She added that Bryson was attempting to hoodwink the authorities.
Russell Findlay, a conservative member of Scottish Parliament, told Yahoo News, "This rapist decided that he was no longer a man only after appearing in court on a rape charge."
"We now have the utterly perverse situation where a Scottish court refers to someone who says he identifies as female using 'her penis' to rape two vulnerable women. We warned of the inevitability of this happening if the SNP's gender self-ID law passed, but for it to have become reality is deeply worrying and an affront to the victims."
Scottish politico Joanna Cherry, the chair of the Joint Committee on Human Rights, told Times Radio that it will look to many that a convicted rapist has gamed the system.
"Women in prison are very vulnerable. Many women in prison have themselves been abused and have suffered injuries over the years. … I'm very concerned about the safety of women prisoners, with whom a convicted rapist has been placed."
According to The Guardian, Bryson has been moved to a male facility after First Minister Nicola Sturgeon intervened.
Following reports on Bryson, Sturgeon told MPs on Thursday that she would not serve her time in the women's prison.
She added that it was vital not to suggest "even inadvertently" that trans women inherently posed a threat to women.
"The Scottish Prison Service is in the process of giving effect to the decision it has taken not to incarcerate this prisoner in Cornton Vale," Sturgeon told MPs.
However, Sturgeon's official spokesperson played down reports of her personal intervention.
"I expect and I think the Prison Service might expect ministers' views to be taken into account," the spokersperson added, as per The Guardian.
But not everyone is satisfied.
Former Cornton Vale governor Rhona Hotchkiss told BBC Scotland she simply would have refused to allow Bryson to be sent to the facility.
She added that male prisons ought to have separate spaces for trans inmates and described the handling of the case as 'unnecessary shambles'
"It's wrong to use segregation when it's not strictly necessary and in my opinion, that's what has happened here."
With inputs from agencies
Read all the Latest News, Trending News, Cricket News, Bollywood News,
India News and Entertainment News here. Follow us on Facebook, Twitter and Instagram.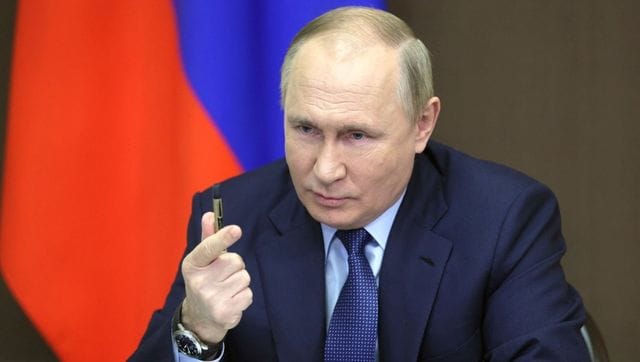 World
UK's minister of state for defence, Annabel Goldie, said her country would supply armour piercing rounds which contain depleted uranium to Ukraine alongwith 14 Challenger 2 tanks to Ukraine
India
The Trans Tea Stall initiative is a part of the government's Support for Marginalised Individuals for Livelihood and Enterprise (SMILE)
World
The issue dates back to 2014 when a BBC 'Panorama' investigation showed some cheating had occurred at two of the UK's testing centres for a compulsory language test required for visas