Explained: Why California is considering a ban on caste discrimination
Democratic lawmaker Aisha Wahab introduced the bill just a month after Seattle voted to outlaw caste discrimination. This issue has come to the fore in California since 2020 when the employment regulator sued Cisco Systems on behalf of a low-caste engineer. But some claim it will further fuel instan
California is considering a ban on caste discrimination. This comes just a month after Seattle's City Council voted to outlaw caste discrimination.
The bill was introduced in the California Senate by Democratic lawmaker Aisha Wahab, the first Muslim and Afghan American elected to the state legislature.
California, a western US state located along the Pacific Coast with nearly 39.2 million residents, is home to many tech companies.
It is the most populous US state and the third-largest by area.
Indian-Americans are the second-largest immigrant group in the US.
According to data from the 2018 American Community Survey (ACS), which is conducted by the US Census Bureau, there are 4.2 million people of Indian origin residing in the United States.
Also read: Is Seattle's ban on caste discrimination 'Hinduphobic, racist'?
India banned caste discrimination in 1948 and enshrined that policy in the Constitution in 195
Let's take a closer look:
What's the issue in the US?
Tech companies have been grappling with this issue since 2020 when California's employment regulator sued Cisco Systems on behalf of a low-caste engineer who accused two higher-caste bosses of blocking his career.
Cisco, which denies wrongdoing, says an internal probe found no evidence of discrimination and that some of the allegations are baseless because caste is not a legally "protected class" in California.
This month an appeals panel rejected the networking company's bid to push the case to private arbitration, meaning a public court case could come as early as next year.
Apple, the world's biggest listed company, updated its general employee conduct policy about two years ago to explicitly prohibit discrimination on the basis of caste, which it added alongside existing categories such as race, religion, gender, age and ancestry.
The inclusion of the new category, which hasn't been previously reported, goes beyond US discrimination laws, which do not explicitly ban casteism.
Since the suit was filed, several activist and employee groups have begun seeking updated US discrimination legislation – and have also called on tech companies to change their own policies to help fill the void and deter casteism.
Their efforts have produced patchy results, according to a Reuters review of policy across the U.S. industry, which employs hundreds of thousands of workers from India.
"I am not surprised that the policies would be inconsistent because that's almost what you would expect when the law is not clear," said Kevin Brown, a University of South Carolina law professor studying caste issues, citing uncertainty among executives over whether caste would ultimately make it into US statutes.
"I could imagine that parts of … (an) organization are saying this makes sense, and other parts are saying we don't think taking a stance makes sense."
Apple's main internal policy on workplace conduct, which was seen by Reuters, added reference to caste in the equal employment opportunity and anti-harassment sections after September 2020.
Apple confirmed that it "updated language a couple of years ago to reinforce that we prohibit discrimination or harassment based on caste." It added that training provided to staff also explicitly mentions caste.
"Our teams assess our policies, training, processes and resources on an ongoing basis to ensure that they are comprehensive," it said. "We have a diverse and global team, and are proud that our policies and actions reflect that."
Elsewhere in tech, IBM told Reuters that it added caste, which was already in India-specific policies, to its global discrimination rules after the Cisco lawsuit was filed, though it declined to give a specific date or a rationale.
IBM's only training that mentions caste is for managers in India, the company added.
Several companies do not specifically reference caste in their main global policy, including Amazon, Dell, Facebook owner Meta, Microsoft and Google. Reuters reviewed each of the policies, some of which are only published internally to employees.
The companies all told Reuters that they have zero tolerance for caste prejudice and, apart from Meta which did not elaborate, said such bias would fall under existing bans on discrimination by categories such as ancestry and national origin.
Why was this bill introduced?
Wahab, explaining her reasons for introducing the bill, said, "This historic legislation is about workers' rights, women's rights, queer rights, and civil rights."
"We want to ensure organisations and companies do not entrench caste discrimination in their practices or policies, and in order to do that we need to make it plainly clear that discrimination based on caste is against the law," she told reporters at a news conference in Sacramento, California.
"Caste goes beyond religion and nationality. This legislation primarily protects millions who live in silence and have never had such protection because there is little understanding of this issue. This bill is about protecting people who are vulnerable," Wahab said.
Wahab told BBC while she hadn't experienced prejudice herself growing up she knew enough about it.
"I've had friends tell me that their parents immigrated to this country because they belong to different castes and [their] families weren't accepting of that," she told the BBC.
"This is a lot of old country politics," Wahab told CNN. "The majority of Americans (have) never understood it, heard about it, been exposed to it. Our goal is just to make sure that more people and more Americans feel safer in this country and feel heard and seen and protected."
Maya Kamble, a manager at a US firm, told BBC she has not told her colleagues she is a Dalit. She says a former boss changed his outlook towards her after he found out her caste. She said when a big project was in the offing, he called her "ill-fated" and told her to stay away from it.
"That was a big shocker for me and my colleagues," Kamble said.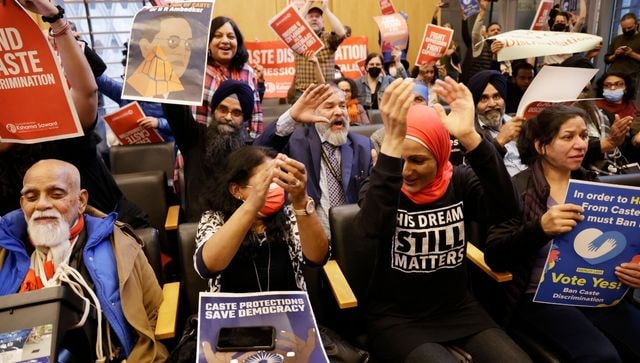 "The [human resources representative] didn't know anything about caste. How do I tell them that this is rooted in untouchability?"
Casteism outlawed in India
Caste discrimination was outlawed in India over 70 years ago, yet bias persists, according to several studies in recent years, including one that found Dalit people were underrepresented in higher-paying jobs.
Debate over the hierarchy is contentious in India and abroad, with the issue intertwined with religion, and some people saying discrimination is now rare.
Government policies reserving seats for lower-caste students at top Indian universities have helped many land tech jobs in the West in recent years.
Reuters spoke to about two dozen Dalit tech workers in the United States who said discrimination had followed them overseas.
They said that caste cues, including their last names, hometowns, diets or religious practices, had led to colleagues bypassing them in hiring, promotions and social activities.
Reuters could not independently verify the allegations of the workers, who all spoke on condition of anonymity, saying they feared harming their careers. Two said they had quit their jobs over what they viewed as casteism.
Some staff groups, including the Alphabet Workers Union (AWU) at Google's parent company, say explicit mention of caste in corporate rules would open the door to companies investing in areas such as data collection and training at the same levels as they do to protect other groups.
"Significant caste discrimination exists in the United States," said Mayuri Raja, a Google software engineer who is a member of the AWU and advocates for lower-caste colleagues.
Over 1,600 Google workers demanded the addition of caste to the main workplace code of conduct worldwide in a petition, seen by Reuters, which they emailed to CEO Sundar Pichai last month and resent last week after no response.
Google reiterated to Reuters that caste discrimination fell under national origin, ancestry and ethnic discrimination. It declined to elaborate further on its policies.
'Not good for business'
Adding caste to a general code of conduct is not unheard of.
The World Wide Web Consortium, an industry standards body partly based in Massachusetts, introduced it in July 2020. California State University and the state Democratic Party have followed over the past two years.
In May this year, California's employment regulator, the Civil Rights Department, added caste to its example equal employment opportunity policy for employers.
Yet the move by Apple, a $2.8 trillion behemoth with more than 165,000 full-time employees globally, looms large.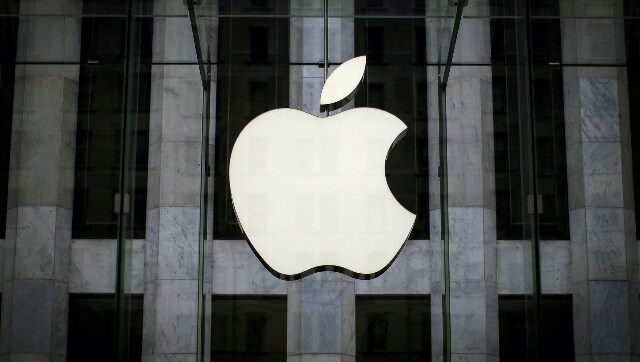 The iPhone maker's fair hiring policy now states that Apple "does not discriminate in recruiting, training, hiring, or promoting on the basis of" 18 categories, including "race, color, ancestry, national origin, caste, religion, creed, age" plus disability, sexual orientation and gender identity.
By contrast, many employers are hesitant to go beyond laws with their primary policies, according to three employment attorneys including Koray Bulut, a partner at Goodwin Procter.
"Most companies simply quote from the federal and state statutes that list the protected categories," Bulut said.
Some companies have, however, gone further in secondary policies that govern limited operations or serve only as loose guidelines.
Caste is explicitly written into Dell's Global Social Media Policy, for example, and in Amazon sustainability team's Global Human Rights Principles and Google's code of conduct for suppliers.
Amazon and Dell confirmed they had also begun mentioning caste in anti-bias presentations for at least some new hires outside India. They declined to specify when, why and how broadly they made the addition, though Dell said it made the change after the Cisco lawsuit was filed.
The companies' presentations include explanations of caste as an unwanted social structure that exists in parts of the world, according to a Reuters review of some of the online training, with the Dell material referencing a recent lawsuit "from the headlines."
John-Paul Singh Deol, lead employment attorney at Dhillon Law Group in San Francisco, said that only including caste in training and guidelines amounted to "giving lip service" to the issue because their legal force is questionable.
This characterization was rejected by Janine Yancey, CEO of Emtrain, which sells anti-bias training to about 550 employers, and a longtime employment attorney.
"No company wants to have employee turnover, lack of productivity and conflict – that's just not good for business," she said.
Yet explicitly referencing caste would likely invite an increased number of HR complaints alleging it as a bias, Yancey added.
"Whenever you're going to call out something specifically, you're exponentially increasing your caseload," she said.
Apple declined to say whether any complaints had been brought under its caste provision.
South Carolina law professor Brown expects no immediate resolution to the debate over of whether companies should reference caste.
"This is an issue that ultimately will be resolved by the courts," he said. "The area right now is unsettled."
Rights activists hail bill
The move was applauded by its proponents, including civil rights organisation Equality Labs, the brain behind the anti-caste discrimination resolution in Seattle which has been spearheading a nationwide campaign, and the newly-formed coalition 'Californians for Caste Equity'.
Equality Labs, in a press statement, claimed that in California, caste discrimination occurs across industries, including technology, education, construction, restaurants, domestic work, and medicine.
"Caste discrimination against Dalits – people formerly called "untouchables" by dominant castes – has included bullying, harassment, bias, wage theft, sexual harassment, and even trafficking. Caste-oppressed people also experience housing discrimination when their caste identity is discovered," it said.
At a news conference in California, Thenmozhi Soundararajan, the executive director of Equality Labs and author of the book 'The Trauma of Caste', said this bill was a result of 15 years of hard-won organising in the state by caste-oppressed people.
"The need for this bill is urgent. … We have then some of the highest rates of discrimination of any Asian American community in the state. That is why we are here to stand in our truth to organise for our freedom," she said.
Soundararajan told CNN she was bullied in school and faced bias during her time at Berkley.
Tanuja Gupta, who worked at Google for 11 years, said the bill is the first state legislation in the country's history to name and protect against caste-based discrimination.
As per BBC, Gupta resigned from Google News after the firm, which had asked Dalit rights activist Thenmozhi Soundararajan to give a speech to employees, rescinded its invitation.
"This bill gives California's nineteen million workers, 10 per cent of whom work in tech alone, true legal recourse when experiencing workplace discrimination based on caste," she said.
"To my former 82,000 Google co-workers here in California, this bill ensures that when a company claims it has a zero-tolerance policy for caste-based discrimination – there will be consequences when that claim turns out to NOT be true," she said.
"If there's going to be a state that pioneers (protections against) caste discrimination, this is the perfect state. And if this state can show that it's possible, there's no excuse for any other state to not have (protections against) caste discrimination," Gupta told CNN.
"The law is the most important part that we need to make explicit," she added. "Once that's there, we can then really begin the process of healing in our community."
Cornel West, an influential American philosopher, a scholar of African American studies, and a political activist, came out in support of the move and asked Californian legislators to vote in favour of the bill.
"I am so blessed and honoured and privileged to speak to you that you have a chance to not just take a stand but to follow through on a rich, moral and spiritual issue of our time, which is the issue of caste and the ways in which cast loses sight of the precious humanity of too many of our fellow human beings and our fellow citizens.
"In the name of Martin Luther King, Jr, in the name of Ambedkar, I call on you to vote, to fight, to take a stand to ensure that this bill passes so that there is no cast discrimination in the largest state in the Union: California," West said.
But many Indian-Americans fear that codifying caste in public policy will further fuel instances of Hinduphobia in the US.
As per The Quint, the Hindu American Foundation and the Coalition of Hindus of North America are likely to oppose the bill.
In 2016, these groups had taken exception to the caste system and other critiques of Hinduism in California textbooks of 6th and 7th grade students.
Over the last three years, ten Hindu temples and five statues, including those of Mahatma Gandhi and Maratha emperor Shivaji, have been vandalised across the US as an intimidation tactic against the Hindu community.
With inputs from agencies
Read all the Latest News, Trending News, Cricket News, Bollywood News,
India News and Entertainment News here. Follow us on Facebook, Twitter and Instagram.
also read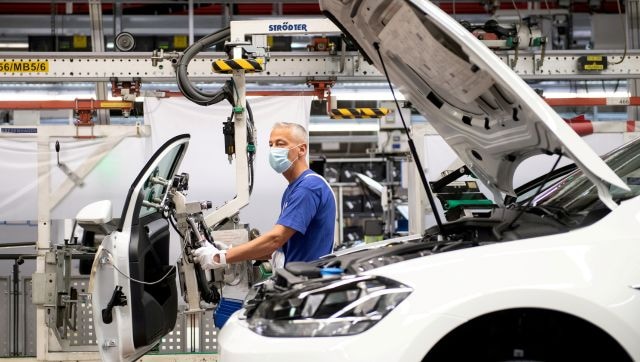 Explainers
Germany's GDP fell .3 per cent in the first quarter of 2023 following a .5 per cent decline in the last quarter of 2022. Though Chancellor Olaf Scholz described the outlook for the economy as 'very good' experts say this is a rude awakening for the country and the entire continent
Explainers
Elon Musk's brain-computer interface company Neuralink has received approval from the FDA to conduct its first in-human clinical study. The firm wants to put coin-sized implants into human beings, which will allow people with paralysis regain motor function, restore vision, and treat brain diseases
Explainers
Tipu Sultan, the 18th Century Mysore ruler, slept in a hammock suspended from the ceiling of his locked bedchamber with this sword by his side. Found in his private apartments after his defeat at the battle of Seringapatam in May 1799, it was previously owned by Vijay Mallya