Explained: The increasing Israel-Palestine tensions and Netanyahu's plans to arm citizens
Prime Minister Benjamin Netanyahu has announced a slew of measures to 'strengthen Jewish settlements' including making it easier for citizens to obtain guns. Over 200 Palestinians were killed last year – the worst in 16 years – and experts have warned that 2023 could be even more deadly
Tensions between Israel and Palestine continue to escalate with Prime Minister Benjamin Netanyahu announcing he will make it easier for citizens to obtain guns among a slew of other measures to "strengthen Jewish settlements".
That news came after twin shootings in Jerusalem including outside an easter Jerusalem synagogue that left a dozen Israelis dead and wounded.
On Monday, Israeli forces killed a Palestinian man in a flashpoint city in the West Bank on Monday, the Palestinian Health Ministry said.
Let's take a closer look:
The Netanyahu Cabinet said it would make it easier for Israelis to obtain weapons, as well as cancel social security and health benefits for the families of attackers and possibly strip them of citizenship rights and deport them.
Earlier on Sunday, Israeli police sealed up the east Jerusalem home of a 21-year-old Palestinian attacker who killed seven people and wounded three outside a synagogue on Friday night during the Jewish sabbath. The attacker was shot and killed by police.
Israel also arrested 42 Palestinians, some relatives of the Jerusalem attacker, in its investigation into the attack. And the firebrand National Security Minister Itamar Ben-Gvir said he has ordered authorities to demolish illegally built Palestinian homes in east Jerusalem in response to the attack.
"We sealed the home of the terrorist who carried out the horrendous attack in Jerusalem, and his home will be demolished," Netanyahu told his Cabinet.
"We are not seeking an escalation, but we are prepared for any scenario. Our answer to terrorism is a heavy hand and a strong, swift and precise response," Netanyahu added.
"When civilians have guns, they can defend themselves," National Security Minister Itamar Ben-Gvir was quoted as saying by the BBC.
Ben-Gvir also called demolition of homes "one step among a series of important steps for governance and for the war on terror and we need more steps in this war."
Such moves have been condemned by human rights groups as collective punishment.
That came after a 13-year-old boy wounded two Israeli men in east Jerusalem on Saturday and after a Palestinian gunman killed at least seven Israeli outside a synagogue in east Jerusalem on Friday.
Friday's attack, incidentally, came on International Holocaust Remembrance Day.
According to Vox, the shooting outside the synonague was the most deadly in the holy city since 2008.
Those firings came in the aftermath of a deadly Israeli raid in the West Bank on Thursday that left 10 10 Palestinians, most of them militants, dead.
After the Jenin raid, the Palestinians said they would cancel security coordination with Israel. Palestinian militants in the Gaza Strip also fired a barrage of rockets into Israel, triggering a series of Israeli airstrikes.
As per Al Jazeera, Israeli jets bombed an underground Hamas facility.
Palestinians, meanwhile, reported dozens of attacks by Jewish settlers in the occupied West Bank. The most serious took place in the Palestinian town of Turmus Ayya, where the official Wafa news agency quoted residents as saying that settlers torched a car and set a home on fire.
Lt. Col. Richard Hecht, a military spokesman, called the incident "disgraceful" and said the military was taking it "very seriously" as it investigated.
The deaths of two more Palestinians on Sunday and one on Monday raised the Palestinian death toll from fighting this month to 35 – that's at least one dead per day.
Al Jazeera quoted the Palestinian Authority as saying that 2022 saw over 200 Palestinians were killed in 2022.
According to the United Nations, it was also the deadliest year for Palestinians in 16 years.
The bloodshed has spiked this month, during the first weeks of Israel's new far-right government, which has promised to take a tough stance against the Palestinians and ramp up settlement construction.
Experts warn that the 2023 numbers could surpass 2022 – a recipe for disaster.
Mairav Zonszein, an International Crisis Group analyst, told Vox, "With a new far-right government committed to continued dispossession of Palestinians and expansion of settlements, with the Palestinian body politic in shambles and no international stakeholder taking proactive steps, the crisis is likely to continue escalating."
"You have the minister of national security who has made it very clear that he believes in killing Palestinians, you have a minister of finance who has made it clear that [Palestinians] are here only temporarily," Haifa-based analyst Diana Buttu told Al Jazeera.
"And you also have a prime minister who's making it clear that people should be armed and they're going to do nothing to stop the killing of Palestinians. You can see the recipe is that more and more Palestinians are going to be killed."
The moves by Israel, along with escalating violence, further raised tensions as Secretary of State Antony Blinken landed in the region. Blinken's high-wire diplomatic act, focused largely on restoring calm, begins Monday after he completes a brief visit to Egypt.
Israel captured the West Bank, along with east Jerusalem and the Gaza Strip in the 1967 Mideast war. It has built dozens of settlements in the West Bank and east Jerusalem, now home to more than 700,000 Jewish settlers, in the decades since.
Most of the international community, including the United States, considers the settlements an obstacle to peace with the Palestinians, who seek the West Bank as the heartland of a future independent state. A settlement announcement could lead to a tense visit with Blinken.
"We underscore the urgent need for all parties to de-escalate, prevent further loss of civilian life, and work together to improve the security situation in the West Bank," state department spokesperson Ned Price said in a statement Thursday.
With inputs from agencies
Read all the Latest News, Trending News, Cricket News, Bollywood News, India News and Entertainment News here. Follow us on Facebook, Twitter and Instagram.
Politics
Amid reports Benjamin Netanyahu's nationalist-religious coalition risked breaking apart, Israel faced one of the biggest waves of industrial action seen in years after the Histadrut union called for a general strike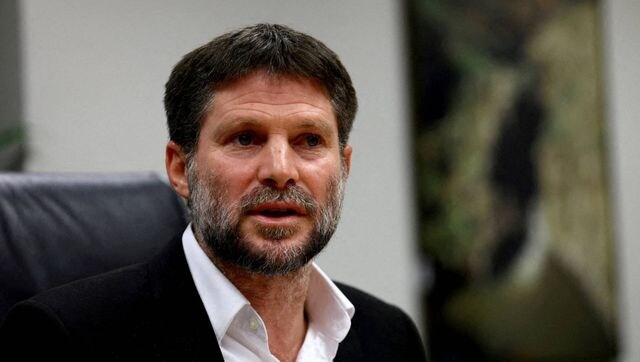 World
Palestinian Prime Minister Mohammad Shtayyeh condemned Smotrich's remarks, saying they amounted to incitement to violence
Explainers
Benjamin Netanyahu on Sunday sacked staunch ally Yoav Gallant, who'd called for a halt to the government's controversial judicial reforms. From the graft cases against him to his wife Sara being accused of abuse, corruption and mismanagement, let's take a closer look at the many controversies of 'Ki