Explained: The B-category visa that allows laid-off Indian techies to stay in US longer
The US Citizenship and Immigration Services (USCIS) has said non-immigrant workers who lose their jobs might be under the mistaken assumption that they have just 60 days to leave the country. Here's how you can extend your stay in the US to find another job
If you're an Indian techie in the United States and you've been laid off, there's finally some good news.
You can get more time to find a new job simply by changing your visa category.
Let's take a closer look:
The H1B visa is a non-immigrant visa predominantly used by Indian IT professionals.
Typically issued for three to six years to employers to hire a foreign worker, it allows US companies to employ individuals in speciality occupations that require theoretical or technical expertise.
H-1B holders who have begun the green card process can often renew their work visas indefinitely.
The technology companies depend on it to hire tens of thousands of employees each year from countries like India and China.
The US Citizenship and Immigration Services (USCIS) on Wednesday said non-immigrant workers who lose their jobs might be under the mistaken assumption that they have just 60 days to leave the country.
#USCISAnswers: Many people have asked if they can look for a new job while in B-1 or B-2 status. The answer is, yes. Searching for employment and interviewing for a position are permissible B-1 or B-2 activities.
Learn more: https://t.co/zFEneq28L9⬇️

— USCIS (@USCIS) March 22, 2023

According to the USCIS, a non-immigrant can:
File an application for adjustment of status
File an application for a change of nonimmigrant status
Filing an application for a "compelling circumstances" employment authorisation document
Be the beneficiary of a nonfrivolous petition to change employer.
"If one of the given actions takes place in the span of 60-day grace period, the authorized stay of the nonimmigrants can exceed 60 days, despite the fact that they lose their previous nonimmigrant status," the USCIS said.
As per Indian Express, one can file for a change of status to B1/B2 and continue to look for a new job in the meantime.
If you find a new job before the change is processed, then you can simply withdraw the plea.
But if the change is approved, you first need a work permit.
"If you are in B-1 or B-2 status, please remember you may not engage in employment within the domestic labour market (also known as 'local labour for hire') while in B-1 status or engage in any employment while in B-2 status," the USCIS added.
But keep in mind that for the B1/B2 visa you need to provide evidence that you are capable of funding the stay as well as proof of ties to your home nation.
If an individual has travelled to the US on B1/B2 visa and wants to convert it into H1-B upon getting a job offer, the person can also request a change in the non-immigrant status to another category through USCIS.
In case of workers failing to take any action within the grace period, they and their dependents will have to depart the United States within 60 days or when their authorised period of stay expires, whichever is shorter, said the USCIS.
With inputs from agencies
Read all the Latest News, Trending News, Cricket News, Bollywood News, India News and Entertainment News here. Follow us on Facebook, Twitter and Instagram.
also read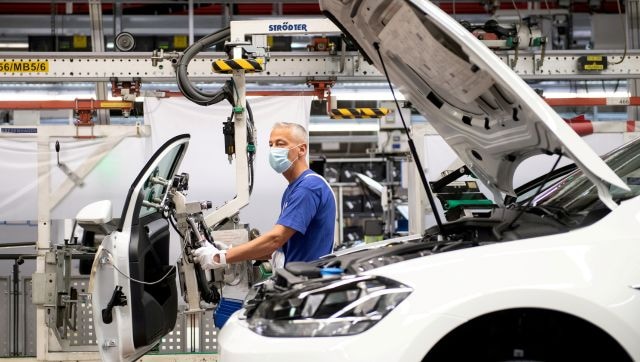 Explainers
Germany's GDP fell .3 per cent in the first quarter of 2023 following a .5 per cent decline in the last quarter of 2022. Though Chancellor Olaf Scholz described the outlook for the economy as 'very good' experts say this is a rude awakening for the country and the entire continent
Explainers
Elon Musk's brain-computer interface company Neuralink has received approval from the FDA to conduct its first in-human clinical study. The firm wants to put coin-sized implants into human beings, which will allow people with paralysis regain motor function, restore vision, and treat brain diseases
Explainers
Tipu Sultan, the 18th Century Mysore ruler, slept in a hammock suspended from the ceiling of his locked bedchamber with this sword by his side. Found in his private apartments after his defeat at the battle of Seringapatam in May 1799, it was previously owned by Vijay Mallya