Explained: Is Rishi Sunak going to bring in a tougher immigration law?
Rishi Sunak in January vowed to pass new laws to stop migrants from arriving on UK shores in small boats. Reports have emerged that he is preparing the UK to leave the European Convention on Human Rights (ECHR) over worries that European judges could find such legislation unlawful
Is Britain going to bring in a tougher law to tackle illegal immigration?
That seems to be the way the wind is blowing – especially after reports that Prime Minister Rishi Sunak is preparing to leave the European Convention on Human Rights (ECHR).
This, after estimates that illegal immigration to the United Kingdom is set for a 50 per cent rise – around 65,000 illegal immigrants are expected to enter in total.
Let's take a closer look:
The Sunday Times reported that Sunak is considering withdrawing the UK from ECHR if judges in Strasbourg determine that his new immigration rules are unlawful.
Sunak and Home Secretary Suella Braverman, another hardliner when it comes to immigration, could unveil the new legislation in weeks.
The Times said illegal immigration is set to rise due to large numbers of people seeking to move from central Asia through Turkey and into Europe.
This comes after the newspaper earlier reported that Sunak was contemplating two measures to  tackle migration across the Channel in small boats by:
Removing the right of illegal arrivals to appeal against being excluded from the system of asylum and
Allowing an appeal only after they have been deported.
Sky News quoted the Refugee Council as calling such plans "wrong, unworkable and costly".
The United Nations has warned that such plans would violate international law, according to the Independent.
A source close to Sunak told the newspaper, "The PM has been clear he wants to introduce legislation that meets our international obligations. This bill will go as far as possible within international law. We are pushing the boundaries of what is legally possible while staying within the ECHR.
"But if this legislation gets onto the statute book and is found to be lawful by our domestic courts, but it is still being held up in Strasbourg, then we know the problem is not our legislation or our courts."
"If that's the case, then, of course, he will be willing to reconsider whether being part of the ECHR is in the UK's long-term interests," the person added.
Sunak's stance on illegal immigration, Rwanda plan
Sunak in January in his first major speech of the year highlighting his government's priorities vowed to stop illegal immigration.
Sunak in his speech said the government would pass new laws to stop migrants from arriving on UK shores in small boats and "making sure that if you come to this country illegally, you are detained and swiftly removed."
"Those are the people's priorities. They are your government's priorities. And we will either have achieved them or not," Sunak added.
"No trick, no ambiguity, we're either delivering for you or we're not. We will rebuild trust in politics through action, or not at all," he concluded.
Sunak this week, speaking on the controversial Rwanda deportation plans, told The Telegraph he wanted to 'break the cycle' of people crossing the English Channel in small boats in record numbers.
"The system that we need, the system that I want to introduce, is one whereby if you come here illegally, you should be swiftly detained and then in a matter of days or weeks we will hear your claim, not months and years, and then we will safely remove you somewhere else. And if we do that, that's how we'll break the cycle," Sunak said.
Speaking to Piers Morgan, Sunak said asylum claims would take a "matter of days or weeks" and "not months or years", as per The Independent.
Sunak also said those found inadmissible "will not be able to stay here" and that in the vast majority of cases would be sent to "an alternative safe country, be that where you have come from, if it's safe, like Albania, or, indeed, Rwanda".
In January, the UK High Court, allowed asylum-seekers in the UK and those supporting them to appeal a ruling that held that the government's plan to send such persons to Rwanda is legal.
The court in December ruled that the Rwanda plan did not contravene either domestic law or the United Nations Refugee Convention.
Braverman, speaking to The Telegraph in October about the Rwanda policy, said, "I would love to have a front page of the Telegraph with a plane taking off to Rwanda, that's my dream, it's my obsession."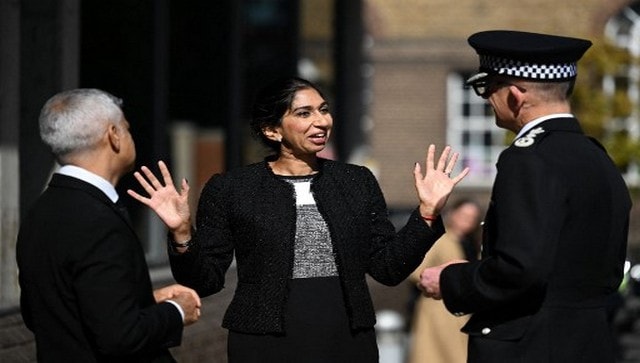 Plan splits Conservative Party
The move could potentially split the Conservative Party – some of whom have been calling for an exit from the ECHR while others are aghast at such a prospect.
The Telegraph UK quoted some Tory MPs in a WhatsApp group as complaining they would be unable to go through with their Rwanda policy unless they left the ECHR.
But Politico quoted MP Jackie Doyle-Price as saying "willy waving about leaving the ECHR will do zilch."
"Upholding the law should never be a matter for debate for a Conservative. Our Home Office is crap. If the government wants to have a phone[y] war over the ECHR instead of sorting itself out it can do it without me," Doyle-Price added.
Tory MP Richard Graham told Times Radio he was "not sure the word comfortable is where I'd be" on leaving the ECHR.
Tory MP David Simmons was quoted as saying the ECHR was "not the issue", while foreign affairs select committee chair Alicia Kearns said the UK could not tackle asylum claims "when we haven't given ourselves the legal grounding on coming here illegally", as per The Guardian.
Sky News quoted MP Lee Anderson as saying the government legislation would "not stop the crossings".
Rishi Sunak's official spokesperson sought to downplay such reports, telling Huffington Post UK there has been a "great deal of speculation".
"You heard from the prime minister himself where he said, first and foremost, he wants to put an end to the exploitation of our laws through reform of the system," the spokesperson added.
"We will of course comply with all our international obligations, and we are confident the measures being worked through will tackle the problem while being compliant with the ECHR."
"There are no plans for government to take that approach. The policy both in terms of this and elsewhere will be compliant with our international obligations," the spokesperson said.
With inputs from agencies
Read all the Latest News, Trending News, Cricket News, Bollywood News, India News and Entertainment News here. Follow us on Facebook, Twitter and Instagram.
Explainers
Scotland has been a part of Great Britain since 1707. While the Scottish National Party accuses the UK government of pursuing policies that most Scots disagree with, opinion polls show a majority continue to support remaining within the UK. The UK's top court in November ruled a second independence
World
The plan will emphasise encouraging young people to participate in athletics and other activities in addition to harsher and quicker penalties. Commenters are comparing Sunak's plan to one that former Labour Party leader Tony Blair unveiled in 1998
World
With their so-called "green day," the government can give the impression that they care about the environment, but in actuality, they are breaking their own pledges, opposition leader said