Auschwitz-Birkenau was liberated 78 years ago. A look back at the Holocaust's ground zero
The former concentration camp known as 'hell on earth' to its survivors, is perhaps the most famed and photographed in history with its barracks, barbed wire, and gas chamber ruins. It stands as one of the world's most recognised symbols of hate and evil
On this day 78 years ago, the Nazi German death camp of Auschwitz-Birkenau was liberated by Soviet soldiers in the closing stages of World War II.
The former concentration camp, perhaps the most famed and photographed in history with its barracks,  barbed wire, and gas chamber ruins, stands as one of the world's most recognised symbols of hate and evil.
Over a million people were murdered at Auschwitz.
Millions more have visited it since its liberation on 27 January, 1945, with millions more vowing "never again."
But what do we know about this camp described as 'hell on earth' by those that survived?
Let's take a closer look:
Auschwitz
According to Auschwitz.org, the camp was built in 1940 to hold Polish prisoners in the suburbs of Oswiecim.
The Third Reich annexed the city and changed its name to Auschwitz.
The camp was initially established because local prisons could not cope with the sheer number of Poles arrested.
The first prisoners reached Auschwitz on 14 June, 1940.
What greeted their eyes was the sign with the slogan "Arbeit macht frei" (work sets you free) across the camp's main gate.
The camp was later expanded to include death chambers as crematoriums as Jews from all over Europe were sent to be murdered.
By 1942, it became the biggest of the many centres where Hitler's ghastly "final solution" – his plot to exterminate the Jews – occurred.
In the Holocaust, also known as the Shoah, six million Jews were wiped out by the Nazis and their allies.
Over 90 per cent of those murdered at Auschwitz were Jews.
The Poles were the second-largest victims with 83,000 dead. The Roma also lost 19,000 people in Auschwitz, as per the website.
As per Encylopedia Brittanica, Auschwitz comprised three camps – a prison camp, an extermination camp, and a slave-labour camp.
Auschwitz I, as it was later known, was built on the grounds and in the buildings of pre-war Polish barracks.  It held around 15,000 prisoners though at times the number increased to over 20,000, as per Auschwitz.org.
According to The Guardian, many horrors including castration, sterilisation, and contagious diseases were inflicted upon  Jewish and Roma prisoners in Auschwitz I.
SS captain Dr Josef Mengele, also known as the 'Angel of Death', was known to practise here.
Mengele had a fascination with subjecting twins to experiments.
Auschwitz II, known as the Birkenau camp, was the largest of the three sites.
Built in 1941, it was located in the village of Brzezinka around three kilometres from Oswiecim.
The Polish citizens of the village were simply evicted and their houses destroyed. Most of the million victims were murdered here.
As per The Guardian, the first chamber that used Zyklon B gas was constructed in this camp in January 1942.
After that, four more chambers were built – all of which continued to be used until just months before the camp was liberated by Soviet soldiers.
The pellets, dropped into the chambers, took 20 minutes to kill victims – many of whom suffocated screaming, as per BBC.
The Buna-Monowitz camp, called Auschwitz III, was a slave-labour camp.
Located near Dwory village around six kilometres from the main camp, Auschwitz III opened in 1942.
According to Encyclopedia Brittanica, it supplied workers for the nearby chemical and synthetic-rubber factors of IG Farben.
Firms such as Krupp and Siemens-Schuckert also had factories nearby and used prisoners as slave labour, as per BBC.
Prisoners sent here were immediately divided into workers and the rest – who were marked for death.
Victims were sent to the gas chambers after being forced to strip naked.
The camp was liberated by the Red Army on 27 January, 1945.
By then, it was split into more than 40 camps and sub-camps.
The United Nations in 2005 designated the day the camp was liberated as International Holocaust Remembrance Day.
"United Nations General Assembly Resolution 60/7 that established the Holocaust and the United Nations Outreach Programme, also designated 27 January as an annual International Day of Commemoration in memory of the victims of the Holocaust – observed with ceremonies and activities at United Nations Headquarters in New York and at United Nations offices around the world," the UN website states.
For some, what is happening in Ukraine brings back memories of Auschwitz.
Particularly given that it lies only 300 kilometres from Ukraine, where Russian aggression is creating unthinkable death and destruction.
Bogdan Bartnikowski, a Pole who was 12 years old when he was transported to Auschwitz, said the first images he saw on television last February of refugees fleeing after Russia's full-scale invasion of Ukraine triggered traumatic memories.
He was stunned seeing a little girl in a large crowd of refugees holding her mother with one hand and grasping a teddy bear in the other.
"It was literally a blow to the head for me because I suddenly saw, after almost 80 years, what I had seen in a freight car when I was being transported to Auschwitz. A little girl was sitting next to me, hugging a doll to her chest," Bartnikowski, now 91, said.
Bartnikowski was among several survivors of Auschwitz who spoke about their experiences to journalists.
One of the others, Stefania Wernik, who was born at Auschwitz in November 1944, less than three months before its liberation, spoke of Auschwitz being a "hell on earth."
She said when she was born she was so tiny that the Nazis tattooed her number — 89136 — on her thigh. She was washed in cold water, wrapped in rags and subjected to medical experiments.
And yet her mother had abundant milk, and they both survived. After the war, her mother returned home and reunited with her husband, and "the whole village came to look at us and said it's a miracle."
She read out an appeal to the next generations to be vigilant about insidious ideologies.
"No more fascism, which brings death, genocide, crimes, slaughter and loss of human dignity," she said.
Russian president Vladimir Putin attended observances marking the 60th anniversary of the camp's liberation in 2005. But he has been unwelcome for years now.
This year, no Russian official at all was invited due to Russia's attack on Ukraine, according to the Auschwitz-Birkenau state museum.
Ukrainian president Volodymyr Zelenskyy marked the event with a post on his official Telegram feed that alluded to his own country's situation.
"We know and remember that indifference kills along with hatred," he said.
"Indifference and hatred are always capable of creating evil together only. That is why it is so important that everyone who values ​​life should show determination when it comes to saving those whom hatred seeks to destroy."
With inputs from agencies
Read all the Latest News, Trending News, Cricket News, Bollywood News,
India News and Entertainment News here. Follow us on Facebook, Twitter and Instagram.
World
Chinese president Xi Jinping is in Russia to meet his 'good old friend' Vladimir Putin. The two are expected to discuss a host of issues, including the war in Ukraine. Xi is likely to play peacemaker and reiterate Beijing's proposal to settle the conflict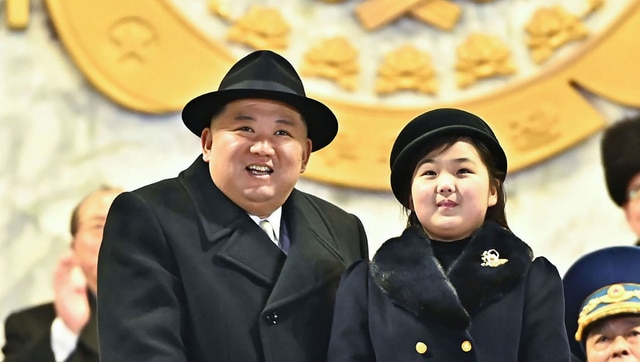 Explainers
The White House has said North Korea is attempting to trade Russia weapons for food and that Moscow may even send a delegation. This comes as Pyongyang faces its worst-ever food crisis under Kim Jong-un's 11-year rule
Explainers
The grand jury that indicted Donald Trump has heard evidence of another hush money payment made to Playboy playmate Karen McDougal. Experts say this could mean additional charges for the former president or that lawyers are attempting to show a pattern with regard to paying off women