Delhi hit-and-run case gets murky: Why Anjali Singh's friend is under the scanner
Anjali Singh's family doctor has refuted her friend Nidhi's claims that the victim was drunk on the night of the fateful accident. The 20-year-old woman's mother has also called for a probe against the friend who was present with Anjali on the scooter when the car hit their vehicle on New Year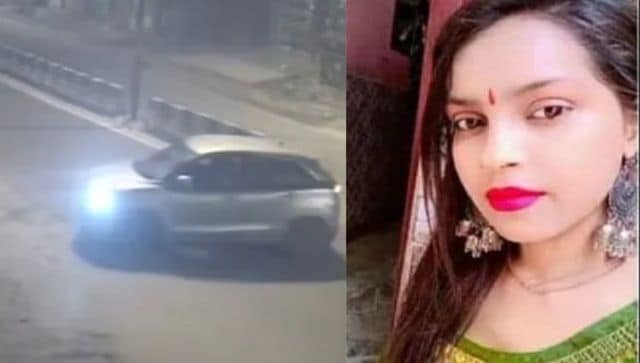 The tragic Delhi hit-and-run case continues to get murkier. The family doctor of Anjali Singh, who was dragged by a car in outer Delhi on New Year (1 January), has claimed no alcohol was found in the 20-year-old woman's autopsy report.
This comes after the victim's friend, Nidhi, told the media that Anjali had consumed alcohol on the fateful night.
Anjali was riding the scooter while Nidhi was pillion before the vehicle collided with the Maruti Suzuki Baleno, occupied by five drunk men in their 20s. As per Nidhi, while she was thrown on one side of the road, Anjali got stuck under the car, which dragged her for over 12 kilometres from outer Delhi to Rohini for almost an hour.
Anjali's body was found in outer Delhi's Kanjhawala.
What has Anjali's doctor said about Nidhi's remarks? What did Nidhi say about the incident and why her claims have come under scrutiny? Let's take a look.
No traces of alcohol
Refuting Nidhi's claims, Bhupesh, Anjali's family doctor said on Wednesday (4 January), "According to the autopsy report, there was food inside the stomach. If she would have been drunk, the report would have mentioned the presence of a chemical. But the report says only food has been detected (inside the stomach)".
The doctor was further quoted as saying by PTI, "A murder is considered sadistic when a victim is brutally tortured before death. As per the autopsy report, she suffered 40 injuries".
Anjali's body was found in an unclothed state, with her skin peeled, due to her being dragged for several kilometres, the Delhi Police said.
As per NDTV, the preliminary postmortem report indicate extensive blunt trauma injuries on the body.
What had Nidhi said?
Talking to reporters on Tuesday, Nidhi said she was returning with Anjali from a New Year party. According to the friend, the victim who had "consumed alcohol" insisted on driving the scooter and had almost collided with a truck minutes before their scooty was hit by the car.
"She had consumed a lot of alcohol. We even had a fight over who would drive the scooty. She was not at all in her senses. Before that accident, she was about to ram into a truck but I somehow managed to apply the brakes on time even as I was seated behind her…and we got saved," Nidhi was quoted as saying by IANS.
After the Baleno hit their scooter, Anjali who fell towards the front got stuck under the car, the friend recalled, saying the men inside the vehicle "knew" a girl had rolled under their car but they "deliberately ran over her", NDTV reported.
Nidhi who sustained minor injuries in the incident fled from the spot out of fear and did not report the incident.
"It was a brain-fade moment for me… I went straight home. I was feeling hopeless and scared. I was unable to comprehend anything. But when the police asked me about the incident, I told them everything," she said as per IANS.
The police had realised Anjali was accompanied by a female friend that night while tracing the route taken by her and the accused.
Nidhi was riding the scooter earlier while Anjali was sitting behind her but after covering some distance, the two women swapped seats, as per reports.
"According to the girl, she was unhurt and she left after the incident. We traced her and have an eyewitness. She is cooperating and her statement has been recorded. This will help in the investigation. We are investigating the matter from different angles," Sagar Preet Hooda, Special Commissioner of Police (Law and Order), was quoted as saying by Indian Express.
As per the CCTV footage recovered by the Delhi Police outside a hotel in Rohini the two friends had a fight just before the incident.
Nidhi said Anjali first picked her up from her house in Sultanpuri after which they went to Rohini and eventually to the hotel. "I had asked her to hand me over the scooty key but she wanted to drive. We were arguing over who will drive the scooty," she said, as per IANS.
Nidhi, the prime witness in the case, recorded her statement under Section 164 of the Code of Criminal Procedure (CrPC) on Tuesday.
Meanwhile, the friend has also asserted that no music was playing inside the car, contrary to other eyewitness accounts, reported PTI.
The five accused, who were sent to three-day police custody on Monday, claimed loud music was playing in the car and hence they did not hear the victim's screams.
Reactions to Nidhi's claims
Anjali's mother Rekha slammed Nidhi and accused her of being a part of the "well-thought conspiracy".
"I don't know Nidhi, I have never seen her. Anjali never used to drink, she never came home in an inebriated state, and we don't believe whatever claims Nidhi made. Nidhi is saying all the wrong things. If Nidhi was my daughter's friend, then how did she leave her alone? This is a well-thought-out conspiracy," ANI quoted the deceased's mother as saying.
"Nidhi is lying and strict action should be taken against her as well," the mother further said, as per ANI.
Demanding a CBI probe in the incident, Anjali's maternal uncle said Nidhi should also be interrogated.
Delhi Commission For Women (DCW) chief Swati Maliwal has also questioned Nidhi's claims.
Cautioning against victim shaming, Maliwal hit out at the friend for blaming Anjali for the incident.
In an interview with Aaj Tak, the DCW chief called for strict action against the police officers involved in the case and also demanded a probe against Nidhi who she said was assassinating her dead friend's character.
With inputs from agencies
Read all the Latest News, Trending News, Cricket News, Bollywood News,
India News and Entertainment News here. Follow us on Facebook, Twitter and Instagram.
First Cricket News
DC vs UPW WPL 2023 Highlights: Follow DC vs UPW live score, ball by ball commentary, scorecard and latest updates from WPL 2023 live match at Firstpost
First Cricket News
Chasing a small total, the top three Delhi batters of captain Meg Lanning (32 not out off 22 balls), Shafali Verma (33 off 15 balls) and Alice Capsey (38 not out of 17 balls) competed among themselves in hitting boundaries as their side chased down the target with 66 balls remaining.
First Cricket News
With Delhi grabbing a direct spot in the final, Mumbai Indians and UP Warriorz will now face off in the eliminator for the other final spot.