Was the Andrea Riseborough Oscar campaign for Best Actress illegal? The rules and regulations, explained
British actress Andrea Riseborough's nomination for her performance in 'To Leslie' was a surprise to all. But did the grassroots campaign, which saw other celebrities backing the 41-year-old, break the Academy rules?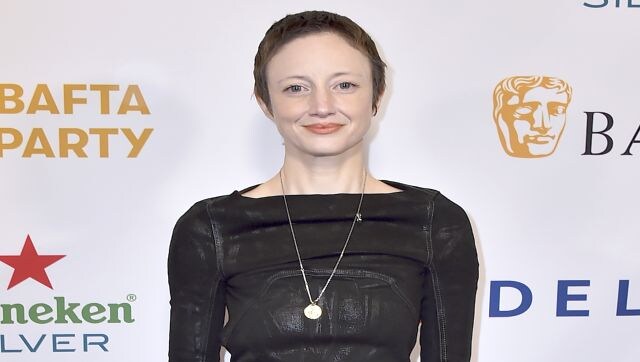 It's Oscar season! Come 13 March and all eyes will turn to the Dolby Theatre in Los Angeles where the winners of the prestigious awards will be announced. However, even before the event begins, a controversy has broken out over the nomination of Andrea Riseborough in the Best Actress category.
The controversy snowballed into such a major issue that the Academy of Motion Picture Arts and Sciences (AMPAS) said that it would conduct a review of the campaign procedures around this year's nominees "to ensure that no guidelines were violated, and to inform us whether changes to the guidelines may be needed in a new era of social media and digital communication."
"We have confidence in the integrity of our nomination and voting procedures, and support genuine grassroots campaigns for outstanding performances," the academy added.
So, what's the fuss all about? What are these "rules" that were reportedly broken in the nomination of Andrea Riseborough?
Brouhaha over Andrea Riseborough's nomination
On 24 January, when the Oscar nominations were announced, the world was stunned when 41-year-old Riseborough was named in the Best Actress category for her performance as an alcoholic Texas single mother in the scantly seen indie drama To Leslie — which only made $27,000 (Rs 22 lakh) at the box office during its limited release.
She wasn't expected to be in the mix in what is considered the hardest category to break into this year. Riseborough was nominated along with Cate Blachett (Tár), Michelle Williams (The Fabelmans), Ana de Armas (Blonde) and Michelle Yeoh (Everything Everywhere All at Once).
Reacting to the nomination, the 41-year-old British star told Deadline, "I'm astounded. It was so hard to believe it might ever happen because we really hadn't been in the running for anything else. Even though we had a lot of support, the idea it might actually happen seemed so far away."
Riseborough's nomination is largely due to the campaign led by actor Mary McCormack, wife of the film's director, Michael Morris. The Los Angeles Times reported that To Leslie's director, Michael Morris "contacted nearly every one" asking them to watch the film and spread the word about it on social media.
Big Hollywood stars like Gwyneth Paltrow and Amy Adams soon were seeing backing the movie and campaigning for it, calling it a "small film with a giant heart".
View this post on Instagram
However, reports state that the campaigning of Riseborough broke the Academy's rules on campaigning. A Puck News piece reported that "Mary McCormack emailed and called tonnes of members of the Academy's actors branch, begging them to see the little-watched alcoholic drama and post online about Riseborough's searing performance".
Moreover, those championing the British actress, such as Frances Fisher mentioned her competitors on social media — a strict no-no as per the rules.
Also read: Will RRR's 'Naatu Naatu' make history? A look at India's tryst with the Oscars
So, what are the rules to campaign?
Before we get to the rules for campaigning, one must understand that the process to win the coveted statuette. It is said that an Oscar win is more about the race than the artistry involved.
This is because a movie or a person is only nominated when they receive enough votes from the members of the Academy. Hence, buzz is needed to be created around movies or actors. In 2016, Variety estimated that studios spend anywhere from $3 million (Rs 24.50 crore) to upward of $10 million (Rs 81 crore) to lobby Oscar voters; according to a 2017 New Yorker story about modern Oscar campaigns, that figure can run as high as $15 million (Rs 122 crore). Consultants on the campaigns command tens of thousands of dollars for their services, with more in bonuses if their film wins.
But there are rules to campaign, even though they are often skirted. Studios are permitted to send out only one email a week to Oscar voters and these can't be sent directly. They have to be sent through messaging services sanctioned by the Academy.
Moreover, the mailing can't include merits of a film, an achievement or an individual. It can't include quotes from reviews of a film, neither can it include honours or awards, past or present, received by either the film or those involved with the film.
The rules by the Academy also state that during campaigns for a movie or star, one can't provide excessive food and beverage at the time and place of the screening.
There's also Rule 11, which pertains to 'references to other nominees'. The Academy strict forbids anyone directly associated with an eligible film attempting to cast a negative or derogatory light on a competing film or achievement. It also states that any tactic that singles out "the competition" by name or title is expressly forbidden.
The rules mention that those found to have violated this regulation will be subject to a one-year suspension of membership for first-time violations, and expulsion for any subsequent violations.
Will Riseborough's nomination be rescinded?
While it is unknown if these rules were intentionally broke, it seems highly unlikely that the Academy will disqualify Riseborough from the Oscar race.
A longtime academy member told the New York Times that it seemed unlikely that Riseborough's nomination will be rescinded as she did not make the direct appeals to voters herself.
An acting nomination has never been rescinded, though it has happened in other categories.
When has the Academy rescinded a nomination?
In 2012, nomination for Norway's short film Tuba Atlantic was removed from the Best Live Action Short category after it emerged that the movie had been aired on Norwegian television before its theatrical release — this goes against the Academy's eligibility rules.
A year later, Bruce Broughton's nomination for Best Original Song for Alone Yet Not Alone was rescinded when the Academy learnt that he had emailed members of the music branch directly, asking them to vote for his song.
In 2017, a sound mixing nomination for Greg P Russell for the film 13 Hours: The Secret Soldiers of Benghazi was withdrawn after the discovery of "telephone lobbying" which violated voting rules.
While we don't know what happens next, one thing is certain as actor Christina Ricci said: "These things aren't controlled or decided by the actors themselves and yet now (Andrea Riseborough's) nomination will be tainted by this. And if it's taken away shame on them."
With inputs from agencies
Read all the Latest News, Trending News, Cricket News, Bollywood News,
India News and Entertainment News here. Follow us on Facebook, Twitter and Instagram.
Entertainment
The Academy of Motion Picture Arts and Sciences has made a concerted effort to expand the membership over the past few years, in hopes of addressing some of these concerns. Here is how Oscar voting work.
Entertainment
In an exclusive interview with Firstpost, Oscar nominee Guneet Monga on her film Elephant Whisperers, struggles of being an independent women filmmaker, the reason why Indian documentaries are not given the kind of status like feature films in India and more.
Entertainment
Jimmy Kimmel roasts Will Smith slap in Oscars monologue: 'If anyone commits an act of violence, you will be awarded Best Actor'