Zero: Shah Rukh Khan's Bauua Singh responds to fake Twitter reviews ahead of film release
Fake reviews of Shah Rukh Khan, Anushka Sharma and Katrina Kaif's upcoming film Zero have been making the rounds on Twitter.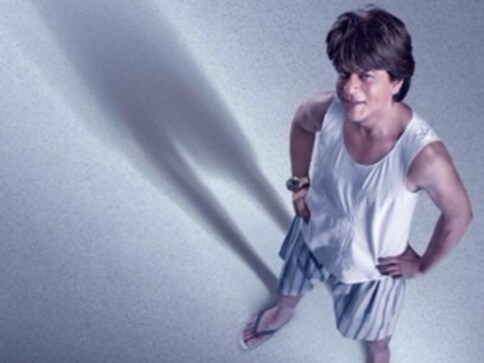 Before Shah Rukh Khan's highly-anticipated film Zero could hit the cinemas, reviews on Twitter have been making the rounds. Twitter handles impersonating not just popular film critics but also celebrities have shared their reactions to the film and many users have been unable to tell them apart from the real ones.
Khan has responded to the tweets as his character Bauua Singh, saying that the makers are yet to screen the film for anyone.
I JUST WATCHED BEST MOVIE OF THE BOLLYWOOD HISTORY #Zero@iamsrk SIR YOU ARE GREATEST.. VFX AWESOME... ANUSHKA DONE SUPERB ND KATRINA 🔥 🔥 🔥@aanandlrai SIR YOU ARE GENIUS.#ZeroReview 🌟🌟🌟🌟🌟🌟
REQUESTING TO MY ALL FANS GO AND WATCH THIS BLOCKBUSTER MOVIE AGAIN ND AGAIN 🙏

— Sonakshi Sinha (@sonakshisinha02) December 20, 2018
Watched #Zero last night

Amazing simple concept in the movie , @iamsrk sir is fantastic in the movie. Kat looked hot. This is a perfect Xmas treat for movie lovers.

Don't miss it

My review - 4/5 ⭐️#ZeroReview

— Ranbir kapoor (@kapoor1_ranbir) December 20, 2018
#ZeroReview#ZERO Story Talks About The Space Of Emotional Incompleteness Of Our Life." The Love Story About Two Imperfect Peoples.@iamsrk @aanandlrai Work so hard to show you all @BauuaSingh on big Screen.

— Narendra Modi (@Narendra_modind) December 20, 2018
Just finished watching an Indian movie #ZERO . I'm speechless and amazed at the same time. Why don't hollywood make such films?
Zero is an excellent movie.#SRK is my new favourite. Best of luck #kingkhan and Mr.L Rai for Zero.
Vande Mataram#ZeroReview

— Justin Bieber (@JustinBirbal_) December 20, 2018
@anupamachopra's take on #Zero. But still I am excited to watch it. Bring it on.#ZeroReview #ZeroAdvanceOpen @Zero21Dec @BauuaSingh @iamsrk @AnushkaSharma #KatrinaKaif #KGF #Simmba pic.twitter.com/t4qYYoJZ89

— Rahul Raut (@rahulrautwritez) December 19, 2018
Watched #Zero. #ZeroReview: It blends drama, emotions extraordinarily. The screenplay is riveting and keeps you hooked. The icing on the cake being Shah Rukh Khan's towering act. A terrific film that stays in your heart. after the screening has concluded. A must, must watch! — Rajeev Masand (@RajeevMasnd) December 19, 2018
ZERO has been watched. It is an entertaining saga that blends emotions, humour and drama in adequate doses. It is powerful, engaging, emotional as well as compelling. The combination of SRK & Aanand L Rai works like a dream. Full review on ETC tomorrow. #Zero #ZeroReview — Komal Nahta (@KomaINaahta) December 19, 2018
#OneWordReview#Zero: DISAPPOINTING. Rating: ⭐️ All that glitters is NOT gold... Holds true for #Zero... Some engrossing moments in the first hour, that's about it... Formula-ridden plot, screenplay of convenience, shoddy direction are the main culprits... #ZeroReview pic.twitter.com/5Vq4h0hhrF — Taran Adarsh (@Taran_aadaarsh) December 19, 2018
Done with #Zero screening.
It's beautifully written, acted & crafted movie. It's certainly one of the best movies of the year. Everything's in place: the direction, cinematography,VFX,music & especially acting.#ZeroReview- Complete family entertainer with emotions as its USP

— Anupama Chopra (@anupamachapra) December 19, 2018
There are also tweets compiling fictional ratings given by various publications, which are mostly negative.
#zero Reviews Rating- TOI- 1 /5 NDTV- 1.5/5 HindustanTimes- 1 /5 News18- -1 /5 BollywoodHungama - 0.5 /5 PinkVilla - 2 /5 KhaleejTimes - 2 / 5 GulfNews - 1.5 /5 Koimoi- 2 /5 Firstpost - 2 /5 Midday- 2 /5 MumbaiMirror- 2 / 5 IMDB- 2.7/10 One Word Review- 'Disaster' — ZERO (@Zerosuperhit) December 19, 2018
Shah Rukh Khan's character Bauua Singh reacted to these fake reviews surfacing on Twitter.
Ama yaar abhi tak picture humne kisi ko dikhayi nahi, ye review kahan se aa gaye? Itta bhi mat pheko ki lapeta hi na jaaye!@iamsrk @AnushkaSharma #KatrinaKaif @aanandlrai @RedChilliesEnt @cypplOfficial

— Bauua (@BauuaSingh) December 19, 2018
Translation: Buddy, where are all these reviews coming from when we haven't even shown the film to anyone yet? If you have to spread lies at least spread believable lies! — ZERO (@Zero21Dec) December 19, 2018
Directed by Aanand L Rai, Zero will release in theatres on 21 December.
Entertainment
Saif Ali Khan on replacing Abhishek Bachchan in Bunty Aur Babli 2: "I was told it is a different movie and it is not the same character (that Bachchan played). Aditya Chopra obviously knows what he is doing, so my character has been tweaked because I was playing it."
Entertainment
Ironically, John Abraham was a punch-up, anti-establishment emblem sex symbol in his prime. The most unobvious of male leads — handsome, and yet approaching something other than the sum of his handsomeness.
Entertainment
Bunty Aur Babli 2 is not a sequel we didn't need. But it's a follow-up that needed much more.