What/If teaser: Renée Zellweger plays mysterious benefactor to newlyweds in Netflix's neo-noir thriller
What/If, starring Renée Zellweger, Jane Levy and Keith Powers will premiere on 24 May.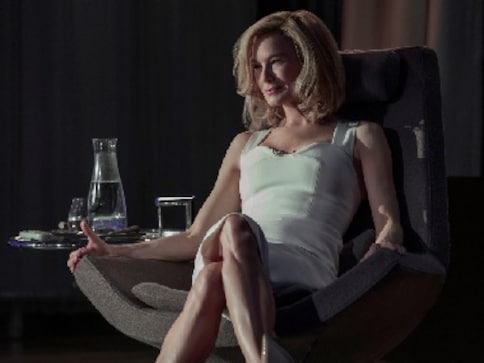 A teaser of Renée Zellweger's What/If, in what is her first major role in television, was released on 23 April. The ten-episode show is helmed by Revenge and Swingtown creator Mike Kelley and producer Robert Zemeckis.
Renee Zellweger, Jane Levy, and Blake Jenner star in @what_if, a dark and twisty new series from Revenge creator Mike Kelley. pic.twitter.com/EAnblfSeCU

— See What's Next (@seewhatsnext) April 23, 2019
"What if I made you an offer, too extraordinary to refuse? For anything and anyone," Zellweger's says in a voiceover as she is shown walking into a party. Zellweger will play Ann Montgomery, 'a mysterious female benefactor' who offers a "lucrative but morally dubious" deal to some broke newlyweds Sam (Blake Jenner) and Lisa (Jane Levy), according to Entertainment Tonight.
The first look photos shared via the streaming platform's Twitter account feature Zellweger in a white dress and coiffed hair, sporting an evil smile. Another still shows a terrified Jane Levy. It was previously reported that the show will delve into the power of a single fateful decision that changes the trajectory of an entire life. Netflix had said that each season will tackle a different morality tale "inspired by culturally consequential source material." Besides Zellweger and Levy, Samantha Ware, Keith Powers, Daniella Pineda, and Louis Herthum are also part of What/If's star cast.
WHAT/IF • MAY 24th • @NETFLIX (character poster) pic.twitter.com/aNh7WGnry5 — Keith Powers (@KeithTPowers) April 23, 2019
Kelley serves as the writer and executive producer of the show, along with Zemeckis, Melissa Loy, Alex Gartner, Charles Roven, and Jack Rapke. Jackie Levine of Zemeckis' Compari Entertainment banner serves as the co-executive producer.
What/If premieres on Netflix on 24 May.
Watch the teaser here.
Lifestyle
In addition to the immediate grief of losing loved ones to the disease, mental health issues have stemmed from the myriad ways in which our everyday lifestyles have transformed
News & Analysis
The Netflix Shop online store will sell exclusive The Witcher- and Stranger Things-themed merchandise.
Entertainment
As a murder mystery — despite a few gratuitous red herrings — Mare of Easttown is taut and moody, in the league of the first seasons of Fargo and True Detective. As a study of people and a community, it is spare, melancholy — and haunting.