What comeback? Rani Mukerji will always be remembered for being effortlessly talented
One of the last big stars of the 1990s — in the traditional sense of the term — Rani Mukerji has always meant a great deal to many.
One of the last big stars of the 1990s — in the traditional sense of the term — Rani Mukerji has always meant a great deal to many.
With the release of the trailer her upcoming film Hichki Rani Mukerji is all set to shift gears and even though she returns to the big screen after a hiatus of just three-years; Mukerji was last seen in Mardaani (2014) and the fact that Hichki is being labeled as her 'comeback' of sorts is perhaps testimony to what the actor means to her fans and also Hindi films.
Long before the star-child launch came to be known as a genre unto itself — from something that began to take shape with Hrithik Roshan and Kaho Na Pyar Hai (2000) at the turn of the century, to the whole nepotism debate — Mukerji was one of the earliest in contemporary times to transform into a superstar despite being given very little opportunity.
Interestingly enough, Mukerji is an industry insider; her father the late Ram Mukherji was one of the founders of Filmalaya Studios and the director of films like Hum Hindustani (1960), Leader (1964) and Ek Bar Mooskura Do (1972) and is also related to Kajol (her second cousin), Monish Bahl (second cousin), Ayan Mukerji (second cousin) and even Ashutosh Gowariker, who is married to her second cousin and filmmaker Ayan Mukerji's sister, Sunita.
Yet Rani's foray into films, much like Kajol's was far from a family affair. Produced by Salim and directed by Ashok Gaekwad, Raja Ki Ayegi Baraat would in hindsight be best described as a typical masala Hindi film or even called, for the want of a better term, B-grade; but Rani more than made her presence felt. She played a schoolteacher who, much to her horror, is compelled by the court to marry her rapist (Shadaab Khan).
The trajectory of Mukerji's career would have been different had she not accidentally chanced upon two mega projects. Rani replaced Pooja Bhatt in Ghulam (1998) and also ended up playing the second-lead in Karan Johar's Kuch Kuch Hota Hai (1998) after half the industry beginning with Twinkle Khanna, Raveena Tandon, Aishwarya Rai Bachchan, Tabu, Urmila Matondkar and Karisma Kapoor all refused to play it.
If the leap from Raja Ki Ayegi Baraat — a film that was pitched more as the debut of Shadaab Khan, better known as the son of the late Amjad Khan, rather than her own launch — to Ghulam and Kuch Kuch Hota Hai was tremendous, Rani's journey was nothing less than phenomenal. The fact that a petite and dusky Mukerji with a husky voice that was nearly dubbed by someone else in Johar's film would go on to become a screen diva says it all. In fact, in Ghulam, a professional sound artist did end up dubbing for Mukerji and ironically enough the audiographer for both films was same, Uday Inamati, who always felt that her unique voice would become her trademark.
The manner in which Rani went from being a nobody to a bona fide star in a matter of months and that too largely thanks to Kuch Kuch Hota Hai, a film where she is just there for half the screen time of the other female lead, Kajol, is what cemented her stardom. She might have been the insider but she had charted the course of her career without any influence from her illustrious family, immediate or extended, and this perhaps somewhere endeared her more to the fans.
In the 2000s, Mukerji was the first name that popped into minds of many filmmakers and she featured in films where, despite the length of her role or the presence of a whole lot of others, she stood apart. Be it Kamal Haasan's Hey Ram (2000), Shaad Ali's Saathiya (2002), Chalte Chalte (2003), where she replaced Aishwarya Rai, and Hum Tum (2004) Rani Mukerji regularly delivered box office hits and found critical praise too. She could balance an out and out commercial film such as Chori Chori (2003) or feature in a glorified special appearance in Yash Chopra's Veer Zaara (2004) or stand out in an ensemble cast such as Mani Ratnam's Yuva (2004) with equal ease.
In 2005 she featured in Sanjay Leela Bhansali's much acclaimed Black (2005) and Shaad Ali's runaway hit Bunty Aur Babli (2005) and that year she also became the first and only Indian actress to both the Best Actress and Best Supporting Actress Filmfare trophies in a single year for Hum Tum and Yuva respectively. This was also the year where Mukerji was the only woman on Filmfare's 'Ten Most Powerful Names of Bollywood.' The next year Black got her the Best Actress and Best Actress (Critics) awards and made her first and the only actress to date to win both the Filmfare Critics' Choice Best Actress and the Filmfare Best Actress awards during the same year for the same film.
By mid-2010s Rani Mukerji's career resembled the likes of most leading ladies in Hindi cinema beyond a certain age. Mirroring the epitaph of being one of the last true superstars in the conventional description of the word, Mukerji was also the last amongst the leading ladies for whom the screen became smaller. Intriguingly, Mukerji was also few of the top-notch female leads in Bollywood who never really got a typical 'women-centric' film as a payoff. Yes, Black in some ways, at least, can be labeled 'her Mother India' but Amitabh Bachchan's presence in the film makes it different.
Similarly, Mukerji never really got a conventional iconic romantic film a la Lamhe (1991) or her own etched-forever-in-the-minds-and-hearts-of-the-audience drama like Sadma (1983), Damini (1993) or Mrityudand (1997) and even though a Kabhi Alvida Naa Kehna (2006), a Baabul (2006) or a Laaga Chunari Mein Daag: Journey of a Woman (2007) try to that but they don't really match up.
This is what also makes Rani Mukerji exclusive for she never really appeared to push the envelope when it came to making a mark and yet she effortlessly managed to do more than that.
For a few years now, Bollywood has finally seemed to come to a point where it not only acknowledges women in terms of stature but also gives them roles worthy of their acting histrionics.
The sheer star value that Mukerji infused into both her character in No One Killed Jessica (2011) also influenced the film where the narrative couldn't really gel with her Deus ex machina like super-journalist who takes the spotlight away. Mukerji could have underplayed the character to allow the narrative to remain a procedural drama rather than a star-vehicle subject that it began to resemble, but that is a risk inseparable from the star.
In her second or third innings, depending on how one views films like Dil Bole Hadippa! (2009), Aiyyaa (2012) and Mardaani that were all seen as her comeback ventures, Mukerji would need to focus on doing what she was good at. Rather than letting the film pivot around her specific character, something that happened in Dil Bole Hadippa! (2009) or Mardaani, she should ideally pick characters such as Vidya Balan's Tumhari Sulu.
Thankfully much water has flown under the bridge since then and now when Mukerji's 'comeback' is underway, the kind of films she would be forced to take (read "women-centric") has also undergone a sea of transformation and the timing couldn't have been more fortuitous.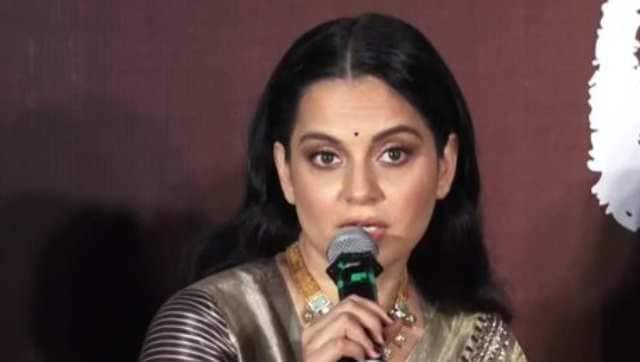 Entertainment
Javed Akhtar had filed a criminal complaint against Kangana Ranaut in November 2020 before the magistrate for allegedly making defamatory and baseless comments against him in television interviews.
Entertainment
Aamir Khan's Laal Singh Chaddha recently came under the scanner after a Twitter user accused the film unit of littering in Ladakh. Incidentally, it was Khan who was credited for the region's tourism boom over a decade earlier.
Entertainment
Madhav Moghe, who also starred in Partner, Ghatak and Damini, passed away at his home in Mumbai on Sunday.