Watch: Netflix's Maniac sees Emma Stone, Jonah Hill's characters sign up for a dubious medical experiment
Maniac features Annie (Emma Stone), disaffected and aimless, fixated on broken relationships while Owen (Johan Hill) suffers from schizophrenia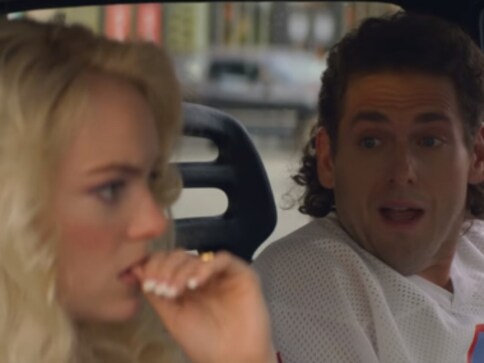 Set in a world somewhat like our world, in a time quite similar to our time, Maniac tells the stories of Annie Landsberg (Emma Stone) and Owen Milgrim (Jonah Hill), two strangers drawn to the late stages of a mysterious pharmaceutical trial, each for their own reasons. Annie is disaffected and aimless, fixated on broken relationships with her mother and her sister.
Owen, the fifth son of wealthy New York industrialists, has struggled his whole life with a disputed diagnosis of schizophrenia.
Neither of their lives have turned out quite right, and the promise of a new, radical kind of pharmaceutical treatment draws them and ten other strangers to the facilities of Neberdine Pharmaceutical and Biotech for a three-day drug trial. The treatment involves taking a sequence of pills its inventor, Dr. James K Mantleray (Justin Theroux), claims can repair anything about the mind be it mental illness or heartbreak.
Though the patients are assured, there will be no complications or side-effects whatsoever, and the experiments will solve all of their problems permanently, things do not go as planned.
Maniac is created by Patrick Somerville, and directed by Cary Joji Fukunaga. Maniac is currently streaming on Netflix. Watch the clip here.
Entertainment
The line between the real Masaba Gupta and her onscreen version is thin. Luckily, it's sharply and delicately, though not always consistently drawn.
Entertainment
Kevin Spacey was fired or removed from projects, most notably "House of Cards," the Netflix political thriller where for five seasons he played lead character Frank Underwood, a power-hungry congressman who becomes president.
Entertainment
In a statement, Patel's representative said, "We can confirm that last night, in Adelaide, Dev Patel and his friends witnessed a violent altercation that was already in progress outside of a convenience store."