VIP 2: Dhanush storms off during interview after being asked about #SuchiLeaks
VIP 2 actor Dhanush walked off during a promotional interview with a TV channel after the interviewer asked him about the Suchi Leaks controversy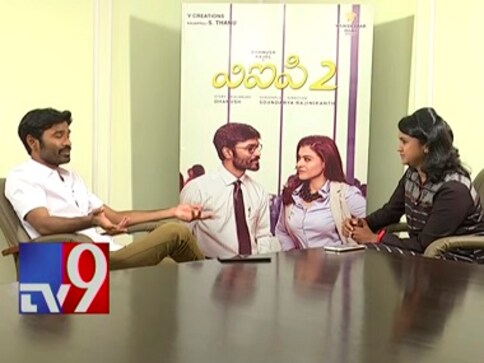 Kollywood actor Dhanush recently walked out of an interview with an anchor from the TV 9 Telugu channel while he was promoting his upcoming movie with Kajol titled Vellai Illa Pattadhari 2 aka VIP 2. The actor was directly asked probing questions about the Suchitra leaks controversy that he had been embroiled in earlier this year, resulting in Dhanush storming out in between the interview, according to a report by The Indian Express.
In the last week of February 2017, a major controversy rocked Kollywood when popular RJ Suchi (Suchitra Karthik) alleged that she had been manhandled by actor Dhanush's team.
The talk over the incident had just begun to die down, when in a fresh twist, private photos — of Dhanush, his friend Anirudh Ravichander (the 'Kolaveri Di' composer), and actresses Andrea, Hansika Motwani, and Trisha Krishnan — were shared on Suchitra's Twitter account.
In the video of the controversial interview that was released by the channel, we see the interviewer ask Dhanush about the "the kind of mental agony" he underwent, to which Dhanush immediately replied "who said I went through mental agony?".
The lady that interviewed him went so far as to ask if his "family life was at stake?". The actor initially looked like he had been caught off-guard. However, that feeling soon changed to anger as Dhanush parroted the ridiculous personal questions that the host was relentlessly asking, before angrily storming off as he claimed that this was "a very stupid interview".
Before dipping her feet into the Suchi leaks question, the interviewer asked Dhanush about his take on the drug scandal that had rocked the Telugu film industry lately, to which he replied that his general knowledge was "zero". The interviewer then moved on to asking about the "allegations" against the actor, and the "videos" that were leaked. The host straight up asked about Suchi leaks and a very baffled, getting angrier-by-the-second Dhanush kept trying to steer the conversation back to "cinema" and VIP 2.
A little while later, Dhanush returned to complete the interview, and this time the conversation revolved strictly around cinema and his upcoming movie.
VIP 2 is slated to release on 28 July.
Watch Dhanush's interview with TV 9 Telugu here

(Also Read: RJ Suchitra tweets Dhanush, Anirudh Ravichander's private photos: What's the story behind #SuchiLeaks)
Entertainment
Kajol reveals how Dhanush and Soundarya Rajinikanth made her comfortable. The fact that 50% of her dialogues were in English also helped.
Entertainment
Dhanush confirmed that he and his sister-in-law director Soundarya Rajinikanth conceived VIP as a four part franchise. Kajol will reprise her role in VIP 3.
Entertainment
Kajol decided to take up Dhanush's comedy drama Velai Illa Pattadhari 2 (dubbed VIP 2: Lalkaar in Hindi) for its script, story and her character.