The Woman King review: Viola Davis is raw, rustic & breathtaking in director Gina Prince-Bythewood's action-packed saga
Apart from Viola Davis as The Woman King, Lashana Lynch, Thuso Mbedu and John Boyega stand out with their strong portrayals.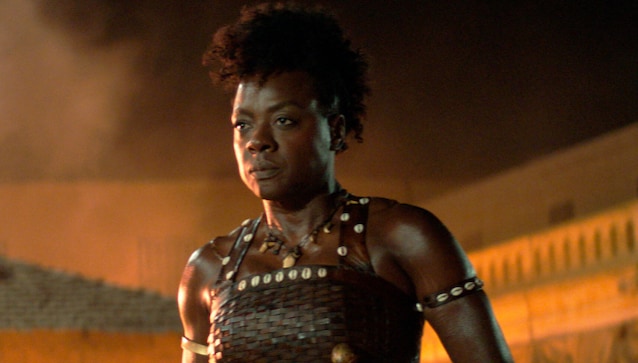 Cast: Viola Davis, Lashana Lynch, Thuso Mbedu and John Boyega
Director: Gina Prince-Bythewood
Language: Hindi
In Bollywood or rather in the Indian film industry, we rarely see big-scale films headlined by female stars unlike Western cinema, whose latest movie The Woman King is a classic example.
Set in the 1800s, the action-packed period film presents the original portrayal of Agojie, a clan of women warriors, who are the protectors of the West African kingdom of Dahomey.
Right from the first till the epic climax, The Woman King takes us through a variety of emotions with its hard-hitting brutality, patriarchy and emotional stories of the women. The scene where women are sold off to older men in the name of marriage hit your gut.
With the culturally rooted story, we are introduced to Nanisca (played by brilliant Viola Davis), the fierce warrior and leader of Agojie. Right from nailing the kickass action sequences to heartwrenching emotional scenes, Viola has delivered an impeccable. Apart from the central character, we see strong supporting portrayals – Lashana Lynch as Izogie, John Boyega as King Ghezo, Thuso Mbedu as Nawi among others. Every character's back story is intriguing and keeps you invested in the narrative. However, the film looks a bit dragged in some places.
Apart from Gina Prince-Bythewood's superb direction, Polly Morgan deserves brownie points for brilliant camera work. Terence Blanchard's music adds the perfect to the scenes and lifts them to a cinematic treat.
The powerful BGM with drums and percussions makes the action sequences epic and gives a rousing experience. Well, after watching the film one will definitely question of Oscars snubbing The Woman King.
Rating: 3.5 (out of 5 stars)
The Woman King is playing in cinemas near you
Read all the Latest News, Trending News, Cricket News, Bollywood News,
India News and Entertainment News here. Follow us on Facebook, Twitter and Instagram.
Entertainment
Netflix's Chor Nikal Ke Bhaga is a heist film and a hijack film put together. We have seen both heist films and hijack films in the past too. But too many stories in one film made Chor Nikal Ke Bhaga somehow lose focus. Chor Nikal Ke Bhaga had too many flaws too.
Entertainment
Rajkummar Rao's Bheed is more than just a film portraying the chaos of the COVID 19 lockdown.
Entertainment
Jonathan Majors was taken into custody after a woman accused him of assaulting her.