The Razzies get it wrong, and get it back
Slamming the film Blonde, the Marilyn Monroe biopic which is flawed but fascinating, with multiple nominations makes no sense.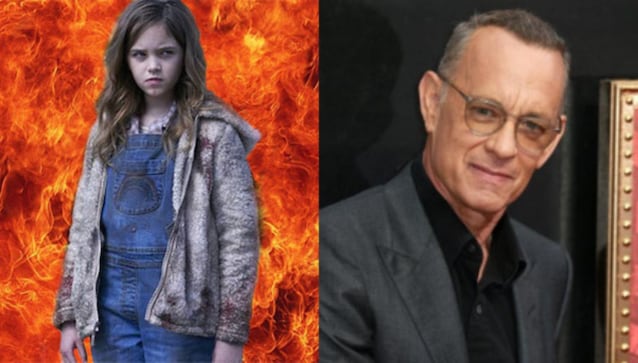 It is awful, simply awful, to nominate Tom Hanks this year in three categories of the Razzies: the American awards "honouring" the worst cinematic achievements of the year. Slamming the film Blonde, the Marilyn Monroe biopic which is flawed but fascinating, with multiple nominations also makes no sense.
But I guess criticism, no matter how savage, is a matter of taste. But when 12-year-old Ryan Kiera Armstrong was nominated for Worst Actress for her performance in Firestarter all hell broke loose. Not only did the Razzie awards committee have to withdraw the child's name, they issued a public apology and also changed the rule for nominations.
The apology reads, "Sometimes, you do things without thinking, and then you are called out for it. Then you get it. It's why the Razzies were created in the first place. The recent valid criticism of the choice of 11-year-old Armstrong as a nominee for one of our awards brought our attention to how insensitive we've been in this instance. As a result, we have removed Armstrong's name from the Final Ballot that our members will cast next month. We also believe a public apology is owed Ms. Armstrong, and wish to say we regret any hurt she experienced as a result of our choices. Having learned from this lesson, we would also like to announce that, from this point forward, we are adopting a Voting Guideline precluding any performer or film-maker under 18 years of age from being considered for our awards."
Having gotten the Razzies out of the way, I wonder what happened to its Indian equivalent the Golden Kela awards! The last we heard of them was in 2016 when the awards given out were savage gems of swipe-taking: Worst Actor (Male) – Arjun Kapoor for Tevar, Worst Actor (Female) – Sonam Kapoor for Prem Ratan Dhan Payo, Worst Director – Sooraj Barjatya for Prem Ratan Dhan Payo, Worst Film – Prem Ratan Dhan Payo, Most Annoying Song – Prem Ratan Dhan Payo (Title track), Most Atrocious Lyrics – Alfaaz for the lyrics of Birthday Bash from Dilliwali Zaalim Girlfriend, Most Pointless Sequel/Remake Award – MSG-2 The Messenger, Why Are You Still Trying Award – Imran Khan, Manoj Kumar Award for Historical "Accuracy" – Bajirao Mastani, Dara Singh Award for Worst Accent – Randeep Hooda for Main Aur Charles, Sangh Parivaar Award – Gerua from Dilwale, Shakti Kapoor Award for Misogyny – Pyaar Ka Punchnama 2, Bas Kijiye Bahut Ho Gaya Award – Sooraj Barjatya, What The Hell Award – Sonam Kapoor, Baawra Ho Gaya Hai Ke Award – Vikas Bahl for Shaandaar
RIP, I guess. Indian actors don't have a sense of self-deprecation at all. Hats off to the organizers two fearless gentlemen named Anant Singh and Jatin Verma for their Kela instincts. I remember during the year 2014 they were questioned as to why Katrina Kaif was not nominated in the Worst Actress category for Dhoom 3.
"Because we don't even consider her an actress," they quipped. Touche
Try saying that out loud if you an awards organizer in Bollywood. Chances are, the aforementioned star will never attend your awards function, never dance for it and never invite you to her birthday party. Some years ago an awards function was on when one of the best actress nominees who were on the way to attend the function, got to know that another actress had won the award. She called to tell the organizers that she should win or she won't dance. Caught in a sweaty situation they complied. But really, what kind of satisfaction does an actor get after bullying an award out of the organizers?
If I were Robert Downey Jr I would have been as happy with my Razzie nomination for Worst Actor in Dolittle as the Oscar for Chaplin in 1993. Because the Razzie nod is an acknowledgement of how much is expected from an actor.
Subhash K Jha is a Patna-based journalist. He has been writing about Bollywood for long enough to know the industry inside out.
Read all the Latest News, Trending News, Cricket News, Bollywood News, India News and Entertainment News here. Follow us on Facebook, Twitter and Instagram
Entertainment
The 73-year-old accused Beijing of "cruelty, collective violence and persecution" of the Tibetan people, whom he said were repressed by a "pervasive surveillance system."
Entertainment
The director filmed Houellebecq having sex in Paris with a woman called Jini van Rooijen, a philosophy student with whom the director works.
Entertainment
Here are facts about Stormy Daniels and her alleged relationship with Trump.