The Lunchbox vs The Good Road: India's Oscars desperation
Having dismissed debate and stifled critique for years, we've turned Indian arts and culture into a little well of insincere flattery and polite avoidance
On Saturday afternoon, if you were listening, there was a sound that is rarely heard in Bollywood: the rumble and crumble of heartbreak. In an industry in which everyone has a publicist spouting statements for them, and fake smiles are the most popular currency, it's rare to encounter genuine emotion. When the Film Federation of India (FFI) announced that it was sending The Good Road by Gyan Correa as the Indian entry to the Oscars, what we got from the people in camp The Lunchbox – courtesy social media – was unaffected, unadorned responses.
Really shocked and dissapointed....#LUNCHBOX had every factor working in its favour...we may have just lost our golden chance....SAD!!!

— Karan Johar (@karanjohar) September 21, 2013
i dont know who the federation is.but it goes to show, why we completely lack the understanding to make films that can travel across borders — UGLYAnurag (@ankash1009) September 21, 2013
very very sad.... i have lost faith in continuing doing the films we do if this is what the film federation does!! — Guneet Monga (@guneetm) September 21, 2013
In case you thought this was a case of Bollywood coming together as a pack and howling at the whimsy of an organisation most people didn't know existed, the bulk of Bollywood didn't seem to give a damn. Those active on social media, like Shahrukh Khan, Sonam Kapoor and Priyanka Chopra, had nothing to say about The Lunchbox, the Oscars or FFI. Even those who had tweeted praise for the film after seeing it, like actor Amitabh Bachchan and director Shekhar Kapur, didn't have a word to say about it not being selected for the Oscars. Why? Because, for all the rants, the FFI is the organisation entrusted with the responsibility of selecting an Indian entry for the Oscars. If this film wins over enough members of the Academy of Motion Pictures Arts And Sciences (AMPAS), as Lagaan did, then it gets nominated for Best Foreign Film. Then if it gets enough votes, it wins the award.
Three Indian films have been nominated in Oscar history – Mother India, Salaam Bombay and Lagaan – but we're yet to win an Oscar for our cinematic efforts. This is not because the films aren't good enough (a lot of rubbish films win Oscars), but because, until very recently, an Indian producer couldn't afford the lobbying in Los Angeles that is a critical part of getting your toe through the Oscars' door. Unusually for a small film in India, The Lunchbox did great. Its build-up was perfect. Born an indie film, adopted by one of the most successful commercial studios in Bollywood, The Lunchbox brought together an unusual alliance between disparate camps. Its list of 21 producers include Lydia Dean Pilcher (whose credits include The Darjeeling Limited and The Namesake), NFDC (whose films win National Awards and are seen by almost no one other than the jury of the award, thanks to our overwhelmingly market-driven industry), Guneet Monga (producer of films like Monsoon Shootout, which was selected by Cannes, and Gangs of Wasseypur) and Anurag Kashyap.
Karan Johar decided to present it to Indian audiences and Disney UTV became its Indian distributor. The film's US rights were picked up by Sony Pictures Classics, a Hollywood heavyweight. When The Lunchbox's cheerleaders wail about everything having aligned itself in favour of the film, this is the confluence they're talking about. Till FFI's announcement on Saturday, the three Indian favourites for an Oscar nomination were Ship of Theseus (presented by Kiran Rao and therefore assumed to have Aamir Khan's backing), Bhaag Milkha Bhaag (produced by Viacom 18 and Rakeysh Omprakash Mehra) and The Lunchbox.  No one expected The Good Road to come out in front, least of all the director of the film, Gyan Correa who has since received much hate mail, as though he betrayed the country by making an award-winning film that the FFI's selection committee liked.
Unsurprisingly, the rumours now circulating are like a particularly drunk game of Chinese Whispers. The FFI's Oscar selection committee, headed by filmmaker Gautam Ghose, is supposedly made up of arty grouches who just can't appreciate feel-good films, especially if they have the backing of a commercial producer like Karan Johar. (Never mind the fact that the in the past, the FFI has sent blockbuster films like Jeans and Barfi! as Indian entries.) The government interfered with the selection process, though precisely why it would want to champion a low-profile film by a first-time director is unclear. And then there's the 'Narendra Modi did it' rumour, according to which The Good Road is the selection committee's attempt to ingratiate themselves with Modi (how would this work and why would a committee whose members must be unnamed bother to do so? Never mind. Why expect logic from a rumour?). And hey, since Modi tweeted about The Good Road, that rumour must be the closest to truth.
Delighted to know that Gujarati film 'The Good Road' has been chosen to represent India at Oscars. Congrats to cast & crew. My best wishes.

— Narendra Modi (@narendramodi) September 21, 2013
Then there's the theory that the committee, feeling squinched between Bollywood biggies like Karan Johar and Aamir Khan, decided to pick the film that had no backing. That way, the committee and the FFI can't be accused of having favoured anyone important.
Only critic Nandini Ramnath had the temerity to suggest that The Good Road was selected because it is a good film.
What all this hand-wringing about The Lunchbox and The Good Road really shows, however, is the worrying state of the cultural dialogue within the country. Including the National Awards, we've got more than a dozen events that claim to celebrate good cinema in its various shapes and sizes. Filmfare, Stardust, IIFA, Apsara, CineMAA, Zee Cine and Colors Screen awards are just a few names. They come with Oscars-style nominations, red carpets and live performances, and they're telecast to millions of (South Asian) people around the world.
But as far as the industry is concerned, they're irrelevant. Since there's no respect for either the awards or the process by winners are chosen, the hankering for a pat on the back from something like the Oscars becomes that much more intense. It's not just an award, it's a validation for the entire Indian film industry that lets us say, "Look, we're not crap! A real film industry with a real critical establishment said so!"
For years, it seemed the importance we gave to foreign critics and awards came out of a national sense of insecurity and an ingrained habit of needing the white man's approval. Postcolonial baggage, as the academically-inclined would term it. In the 21st century, things are a little different. We're confident enough of ourselves, to the point that today, the image of the young Indian abroad isn't meek as it was 20 years ago, but brash. Our books are being read internationally, our politics are being reported by news agencies from the world over, Indian art is in prized international collections – it all looks pretty darn groovy. So you'd think that at this point, we'd be less eager to please foreign juries and institutions, but actually we've become more desperate than ever before.
Having dismissed debate and stifled critique for years, we've turned Indian arts and culture into a little well of insincere flattery and polite avoidance. Having viewed the arts as hobbies for generations, we've laughed off the idea that these are professions or practices that require training, rigour and nurturing. The number of educational institutions that offer respectable courses in filmmaking, art, music, creative writing and cultural criticism are laughably low. Over the years, these have actually dwindled instead of flourishing. Consequently, anyone can become an artist or a critic, and our aesthetic yardsticks have dropped to the point where an average film seems brilliant. There's little respect or acceptance for critical debate, whether it's from a peer or a critic, because most of them have landed up in these professions by chance, rather than as a result of training and ambition. You can trust neither praise nor disapproval.
Net result: India has a cultural playground that is simultaneously fertile and barren. We've got the potential and the ambitions, but we don't have the critical debate that is essential to nurture good art.
We value the Oscars not because it's the best-marketed awards spectacle or because the American film industry is holier ground, but because we respect that opinion. (The reason so many more know the Oscars, as opposed to the BAFTAs or the Cesar, is its marketing, but that's a separate matter.) Even though everyone in the industry – and many outside it – know that it takes bushels of money and relentless politicking to win an Oscar nomination, the fact that the award is given by a group of professionals, whose work we regularly see and frequently admire, makes it command more respect than any of the Indian statuettes. It matters a little more than film festival acclaim to Bollywood because it's acknowledgement from Hollywood, a respected peer.
If we had even one award within the country that the industry and audiences could respect, then the Oscars would be less of a big deal. If there were a cultural institution or jury that we found credible and worthy of respect – one that wasn't considered a collection of groupies, grumps or ignoramuses – then there could be an award with that kind of standing. It doesn't have to begin as an elaborate affair (after all, the Oscars started out as a little industry party) but it does need to have credibility and trustworthy standards of excellence. If we can trust the talent – creative and critical – within the country to evaluate itself honestly, then we'll move towards a scenario where such an award can exist and thrive. When that happens, it won't feel quite as catastrophic if you have more than one good film in a year and it doesn't get nominated for the Oscars. Considering the crop of good films this year, it's a shame we're not there yet, because this was a year in which Indian cinema deserved to be celebrated.
Subscribe to Moneycontrol Pro at ₹499 for the first year. Use code PRO499. Limited period offer. *T&C apply
Entertainment
"Proud of you for sharing this," Kalki Koechlin praises Aaliyah Kashyap for taking a stand against harassers
Entertainment
"Because some collaborations deserve to be repeated," Taapsee Pannu wrote on reuniting with Pavail Gulati in Dobaaraa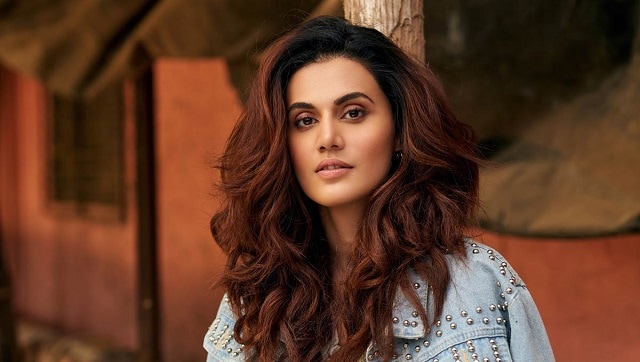 Entertainment
Pannu, 33, and Kashyap, 48, both known to be outspoken in their views on a range of issues, were shooting in Pune on Wednesday and were understood to have been questioned by the tax sleuths