Thankam movie review: Precious!
Thankam (Gold) is a travelogue within a police procedural, a friendship saga and a study of the human condition. It has its flaws, but its socio-cultural insights are priceless.
Cast: Biju Menon, Vineeth Sreenivasan, Aparna Balamurali, Girish Kulkarni, Indira Prasad, Vineeth Thattil David        
Director: Saheed Arafath
Language: Malayalam with Tamil, English, Marathi and Hindi  
"We're Maharashtra police investigating a Mallu case in Tamil Nadu – it's gonna be tough."
This line spoken by a senior Mumbai policeman during a challenging probe captures the essence of the new Malayalam film Thankam (Gold) produced by Fahadh Faasil, Dileesh Pothan and Syam Pushkaran. Or wait…make that "partially captures". Because Thankam is as multi-faceted as a film can get: a crime drama that flows into a police procedural across state borders, a friendship saga, slice-of-life cinema, a study of the human condition. Each time you think you have zeroed in on the genre it inhabits and the crux of what it intends to do, the next scene heads off in an unexpected direction, steered so smoothly by director Saheed Arafath (Theeram) and writer Syam Pushkaran (Maheshinte Prathikaaram, Kumbalangi Nights, Mayaanadhi, Joji) that the procession of plot turns and intermittent twists is never jarring.
Thankam kicks off as a story of friendship between Matthew a.k.a. Muthu (Biju Menon), Kannan (Vineeth Sreenivasan) and Bijoy (Vineeth Thattil David) who are involved in Thrissur's gold trade. Trouble starts when the trio head out to Tamil Nadu for a business-cum-pleasure trip and their plans go awry. Later, a crime linked to them occurs in Maharashtra. Enter: the Mumbai police officer Jayanth Sakhalkar who is nobody's fool.
Thankam defies most conventions of every genre into which it dips its feet. Its nature as a travelogue within a police procedural harks back somewhat to Rajeev Ravi's excellent Kuttavum Shikshayum released last year. That film though focused entirely on the drudgery of police work and the lead characters' journey from Kerala to the north and back, delving into their psyches and personal circumstances only to the extent needed to understand them within their professional sphere. Thankam, in contrast, spends considerable time on drawing out Muthu and Kannan before the police even come into the picture.
Trust Malayalam cinema in its latest Renaissance to abjure the formulaic treatment of friendships that cinema across Indian languages has favoured for decades. Instead of generating syrupy sentiments, Thankam, like last year's Tovino Thomas starrer Dear Friend, calls on the viewer to consider the possibility of how little we may know of the persons closest to us.
Where Thankam stumbles is in its apparent assumption that the viewer is well-informed about Thrissur's gold market. The nitty-gritty of the dealings and the reasons for the hush-hush-ness in Kannan's work are thus not entirely recounted with clarity. That's a mistake, but the captivating realism in the storytelling overshadows this drawback.
Thankam is consistently under-stated barring a marginal tonal shift in a single fight scene in which it is left to two Malayali men to save the day in a commercial-cinema-esque fashion. It's hard to grudge the director that tiny detour though, since it is ever so slight and is not designed to make the people of any other community look foolish (this is unlike Hindi cinema that caricatures southern Indians when not erasing them).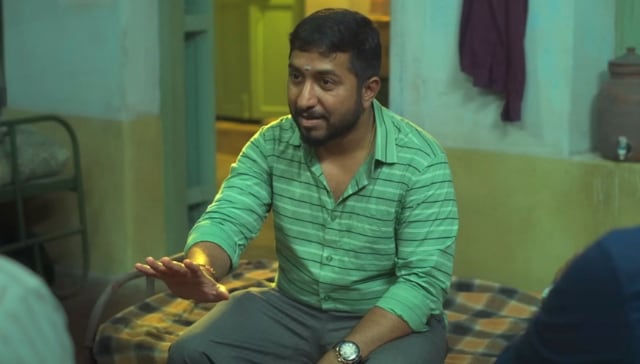 The beauty of Thankam lies in the empathy it kindles for its characters despite painting them as pronouncedly grey. A corrupt policeman takes a gold chain as a bribe, but on noticing a sacred pendant hanging from it, respectfully detaches it and returns it to the bribe-giver. Muthu, Kannan and Bijoy deceive their families, they are creepy around certain women, their vocabulary is sometimes icky, but their commitment to their friendship is never in doubt. For the record, their creepiness is not treated as comedy – in this and other ways, Thankam unobtrusively reveals its politics. In an India where beef has become an explosive issue often sparking violence, Thankam, like Malayalam cinema in general, normalises beef-eating not just among minorities but through the conduct of Kannan who is shown to be a devout Hindu.
Thankam is also incredible in its use of language, becoming yet another example of southern Indian cinema that the Hindi film industry can emulate in this regard instead of doing what Hindi cinema has done for too long: pointedly ignoring the existence of all Indian languages other than Hindi except when occasionally throwing in stereotypical dashes of Marathi among gangsters, Punjabi for comic relief and English to denote coolth. Malayalam cinema has had its own mess-ups with language over the years, with too many filmmakers randomly inserting Hindi and English into dialogues incompatible with the settings of their stories, in a manner that suggests that they look up to these languages as being more hip than their mother tongue. Thankam falls into a more evolved category of film that treats Malayalam with respect, features other languages in the dialogues purely in the interests of authenticity and casts actors accordingly. As Ariyippu (Declaration) and Kuttavum Shikshayum did. In Thankam, the writer picks from a smorgasbord of languages – Malayalam, Tamil, English, Marathi and Hindi – depending on each character's background and, in the case of those among them who know more than one, the practical requirements of a given moment.
Accurately and with humour, Thankam additionally spotlights an inexplicable reality: that the average non-English-speaking Malayali is terrified of English and would prefer to speak broken, even incomprehensible Hindi than risk English. Hridayam had spelt it out in black and white in a VO: "There's something that any Malayali who's born and brought up in Kerala fears the most wherever they go – English." Why this is so is a mystery that even Jayanth Sakhalkar may struggle to solve. Thankam also has a scene in which Jayanth assumes he needs an interpreter to communicate with a Tamilian woman but it turns out that she knows Hindi. Not that all Indians are duty-bound to know Hindi, but this is a neat touch because it nixes the propaganda that has for decades sought to paint Tamilians as north India hating, Hindi-hating xenophobes simply because they have unrelentingly opposed Hindi imposition and supremacism.
Leading a near-perfect cast, Biju Menon, Vineeth Sreenivasan and Vineeth Thattil David share an easy chemistry as they traverse a whole gamut of emotions during the course of the story. Each one is dubious in his own way yet none of the actors goes down the easy path of making their characters repulsive. Vineeth Sreenivasan gives Kannan an aura of something indefinable even before his problems are revealed. Biju and the other Vineeth pull off humour without being off-putting in dire scenarios. Marathi film veteran Girish Kulkarni, who's making his Malayalam debut here, is simply outstanding.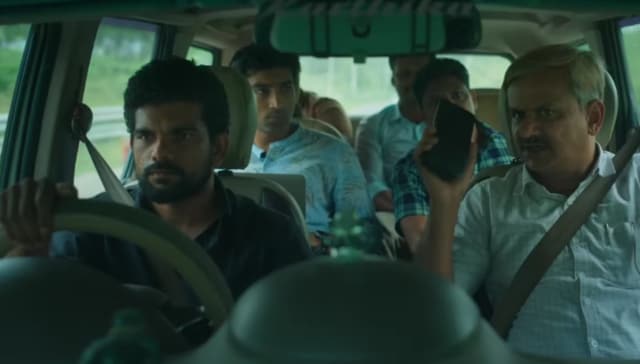 Though the three friends and Jayanth get the most screen time, multiple supporting characters are made distinctive by the writing with the aid of an impressive ensemble cast. The satellite players best served by the screenplay and given more space in the narrative than the rest are the businessperson Ambika Chechi (Indira Prasad), the no-nonsense Malayali police officer in the Mumbai force and his pliable junior who is a tech expert. Sadly, Ambika is the sole female character with an identity independent of the men in this male-driven universe.
Aparna Balamurali plays Kannan's wife. It would have been nice to see a star of her standing as a character whose actions move the plot forward at least at some point, but her only role is to be supportive and helpless. Aparna does her best within these limitations. A bunch of other characters walk in and out briefly yet make their mark belying the few minutes or seconds assigned to them: the Instagrammer in Tamil Nadu, the petty crook called Vicky whose cockiness dissipates in a flash, the woman who is tired of her philandering partner and that wayward partner all feel like real people pretending to be actors.
Thankam is well-cast, well-acted and suspenseful in a laidback way that is not common in thrillers. More than anything else, the film's insights into socio-cultural intricacies are – like the metal from which it draws its name – precious.
Rating: 3.5 (out of 5 stars) 
This review was first published in January 2023 when Thankam was released in theatres. The film is now streaming on Amazon Prime Video.
Anna M.M. Vetticad is an award-winning journalist and author of The Adventures of an Intrepid Film Critic. She specialises in the intersection of cinema with feminist and other socio-political concerns. Twitter: @annavetticad, Instagram: @annammvetticad, Facebook: AnnaMMVetticadOfficial
Read all the Latest News, Trending News, Cricket News, Bollywood News, India News and Entertainment News here. Follow us on Facebook, Twitter and Instagram
Entertainment
Keanu Reeves' John Wick: Chapter is an action-packed adrenaline rush filled breathtaking cinematic moments.
Entertainment
The latest of Scream makes the slasher franchise bloodier, gorier and brighter.
Entertainment
Thuramukham chronicles a workers' movement in Kochi with stunning cinematography, a charismatic cast but middling emotional heft