Taapsee Pannu disappointed over being dropped from Pati, Patni Aur Woh remake: 'I deserve an answer'
Taapsee Pannu says director Mudassar Aziz was asked to 'take someone else' and when the actress tried confronting the producers, she received no clear reply.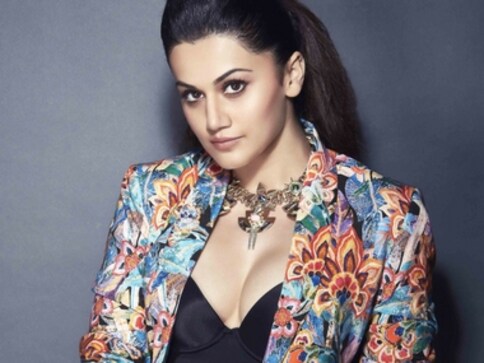 Taapsee Pannu has had a marvelous 2018 with films like Manmarziyaan, Mulk and Soorma as part of her filmography. But right at the star of 2019, the actress has been unceremoniously removed from the remake of Pati Patni Aur Woh, and that too without any intimation.
Taapsee confirmed the news stating that she was present during the narration of the film in November along with producers Abhay and Juno Chopra. The actress was asked to clear her schedule after she gave the go-ahead and she had complied. The clauses of the contract were the only pending formalities.
The sudden change of plans has certainly created a mess, in terms of Taapsee's work schedule. The actress stated that she wish she had known earlier that she would not be part of the project, because she had taken away dates from another film to accommodate the Pati Patni Aur Woh remake. Director Mudassar Aziz's contemporary treatment of the original film was something that had interested the actress and thus, she had shown enthusiasm towards the project.
Taapsee even mentioned that she had not been given any particular reason for the sudden change. Even Aziz was asked to "take someone else" and when the actress tried confronting the producers, she received no clear reply.
The remuneration also could not have been an issue, states the actress, as the matter was yet to be discussed. "I assumed that I was the first choice since the director narrated the script to me first. After moving my dates, I think it would have been better if I was informed about the development instead of finding out about it from others. I deserve an answer. This is disheartening."
The actress stated that this incident was a learning experience for her as from now on, she would be more careful about signing films. She even wished luck to whoever was taking up the part as she felt it was a "good part."
Entertainment
Baldwin's legal team in February sought to disqualify special prosecutor and Republican state Rep. Andrea Reeb of Clovis based on constitutional provisions that safeguard the separation of powers between distinct branches of government.
Entertainment
The video of the actor's gesture is going viral on social media.
Entertainment
In a video shared on Nick Jonas' Instagram handle, he can be seen waiting for someone as he continues to check the time. He also added a hilarious text on the reel for indirectly teasing his wife.