Firstpost at Sundance: From Velvet Buzzsaw to Photograph, a look at the films set to premiere
Here is all you need to know about Sundance 2019, America's largest independent film festival.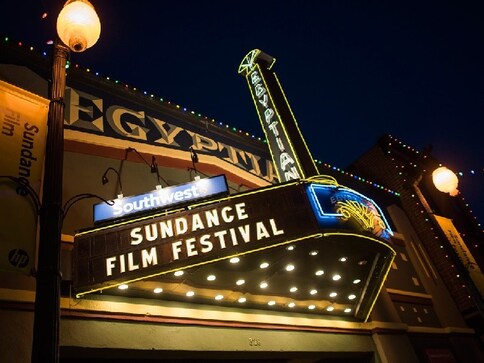 The 2019 Sundance Film Festival kicks off this Thursday, 24 January, and Firstpost heads to the quaint ski town of Park City, Utah to bring you the latest news, reviews and interviews from America's largest independent film festival. 
Actor-turned-performance artist-turned-indie darling Shia LaBeouf plays his own alcoholic father in the semi-autobiographical Honey Boy; The Nightcrawler team of Jake Gyllenhaal, Rene Russo and Dan Gilroy reunites for a new satirical thriller Velvet Buzzsaw; Lupita Nyong'o must protect her kindergarten students from being feasted on by zombies in Aussie rom-zom-com Little Monsters; Awkwafina travels to China to see her ailing grandmother one last time in The Farewell; Naomi Watts is a celebrated counter-cultural icon stuck in her apartment in the claustrophobic thriller The Wolf Hour; Zac Efron is the "Extremely Wicked, Shockingly Evil and Vile" Ted Bundy.
These are just six of over 100 features set to premiere at the 2019 Sundance Film Festival, as thousands of film lovers head to the mountains of Utah — ready to brave the sleet, the sub-zero temperatures and the seemingly endless queues — to catch the hottest indie films before the rest of the world does.
The Sundance Institute has unveiled a particularly diverse lineup of films this year. But it is (sadly) physically impossible — unless you can somehow borrow Hermione's Time-Turner — to watch all 112 feature-length films, experimental short films, well-timed documentaries and independently produced TV series. So, we have tried to narrow down the must-see list to the starry and buzz-y films — and those that get lost in the hype in such an intimidating lineup.
Sundance has not earned its reputation by showcasing tent-pole fare with A-list stars. However, it has always played up indie films featuring those who love being challenged and playing against type — like High School Musical star Zac Efron, who plays a notorious serial killer in Extremely Wicked.
Last year's event saw plenty of edgy, boundary-pushing indies like Sorry to Bother You, Mandy and Madeline's Madeline, and this year too has its fair share of curios. Other than Extremely Wicked..., Honey Boy and Velvet Buzzsaw, expect the buzz to coalesce around films like Late Night and Troop Zero. The former is about a late-night talk show host (Emma Thompson) whose show is revitalised when she hires her first female writer (Mindy Kaling), and the latter (starring Viola Davis, Mckenna Grace, Jim Gaffigan and Allison Janney) tells the story of a misfit girl who dreams of life in outer space in '70s rural Georgia.
Among all the countries, Australia has a truly historic and impressive contingent of six feature films at Sundance this year. The Nightingale, Jennifer Kent's much-awaited The Babadook follow-up, is a Tasmanian Gothic drama set in an early 19th century penal colony; I Am Mother, starring Rose Byrne and Hillary Swank, is a sci-fi thriller about a robot raising a teenage girl following an extinction event; Mirrah Foulkes' Judy and Punch features Mia Wasikowska and Damon Herriman as puppeteers trying to resurrect a marionette show and sounds like the quintessential quirky Sundance indie; In Animals, Alia Shawkat and Holliday Grainger are 30-something soulmates in an adaptation of a book that was described as "Withnail and I with girls"; Top End Wedding is a true-to-type Australian film about a Sydney couple who have ten days to search for the bride-to-be's missing mother in time for their wedding; and we have the above mentioned rom-zom-com.
India too will showcase an accomplished and intriguing contingent this year. After the overwhelming global reception to his film The Lunchbox, Ritesh Batra returns with another tale of intersecting fates in Mumbai — this time, it is a struggling street photographer (Nawazuddin Siddiqui) and a shy stranger (Sanya Malhotra) in Photograph. Delhi Crime Story, a seven-part series based on the 2012 Delhi gangrape case, will compete in the Indie Episodic section. Directed by Indo-Canadian writer-director Richie Mehta, the series features a stellar cast of Shefali Shah, Rasika Dugal and Adil Hussain among others. Anamika Haskar's Ghode Ko Jalebi Khilane Le Ja Riya Hoon (Taking the Horse to Eat Jalebis), which had its world premiere at the Jio MAMI 20th Mumbai Film Festival last year, will compete in the New Frontier section at the Park City festival.
The documentaries this year will spotlight celebrated personalities like congresswoman Alexandria Ocasio-Cortez (Knock Down the House), The Millennium trilogy author Stieg Larsson (The Man Who Played With Fire), jazz legend Miles Davis (Birth of the Cool) and Nobel laureate Toni Morrison (The Pieces I Am). Former Sundance regular Harvey Weinstein is also the subject of a documentary (Untouchable) about his dramatic downfall following numerous allegations of sexual assault and harassment which kicked off the #MeToo and Time's Up movements.
There are plenty of off-screen events to keep your eye on this year. The Cinema Café series will see plenty of interesting pairs engage in informal conversations, including Chiwetel Ejiofor and Boots Riley, Tessa Thompson and Jane Campion, and Desiree Akhavan and Nisha Ganatra. The panels at the festival will explore some timely topics like Can Art Save Democracy? (because what else can in its current state), Reseeing the Present, Rewriting the Past (about the erasure and misrepresentation of Native Americans and African Americans in mainstream cinema) and Imagining the Independent Internet (what the future of online communities holds for artists).
Over the years, Sundance Film Festival has not only been a mecca for the most promising indie storytellers from around the world but has also offered a platform for dialogue and debate about the most pressing contemporary issues and concerns. Like Robert Redford, President and Founder of Sundance Institute, said, "Society relies on storytellers. The choices they make, and the risks they take, define our collective experience. This year's Festival is full of storytellers who offer challenges, questions and entertainment. In telling their stories, they make difficult decisions in the pursuit of truth and art; culture reaps the reward."
Sundance Institute continues to foster diversity in not just films and filmmaking, but also film criticism. Its new Press Inclusion Initiative has granted stipends to journalists and critics — including women, people of colour, LGBTQIA+, people with disabilities and even foreign reporters — attending the 2019 festival.
As always, the Sundance Film Festival promises a variety of boundary-pushing films from the most promising storytellers, featuring talent — both new and seasoned. This year's event features a phenomenal line-up of both onscreen and off-screen events to look forward to. So, damn the cold, the uncomfortable parkas and the queues. Let's see what 2019 has to offer in cinema.
The 2019 Sundance Film Festival runs from 24 January to 3 February.
World
The oil-on-canvas painting, which the suit says is worth more than $5 million, was part of the Detroit Institute of Arts' recent 'Van Gogh in America' exhibition
Entertainment
A descending look at the numbers behind Tuesday's nominations for the 95th Academy Awards.
Entertainment
The movie follows two ambitious analysts at a cutthroat hedge fund, played by 'Bridgerton's' Phoebe Dynevor and 'Solo's' Alden Ehrenreich