Mandy movie review: A hallucinatory revenge thriller with Nicolas Cage Unhinged™ like never before
Mandy's trippy visuals and OTT action set-pieces pay off because it truly embraces the unfathomable genius of Nicolas Cage.
If a picture is worth a thousand words, a GIF is perhaps worth a million more. And before I try to put into words the sheer insanity of Nicolas Cage and his latest unhinged performance in Mandy, I'll let this GIF below serve as an illustration.
Did that pique your Cageosity? Then, let me assure you, Mandy gives you Nicolas Cage Unhinged™ like never before.
Mandy is a singular, immersive cinematic experience filled with the most ultraviolent delights and hallucinatory visuals. Combining an art house auteur's aesthetic sensibilities with the incendiary whims of a grindhouse flick, Panos Cosmatos delivers a glorious psychedelic rock opera of love, loss and bloody revenge. And it pays off because it truly embraces the unfathomable genius of Nicolas Cage.
The year is 1983. Red Miller (Cage) lives with his girlfriend Mandy Bloom (Andrea Riseborough) in a cabin in a quiet wilderness far away from society. He is a lumberjack, who tells terrible knock-kock jokes, and she is an artist, who works as an attendant at a remote gas station. It seems like both have had to deal with some trauma in the past but have now come to terms with it as they lead a happy, secluded life.
However, their idyll is shattered when, one day, Mandy catches the eye of cult leader Jeremiah Sand (Linus Roache) — think Charles Manson meets Buffalo Bill (from The Silence of the Lambs). Determined to recruit her as a slave in his cult Children of the New Dawn, he summons a demonic gang of bikers to secure his desire. But things take a tragic turn with Mandy murdered and Red left for dead. Armed with a heavy-duty crossbow and a custom-made battle axe, Red goes on a relentless and gruesome rampage to avenge her death.
Mandy is such a non-stop visual and aural assault on your senses that you need to pinch yourself to remind yourself you're watching a movie and not suffering through a bad acid trip or stuck in an opium den. Cosmatos takes your generic revenge thriller premise and infuses it with fetishistic violence and a Lynchian logic of its own. DoP Benjamin Loeb pulls you in to its kaleidoscope world of deep, saturated reds and blues and grainy VHS-like texture. Jóhann Jóhannsson, in what is sadly his final work before his untimely death, helps realise Cosmatos's nightmarish vision with a hauntingly beautiful score that blends his usual mood-based soundscapes with atmospheric synths, menacing drones and some heavy metal elements.
Riseborough lends an ethereal charm and sensitivity to the titular Mandy, who pretty much drives the first half of the film. Cosmatos thankfully doesn't treat her unfortunate death like just a fundamental plot motivator for the story's protagonist, like exploitation films usually do. Despite being kidnapped and drugged by Jeremiah, she refuses to be brainwashed and rejects his advances. But, as he still disrobes, she laughs maniacally in a final act of defiance against Jeremiah, toxic masculinity and male privilege.
But Mandy primarily works because it provides the perfect canvas for Cage to do his thing. And he delivers a self-aware performance of caricatured rage and operatic madness, crying, squealing and screaming like only he can. One of the more memorable Nicolas Cage Unhinged™ moments in Mandy happens before his character, Red, embarks on his one-man quest for revenge. Wounded, bloodied and in tighty-whities, Red paces around the bathroom, processing his grief with large swigs of vodka. He soon lets out a series of incoherent shrieks and guttural howls before hyperventilating and profusely weeping. Classic Cage!
Cage spouts plenty of meme-worthy one-liners that would sure look great on T-shirts — like "You're a vicious snowflake", "You ripped my shirt! YOU RIPPED MY SHIRT!", and "I am your God now!" — if you're into that sort of thing. There's also this unforgettable exchange between Red and his friend, Caruthers (Bill Duke).
"So, what you huntin'?"

"Jesus freaks."

"I didn't know they were in season, man."

"Yeah, well..."

"Just tell me, man."

"...they lit her on FIRE! They were weirdo, hippie-types, whole bunch of 'em. And then there was some muscle - it didn't make any sense. There were bikers, and gnarly psychos, and... crazy evil."
The film also boasts plenty of over-the-top action set-pieces, including a grisly battle with a demon (with a penchant for pornography and a knife for a dick), another which ends with Cage lighting a cigarette off a decapitated, burning head and an iconic chainsaw duel.
However, beyond an admiration for the technical achievement of Mandy, there isn't much redeeming value to it. For horror fans, it's not so much scary as just plain brutal.
But the countless inherently hilarious Nicolas Cage Unhinged™ GIFs and memes it is bound to spawn will make sure it is destined for cult greatness.
Mandy will be screened on 29, 30 and 31 October at ​Jio MAMI 20th Mumbai Film Festival​ as part of the "After Dark" section.
Entertainment
The multi-millionaire social media influencer was arrested in December last year over allegations of human trafficking, rape and forming an organised crime group.
Entertainment
Speaking about the poster, it shows Michael B Jordan inside the boxing ring with an intense look on his face as he stands opposite his opponent ( Jonathan Majors) in boxers and boxing gloves.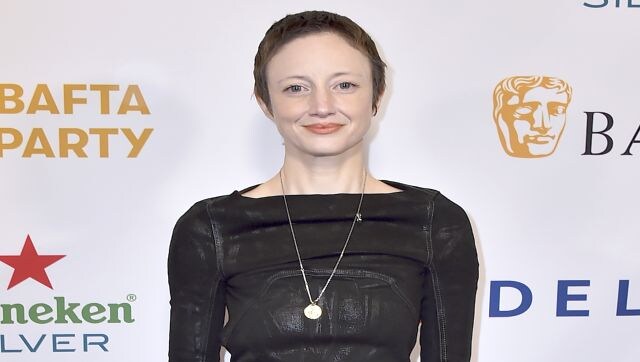 Explainers
British actress Andrea Riseborough's nomination for her performance in 'To Leslie' was a surprise to all. But did the grassroots campaign, which saw other celebrities backing the 41-year-old, break the Academy rules?