Shabana Azmi's What's Love Got To Do With It? movie review: A feel good, predictable film
Shekhar Kapur's rom-com What's Love Got To Do With It? is a vibrant film which revolves around the concept of arranged marriage.
Cast: Emma Thompson, Shazad Latif, Lily James, Shabana Azmi, Oliver Chris
Director: Shekhar Kapur
Language: English
Whichever way you take it, arranged marriage or assisted marriage, What's Love Got To Do With It? has its own element of fun. Set in both London and Lahore, the story revolves around documentary filmmaker Zoe (Lily James) and her childhood friend, British neighbour of Pakistani origin Kaz (Shazad Latif) as he agrees to give assisted marriage a try. What's Love Got To Do With It? is a very different Shekhar Kapur film.
Written by Jemima Goldsmith, directed by Shekhar Kapur and starring Emma Thompson, Shabana Azmi and Lily James, What's Love Got To Do With It? is a vibrant multi-cultural rom-com on marriage. This is a kind of film that makes you come back home happy after watching it. A simple story with good-looking people and visuals.
Director Shekhar Kapur returned to filmmaking after ten long years with What's Love Got To Do With It? The fun elements of both the cultures, Pakistani and British, are dealt with in a very humorous manner where nobody is trying to put down anybody's culture, yet trying to lift each other up and embrace with a smile.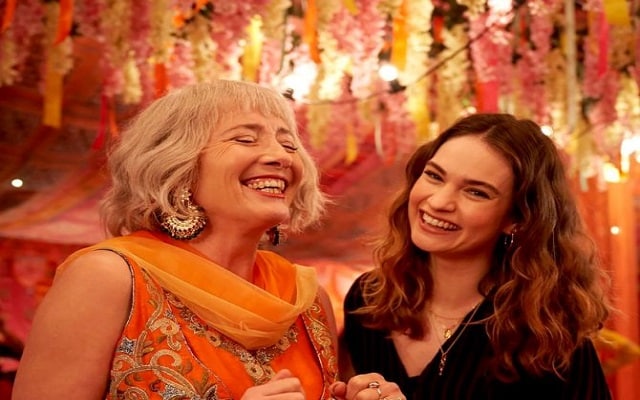 Cath (Emma Thompson) is a divorcee who lives with her daughter Zoe (Lily James) who is an award winning documentary filmmaker and has been really unlucky in romantic relationships. And her mother is just desperate to see her daughter happy in a relationship. The wedding of Kaz (Shazad Latif) brings the two families closer together and as Zoe (Lily James) does the video shoot for the marriage she realizes that there is more to her relationship with Kaz than just a friend and neighbour. Simple predictable story with no over the top melodrama is what makes the film unique.
The cross-cultural romantic comedy has beautifully blended British, Pakistani and the Bollywood style. The story becomes interesting as the narrative moves from Britain to Pakistan. We get glimpses of Pakistani customs and culture and the changes that has happened in the so called 'progressive' families of Pakistan.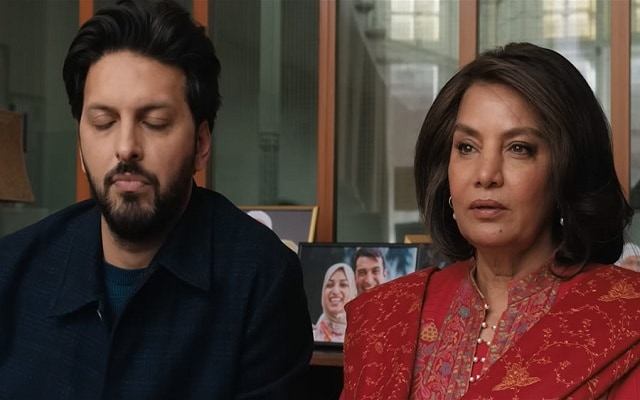 As the story unfolds we realise that it is the story and world of Jemima Gildsmith and her relationship with Pakistani ex-cricketer and Politician Imran Khan that we are seeing. Other than Zoe (Lily James) and Kaz (Shazad Latif) there is another interesting relationship that is of and Cath (Emma Thompson) and Aisha Khan (Shabana Azmi). Looks like Shabana Azmi's equation with Shekhar Kapur after a gap of ten years has changed much. The film makes an honest effort to deliver the meaning of love and the institution of marriage which is as important in Britain as it is in India and Pakistan.
Rating: 3 (out of 5 stars)
 What's Love Got To Do With It? was first shown at the Red Sea International Film Festival. Now you can watch the film in theatres.
Read all the Latest News, Trending News, Cricket News, Bollywood News,
India News and Entertainment News here. Follow us on Facebook, Twitter and Instagram.
also read
Entertainment
Disney India is set to release 'The Little Mermaid' on May 26th, 2023, in English, captivating audiences in theatres with its wondrous tale.
Entertainment
Trishla's debut at the Cannes Film Festival was nothing short of breathtaking.
Entertainment
Harry's representative has dismissed all such claims by saying all these reports doing the reports are not true