Scarlett Johansson defends director Woody Allen over sexual harassment claims: I'd work with him anytime
Scarlett Johansson actively advocates for women's rights and was among early supporters of Time's Up.
In a recent interview, Scarlett Johansson shared her opinion on Woody Allen and spoke about her upcoming projects.
The actress told The Hollywood Reporter that she is standing by Woody Allen because, "I believe him." Much of Hollywood distanced itself from the filmmaker since the MeToo movement prompted a re-examination of child sexual abuse allegations from his now-grown daughter, Dylan. Michael Caine, Timothée Chalamet and Greta Gerwig are among the actors who have publicly expressed regret over working with him.
"I love Woody," Johansson told The Hollywood Reporter in an interview released on Wednesday. "I believe him, and I would work with him anytime."
Allen helped boost Johansson to the A-list. He directed her in Match Point, Scoop and Vicky Cristina Barcelona. She said she has spoken to Allen about the accusations and he maintains his innocence. He has never been criminally charged.
Johansson is active in women's issues and was among early supporters of Time's Up.
"It's hard because it's a time where people are very fired up, and understandably," she said. "Things needed to be stirred up, and so people have a lot of passion and a lot of strong feelings and are angry, and rightfully so. It's an intense time."
Johansson said she has had numerous conversations with Allen about his past. "I have been very direct with him, and he's very direct with me," she said.
Allen has yet to find a U.S. distributor for his films since Amazon pulled his deal last year. Allen has filed a $68 million lawsuit against Amazon.
At the Women's March in Washington last year, Johansson spoke about the importance of Planned Parenthood and women's health. She criticized James Franco for wearing a Time's Up pin to the Golden Globes just before the Los Angeles Times reported that five women accused him of sexual misconduct. Franco denies the allegations.
A spokesman for Johansson did not immediately respond Wednesday to an email seeking additional comment.
She will be seen next in Noah Baumbach's Marriage Story for Netflix, Taika Waititi's Jojo Rabbit and the Black Widow standalone film.
The actress said that she was approached by Baumbach at a time when she was going through a divorce herself. She shared what was going on in her marriage with the director, "We talked a lot about the actual experience of divorce because I was in the middle of the process. We talked about becoming a parent, and our parents. The expectation that comes with being in any kind of a relationship, and the disappointment that can come with that expectation."
The actress described her character Rosie in Jojo Rabbit as "warm" and "comfy." She said that she wanted her to feel "playful and just be a really creative, positive person who was in the middle of her life, who had joie de vivre … so you miss her when she's not there."
Johansson will reprise her role as Natasha Romanoff in the spinoff, which she is also executive producing. The Hollywood Reporter mentions that she is also involved in the scripting and casting decisions.
"I know her better than anybody. What was her childhood like? What is her relationship to figures of authority? This character is gritty and multi-dimensional but has a lot of trauma and has led an unexamined life. In order to operate at this elite level, she has probably had to push away a lot of stuff," the actress described her character.
Directed by Cate Shortland, Black Widow is the first film in Marvel Cinematic Universe's Phase 4, it is a prequel to Avengers: Endgame and the events of the film take place after Captain America: Civil War.
(With inputs from The Associated Press)
Subscribe to Moneycontrol Pro at ₹499 for the first year. Use code PRO499. Limited period offer. *T&C apply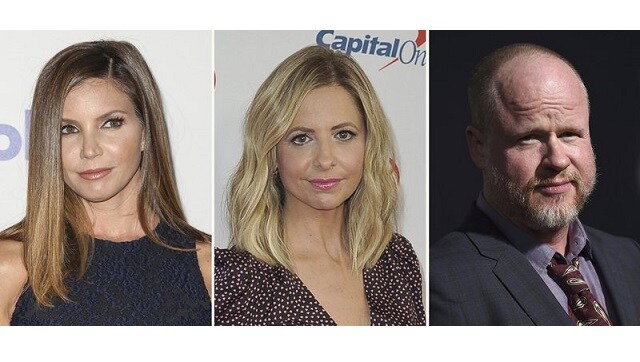 Entertainment
Charisma Carpenter accused director and producer Joss Whedon of being emotionally abusive on set ― and said that while he "found his misconduct amusing," his actions traumatised her.
Entertainment
Tom Holland, Zendaya and Jacob Batalon shared one fake title card each that read — Spider-Man: Phone Home, Spider-Man: Home Slice and Spider-Man: Home-Wrecker, respectively.
Entertainment
James Franco's former acting students Sarah Tither-Kaplan and Toni Gaal, who first filed the lawsuit in 2019, have agreed to drop their individual claims under the agreement, according to the court filing.