Sanju trailer launch: Ranbir Kapoor says he hopes Sanjay Dutt thinks he has been represented with honesty
At the trailer launch of Sanju, Ranbir Kapoor revealed that he used to have a photo of Sanjay Dutt on his cupboard and really wants him to like the film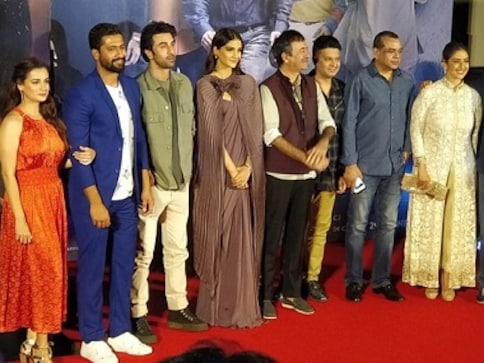 The trailer of Rajkumar Hirani's Sanju has been released. The film, which captures the highs and lows of actor Sanjay Dutt, is one of the most highly-anticipated films of 2018. With a cast comprising actors such as Ranbir Kapoor, Manisha Koirala, Anushka Sharma, Sonam Kapoor, Dia Mirza, Paresh Rawal and Vicky Kaushal, the film is expected to fly high.
At the trailer launch of Sanju, Ranbir Kapoor revealed that he used to have a photo of Sanjay Dutt on his cupboard and really wants him to like the film.
"He's a man I respect a lot. I really look up to him. I hope he feels that I've represented his life in a very honest way," said Ranbir, while also adding that he loved the romantic aspect of the film, as like those kind of roles.
Kapoor also revealed that although he is a shy person in front off camera, he doesn't have any reservations in front of the camera.
Recently, Rishi Kapoor had praised Ranbir's performance in Sanju, which the latter thing is a rare thing to do for him, since he almost never compliments him in person. Ranbir said that hearing Rishi say good things about Sanju made him emotional.
Sonam Kapoor, who plays Ranbir's on-screen girlfriend, said she gave her nod to the film because she wanted to work with Rajkumar Hirani.
Hirani, who had been working on the story for a long time, thanked Sanjay Dutt for sharing his thoughts and his life with him. Speaking about the process of making Sanju he said: "What you just saw (the trailer) began a long ago with just one thought. It then turned into a collaborative effort. And then those who are a part of the journey live together, breathe together and fight together and then the film comes about."
Hirani also clarified that contrary to media reports, Vicky Kaushal does not play Salman Khan in the film. Rather, Vicky's character is an amalgamation of a lot of Sanjay's close friends, he told the media.
Watch the trailer here:
also read
Entertainment
Aryan Khan to set to make his directorial debut with Stardom
Entertainment
Today the actress took to her Instagram stories and thanked fans for showering love. She also shared a throwback photo from Zara Hatke Zara Bachke shoot days.
Entertainment
Alia was spotted at the 'Dangal' director's office earlier today that further sparked rumours about the actress coming on board for the magnum opus