Richa Chadha on upcoming Shakeela biopic: Have kept story to most authentic version of her real life
Richa Chadha will be seen as Southern adult star Shakeela in the upcoming biopic.
Richa Chadha says southern adult film actress Shakeela was a brave soul who defied the norms of the business during her time.
Talking about Shakeela, Chadha said in a statement: "She was a brave soul who defied norms of the business during her time and her story was much more than what people know of. To essay the role of a living being is additional responsibility on me as actor and team as the makers of the film."
Chadha will be seen playing the role of Shakeela in the biopic, based on the life of the southern actress of the same name, whose popularity soared after the untimely and tragic demise of Silk Smitha.
She added: "I'm looking forward now that the film has wrapped up for the release next year. We have kept the story to the most authentic version of her real life. Shakeela herself has been pivotal to making this film happen and helping us in in-depth knowledge into her life which has helped us tell the story in its most authentic version possible."
The Indrajit Lankesh film is co-produced by Magic Cinemas and Yoddhas Entertainment. It is slated to release in 2019.
Photos
The couple hosted family and friends from across Delhi with about 300 guests in attendance. Richa donned jewellery which was custom made for her by an ancestral Bikaneri jeweller family.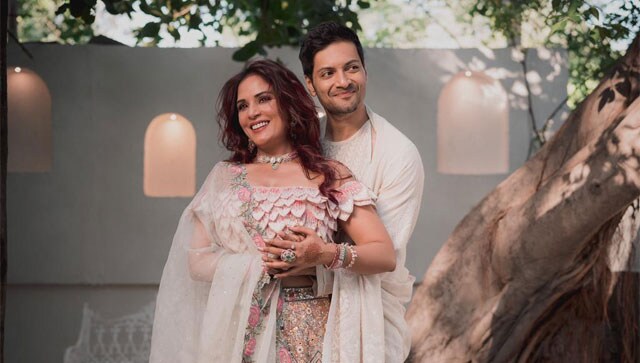 Entertainment
The actress shared two gorgeous pictures as the about-to-be-married couple posed in their traditional attires. The wedding is all set to happen on October 4.
Entertainment
The duo will throw a wedding bash / reception at the iconic The Great Eastern Home, which is contemporary furniture store inside a 176 year old mill and now also an event space.