Revisiting Naseeruddin Shah-Arshad Warsi-Vidya Balan's Ishqiya which completes 13 years of release
Ishqiya released in 2010, is the kind of cinema which you can love or hate, but cannot be indifferent to.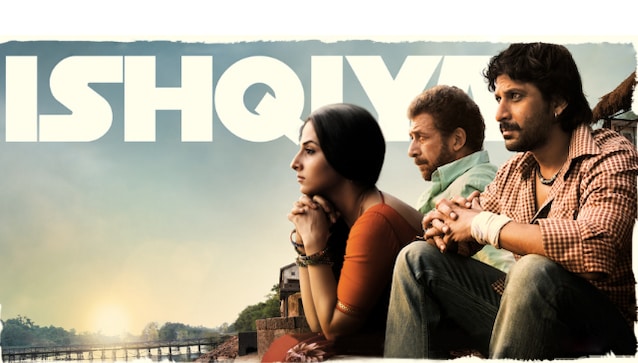 Abhishek Choubey is one of Hindi cinema's most underrated directors. Even after pathbreaking landmarks like Ishqiya, Udta Punjab and Sonchiriya, he is not rated as high as some of the other acknowledged greats of contemporary Indian cinema.
Ishqiya released in 2010, is the kind of cinema which you can love or hate, but cannot be indifferent to. The dusty parched sexually and spiritually arid hinterland renders itself effectively to the character's unique dimensionality. The uncle-nephew pair of Naseeruddin Shah and Arshad Warsi provides the kind of sweaty grimy male bonding that we last saw in Quentin Tarantino's Inglourious Basterds where Brad Pitt's anti-Nazi soldiers urinated a toxic violence into the script. Ishqiya too breeds a blur of violence from the rough material of boredom.
The two protagonists in Ishqiya represent the acme of reprehensibility. Come to think of it, there isn't one character in the plot that you can begin to like, let alone admire. Like with the Naseer-Arshad-Vidya triangle, the other characters are either hazy or horny, or both. There's a businessman who sells steel on the surface and supplies illegal arms underneath. He's supposed to represent the clan of the corrupt in the backwaters.
So pray tell, what happened to all the glorious heroes who once formed the core of our cinematic experience? And the heroine? Vidya Balan's Krishna is a conniving victim. And if that sounds like a contradiction in terms, it is purposefully projected into a plot that pulsates with a seedy tension and freewheeling virile humour.
Ishqiya is the aesthetic version of toilet graffiti. The writing on the wall is very clear. Hate these characters who live by the gun and yes, the gaana (Vidya Balan often hums Lata Mangeshkar's evergreens and Rekha Bhardwaj's fresh recordings under her warm sweaty breath). But we can't but look at them as a product of an ambience that breeds deception, duplicity and a desperate craving to survive the sufferings of a senselessly violent society.
How the film finds a central core of gentleness in this milieu of murky machinations and sleazy celebrations, is another story. Or maybe it isn't. Debutant director Abhishek Chaubey tries to create two different worlds, one of criminality and the other of compassion, within one range of vision. It's a tall order. And there's little time or no space for the characters to stop behaving as though auditioning for a reality show based on how to embrace crime in a lawless no man's land.
Some of the sex and power play among the Vidya, Arshad and Naseer characters, as played out in her manless home, is intriguing and arresting in its swift shifts of dramatic tension from one to the other of the three characters.
Towards the second overture of this untried symphony of antipathy, the writer and director conspire to create a bizarre climactic spiral involving a shady business tycoon of the area whom our trio of protagonists decide to kidnap. This time the kidnapping plan goes horribly awry the narrative too loses its bearings and begins to quiver and mutate like a hovel on a stormy night.
If the film holds you until the end it's because of the principal performances. Naseeruddin Shah confers a rock-solid tenderness to his aging criminal-lover's role. Arshad Warsi, one of the most underrated actors of our cinema, gets a rare opportunity to sink his skills into a part of raunchy randy rogue, out to get the neighbourhood widow to hit the sack.
But the film belongs to Vidya Balan. With a face and eyes that convey a determination to make her way through a rough patriarchal order, Vidya is tender brittle cunning and cool, all rolled into a bundle bewildering emotions that unfold more through her body language than the script. She rises above the self-indulgent realism of the narrative.
A triumph for the actress. But what of the film? How do we evaluate Ishqiya beyond its politically charged verbally lurid lunge at realism? Is the film to be applauded for forging a new language of expression? Or should that language have been used with more restraint and tact? Frankly, there are no clear and simple value judgements to be applied to Ishqiya. It's partly a homage to the rugged Westerns from Hollywood, and partly an attempt to penetrate the North Indian small-town hinterland where people don't just live with violence they even enjoy it. But did this film have to follow them?
This is a very strange film. Strange, not so much in terms of content (pretty weird, unless you really believe there are sleepy dusty towns in North India where boys learn to use a gun before they learn to wash their own bottoms) as, in terms of the way the three main characters are thrown against each other in combustions that suggests a brutal bonding between the libido and the landscape.
Subhash K Jha is a Patna-based journalist. He has been writing about Bollywood for long enough to know the industry inside out.
Read all the Latest News, Trending News, Cricket News, Bollywood News, India News and Entertainment News here. Follow us on Facebook, Twitter and Instagram.
Entertainment
Also starring Chitrangda Singh, the film is all set to premiere on Disney Hotstar on March 31. It's a thriller about a girl who's searching for her father who has gone missing under mysterious circumstances.
Entertainment
In a trial that Judge Kent Holmberg and attorneys for both parties have agreed will last eight days, with each side getting four to call witnesses, Friday marks the final day that Sanderson's attorneys can compel Paltrow to testify.
Entertainment
The nightclub that Darcelle opened more than 50 years ago in downtown Portland, Darcelle XV Showplace, posted a statement on Facebook expressing grief and asking for privacy and patience.