Ralph Breaks the Internet — All you need to know about Disney's sequel to Wreck-It Ralph
In Ralph Breaks the Internet, Ralph and Vanellope's friendship is tested after they leave their video arcade to travel through a Wi-Fi connection that ultimately delivers them into the fast-paced Internet dimension.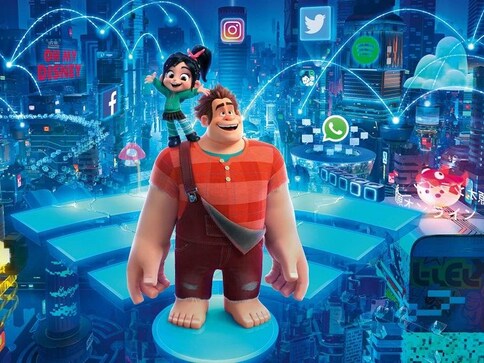 Wreck-It Ralph and Vanellope von Schweetz are headed back to the arcade, and theatres, in the much-awaited Disney film, Ralph Breaks the Internet. The sequel to the 2012 Oscar-nominated Wreck-it Ralph — which told the story of a video game villain going through a crisis of conscience — now enters the vast, whimsical world of the internet.
Ralph and Vanellope's friendship is tested after they leave their video arcade to travel through a Wi-Fi connection that ultimately delivers them into the fast-paced internet dimension. They venture into an unfamiliar world exploring major brands from Twitter to Amazon, online shopping, the dark web and visits inside the Walt Disney Studio's website.
Directed by Rich Moore (Zootopia, Wreck-It Ralph) and Phil Johnston (co-writer Wreck-It Ralph, Zootopia) and produced by Clark Spencer (Zootopia, Wreck-It Ralph, Bolt, Lilo & Stitch), Ralph Breaks the Internet opens in cinemas this Friday. But before venturing into the cinema hall, here's all you need to know about the film.
(Also read: Ralph Breaks the Internet supervising animator Mark Henn talks about universality of Disney films and more)
What's the story so far...?
Wreck-It Ralph centered on Ralph (John C Reilly), the 9-foot, 643-pound bad guy from the '80s video game Fix-It Felix Jr. Ralph's job is to wreck the apartments of Niceland so Felix (Jack McBrayer) can fix them. But while Felix is lauded and loved for his efforts, Ralph is ostracised to a trash heap on the edge of town. Fed up and bummed out — especially when he realises he wasn't invited to a 30th anniversary party for Fix-It Felix Jr. — Ralph goes rogue, tripping through the wires of the arcade into games where he doesn't belong.
He's drawn to Hero's Duty, a contemporary shooting game led by tough-as-battle-armor Sergeant Calhoun (Jane Lynch), in which soldiers who destroy the invading CyBugs win a glittery medal — tangible proof of their heroic efforts. With such a trophy, Ralph figures the Nicelanders would have to appreciate him. But he isn't programmed to handle such ultra-violent play, and when things go awry, Ralph finds himself trapped in the pink-hued, candy-filled world of Sugar Rush. Here he meets another video-game misfit, Vanellope Von Schweetz (Sarah Silverman), whose pixelated programming glitch makes her an outcast.
Just like Ralph wants to prove to everyone he can be a hero, all she wants is a chance to race with the other girls.
So, Ralph and Vanellope go on a game-hopping journey that takes viewers on a nostalgic trip through the history of video games, from the blocky, eight-bit look of the '80s through the swirly, colourful, Nintendo 64-inspired games of the '90s to the gritty, ultra-detailed first-person shooters of today.
What's the story in Ralph Breaks the Internet?
In Ralph Breaks the Internet, Ralph and best friend Vanellope leave the comforts of Litwak's arcade in an attempt to save her game, Sugar Rush. Their quest takes them to the vast, uncharted world of the internet where they rely on the citizens of the internet — the Netizens — to help navigate their way. Lending a virtual hand are Yesss (Taraji P Henson), the head algorithm and the heart and soul of the trend-making site "BuzzzTube," and Shank (Gal Gadot), a tough-as-nails driver from a gritty online auto-racing game called Slaughter Race, a place Vanellope wholeheartedly embraces — so much so that Ralph worries he may lose the only friend he's ever had.
Do the trailers look promising?
The trailers for Ralph Breaks the Internet have been a self-aware riot, offering an animated glimpse inside Disney's website showing several characters from Marvel to Star Wars. The film also highlights the Disney princesses in a scene where all stereotypes and cliches associated with the animated icons are dealt with head-on. You can check them out here and here.
What's this Disney Princess moment that everyone's been taking about?
Ralph Breaks the Internet may star an arcade bad guy with powerful hammer-like fists, but the animated sequel is also packing a punch with strong female characters. In the past, Disney has been criticised for having a lack of self-sufficient female characters, who focused more on their physical appearance and were reliant on a man. That pattern began to change over the years in films such as Tangled, Brave and Frozen.
In one of the scenes teased in the trailer, Vanellope walks into a room of Disney princesses. Jasmine, Moana, Cinderella, Ariel, Snow White, Belle and others are sitting around, waiting to participate in an online quiz: "Which Disney princess are you?" They try to determine if Vanellope is a princess by asking her if she has been enslaved or if she has daddy issues. When she says no to the latter, the princesses chime "neither do we!"
Who else is joining the voice cast for the sequel?
John C Reilly, Sarah Silverman and Jack McBrayer are reprising their roles in the sequel, and they'll be joined by Alan Tudyk (as the bespectacled search engine KnowsMore), Gal Gadot (Shank) and Taraji P Henson (Yesss). The Disney Princesses are played by Mandy Moore (Rapunzel), Jodi Benson (Ariel), Paige O'Hara (Belle), Linda Larkin (Jasmine), Kristen Bell (Anna), Kelly Macdonald (Merida), Anika Noni Rose (Tiana, who sang at an earlier D23 event), Irene Bedard (Pocahontas) and Auli'i Cravalho (Moana). Alfred Molina (Double Dan), Ed O'Neill (Mr Litwak) and Ali Wong (Felony) also feature in the film.
What have the critics been saying?
Ralph Breaks the Internet has earned mostly positive reviews from critics ahead of its release this week.
Read: Ralph Breaks the Internet review round-up — An adorable, funny, classic Disney film that deftly defies expectation
(With inputs from agencies)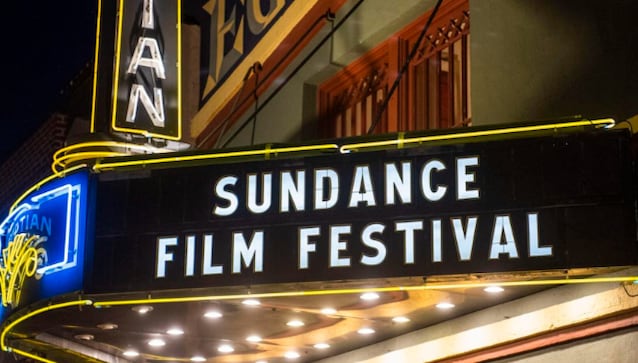 Entertainment
The Sundance Film Festival runs from Jan. 19 through the 29.
Entertainment
HBO's adaptation of the popular game sticks to the source material and more than sticks its landing.
Entertainment
Marvel Studios said that Black Panther: Wakanda Forever will be released in Chinese cinemas on February 7, followed by Ant-Man and the Wasp: Quantumania on February 17