Preity Zinta on #MeToo movement: Those who think Bollywood is unsafe for women are living in a fool's paradise
'I have been part of the business world now and I have seen the working of the business world. Film industry is probably the safest,' says Preity Zinta.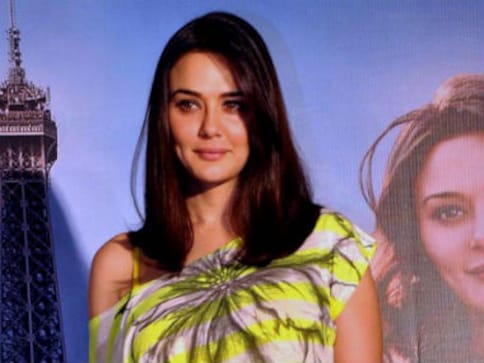 Preity Zinta, who has never hesitated to call a spade a spade, opines on the #MeToo movement that the time has now come to clean the house. "It (Bollywood) is 100 percent safer than any other industry. We have a spotlight on this industry. If you talk about something, media writes about it and everybody goes, and interviews them. Tell me what happens in big business house? They control media and everything. I am glad this movement has come and hope it's not diluted by irrelevant cases."
The actress mentions that she has been part of the industry for two decades and joined the film industry with zero backing and one thing she has realised over the years is that people treat you the way you want to be treated. "Nobody has ever mistreated me or behaved cheaply with me and obviously, I am saying this from a place of privilege because I am one of those people whose films did very well from day one but there are a lot of people that struggle. It's important to know where your priorities lie and if you stand your ground no one will push you. If people think that the industry is an unsafe place for women, then I think they are living in fool's paradise. I have been part of the business world now and I have seen the working of the business world. Film industry is probably the safest."
 Zinta had bid goodbye to acting in Bollywood films after marriage. But it was a call from good friend Sunny Deol that forced her to take a U-turn. Bhaiaji Superhit, the film which marks the return of Preity Zinta to celluloid, is slated to hit theatres this Friday on 23 November.
"I won't even say that I had taken a gap. I had actually stopped doing films and was focusing on cricket and building other things from there. It was Sunny who called me and told me that I would like you to do this film. I informed him that I have stopped doing films and so I don't want to hear it. He replied saying that listen to the narration and then say no. I respected his request as he has always been very nice with me." Preity adds that it was also a phase when she was extremely busy and could manage time for the narration only at 11 in the night. Though it was a request to wrap up everything in 10 minutes, the narration stretched till 4 am with the actress finally giving her consent.
It would also be a first for Preity that she would be portraying an out and out desi role in her film career. She mentions that though there was always a desire to play a desi role, but no one actually offered it to her. According to the actress, her role in films like Veer-Zaara, Heroes, Mission Kashmir and Heaven on Earth, though rooted in the hinterland milieu, were never desi per se. "I have never used bindi, sindoor etc as props in my roles. I asked Neeraj (Pathak, director) if he was sure if he wanted me for the film. The role of Sapna Dubey does not give Zinta kind of vibe and then I said to myself that may be this is the reason I should do it. It took me some time to think because I got nervous. At that time, I did not know Neeraj that well because at least when you know the filmmaker, you know where the film will go." Preity says her character Sapna Dubey is 12th fail and is extremely fond of speaking in English with a mercurial head. "My Hindi vocabulary has actually strengthened after I did this film."
Preity's last brush with Bollywood in 2015 was more of a bad dream when her debut production Ishkq in Paris was panned across all quarters. Any more productions in the future? "Of course I will produce films. Ishkq in Paris was an experiment and I screwed up big time in that experiment. There were lots and lots of learning, and I feel somewhere I was also bit arrogant. We made some big errors and mistakes, but there will be a lot more in future. May be they will have me or they may not, but definitely there will be stuff in future," admits the actress.
Post marriage, Preity is now settled in California and only makes work-related trips to her homeland. "Life is great but no so great because there is lots of fire happening in California. As we speak, right outside my sister's house, there is fire. There is fire where we live around, so it's very sad and difficult because everything is burning down. Its global warming and there is devastation across the globe." Apart from the current gloom, she mentions that the overall life is great, quieter and more active and sporty.
Preity also elaborates a typical day in her life in California and mentions that her day begins with a walk along with her husband. Then, she works till the evening, which involves meetings on her new projects. "The day ends with a night walk again and because we live by the beach. It's really nice. In India, I never had the opportunity to get out of my house and walk. Since I was 21, I haven't really walked on the streets. In India, people bother you and you can't really complain about it. But having said that, I really miss India and there is no place like India. I don't miss the viral fever but I do miss the chaat and the fact that you can just show up at anybody's house unannounced. In the US, you have to call and make an appointment." The Kal Ho Naa Ho actress adds that she is loving her new life in the US and it is something she could have only dreamt of.
also read
Entertainment
When asked about the recent controversy surrounding Ryan Gosling being too old to plan Ken, she completely disagreed. Priyanka said, "Ryan Gosling will eternally be one of those guys who are hot!"
Entertainment
The incident took place on Monday and the 30-year-old accused was arrested the next day from neighbouring Thane district, he said
Entertainment
This year, Esha Gupta shall walk the red carpet in a specially curated designation led by Union Minister of State Dr. L Murugan.