Padmaavat: After Rajasthan and Gujarat, Sanjay Leela Bhansali's magnum opus banned in Haryana
Even though Padmaavat has been cleared by the CBFC, it is being banned in several states.
Sanjay Leela Bhansali's magnum opus Padmaavat (earlier titled Padmavati) seems to be on the way to a release, on 25 January, after bearing the brunt of agitation, protests and threats by fringe groups (Rajput Karni Sena, being one of the major names), political parties, and the Rajput community.
It is reported that Padmaavat has been banned in Haryana. The decision has been reportedly taken after the state cabinet deliberated upon the whole issue, says Health Minister Anil Vij.
Earlier, Haryana CM ML Khattar has decided to take a stand on the film's release in his state only after watching the film, as suggested by a report by NDTV.
Himachal Pradesh CM Jairam Thakur spoke to ANI and said that he doesn't intend to pose a ban on the film if there's nothing controversial in it. "I had said earlier that I respect art. As far as Padmaavat is concerned, Himachal government doesn't intend to ban it in the state. If there's nothing controversial in it, we have no objection in releasing it here. I want the film to be screened in theatres", says Thakur, reports DNA.
Many BJP-ruled states like Rajasthan (which was also at the epicentre of the entire controversy surrounding the film), Madhya Pradesh, Gujarat had previously declared that the film will be banned in the state. Soon, Nitish-Kumar led Bihar also followed suit.
Meanwhile the other BJP-ruled state Uttar Pradesh has also taken an ambiguous stand on the film's release. CM Yogi Adityanath was non-committal when asked about Padmaavat's release in his state. He said, "I am not a future teller," when mediapersons asked if the film will be screened in UP.
While state governments are still grappling with the issue, the Rajput Karni Sena continues their threatening and arm-twisting stance over the film's release. Jeevan Singh Solanki, Maharashtra secretary, Rajput Karni Sena, says, "We have been revolting against the movie for two years. Our patience is being tested. Padmavati is being portrayed as a 'lover' in the movie. Being Rajput, we will not tolerate her being portrayed in this manner. I warn Sanjay Leela Bhansali not to release the movie. And if he does get it released, the Maharashtra police and government will be responsible for the consequences," reports The Hindu.
A similar voice is echoed by the group's Mumbai President, Madan Singh Rathore. He says, "If we have to burn cinema halls, we will do so. We have been trying to make the government understand our point of view peacefully, but if they do not understand that language, these are the means that we will have to adopt," Madan Singh Rathore, Karni Sena, President, Mumbai, says, as quoted by The Hindu.
Padmaavat, based on the epic poem written by 16th century Sufi poet Malik Muhammad Jayasi, stars Deepika Padukone as Rani Padmini, Shahid Kapoor as Maharawal Ratan Singh and Ranveer Singh as Alauddin Khilji.
Entertainment
Regarding RRR getting recognised at the global level, Deepika had only one thing to say. "It's just the tip of the iceberg", the star predicted.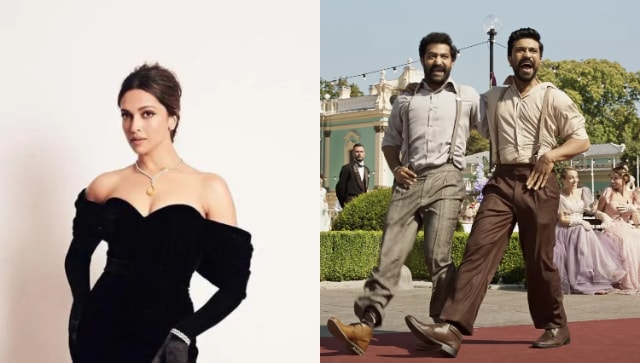 Entertainment
Deepika Padukone made her debut at this year's Oscars where she presented the Naatu Naatu song. 
Entertainment
The hashtag #BoycottBollywood raised its head right before Pathaan, the first major release of 2023, with a controversy over its song Besharam Rang.