Oscars 2019: Billy Porter's tux-gown gets a thumbs up; Twitter calls him 'the Ranveer Singh of Hollywood'
Billy Porter wore a Christian Siriano tuxedo gown to Oscars 2019.
Oscars 2019 saw many gorgeous red carpet looks, including Billy Porter's ensemble, which defied all fashion norms. The tuxedo jacket with a velvet gown was designed by Christian Siriano and the actor-singer paired it with sixinch high Rick Owen shoes.
"My goal is to be a walking piece of political art every time I show up. To challenge expectations. What is masculinity? What does that mean? Women show up every day in pants, but the minute a man wears a dress, the seas part," Porter, who stars in Pose, wrote for Vogue.
Twitter users lauded his fashion statement but could not help pointing out that Ranveer Singh also has a similar sense of style.
For a change ,Hollywood copies Bollywood! @RanveerOfficial#Oscars #Oscars2019 pic.twitter.com/vrs7Ky7aHo — Gagan Thengane (@Kintu_Parantu) February 25, 2019
Billy porter is Ranveer singh of hollywood.#Oscars pic.twitter.com/ZM1EWU3fdk

— Abhi (@ErzaXabhi) February 25, 2019
Hollywood has their own version of Ranveer Singh #Oscars #Oscars2019 #Oscar pic.twitter.com/7qgSqIVXYO — Sudhanshu Ramteke (@Sudzada) February 25, 2019
Ranveer Singh's Hollywood fashion soulmate is Billy Porter, and we have enough proof — Bizma Gul (@BismaaGul) February 25, 2019
This is so Ranveer Singh #Oscars pic.twitter.com/c4XqkWxygC — ᏚᎪᎷᏴᏆᎢ (@Palaaaaat) February 25, 2019
@RanveerOfficial inspires #Hollywood #AcademyAwards #AcademyAwards2019 #oscars billy porter #Oscars2019 https://t.co/VXzwFLAudF

— Ankit Kacker (@ankitkacker) February 25, 2019
#Oscars was missing Ranveer Singh, eh not anymore https://t.co/IbAabjGGdd — ಸಹನಾ ಗೌಡ (@Sahana_Mgowda) February 25, 2019
Find latest and upcoming tech gadgets online on Tech2 Gadgets. Get technology news, gadgets reviews & ratings. Popular gadgets including laptop, tablet and mobile specifications, features, prices, comparison.
Entertainment
Nomadland, featuring Frances McDormand in the lead, bagged the Golden Lion at the Venice Film Festival this year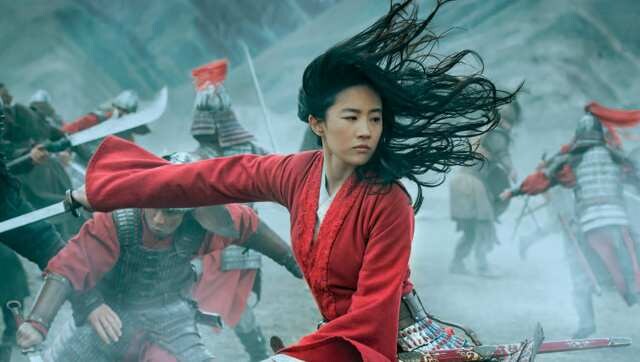 Entertainment
Disney's Mulan remake debuted in China over the weekend with a disappointing $23 million, even with most theaters in the region being reopened
Entertainment
Sony Pictures Entertainment has earlier backed two of Jamie Foxx's films, Baby Driver and The Amazing Spider-Man 2.