Oscars 2018: Understanding Christopher Nolan's repeated Best Director snubs and why Dunkirk made the cut
What was it about the war film Dunkirk that finally compelled the Academy to acknowledge Christopher Nolan's directorial prowess?
Christopher Nolan will remember the 2018 Academy Awards for the rest of his life.
It was after all, the time that he finally managed to break into one of the most prestigious clubs of the award season — a nomination for the Best Director category at the Oscars — for the first time in his illustrious career.
It was his visually ingenious war film Dunkirk that finally bagged him a nomination, even though he has delivered critically and commercially acclaimed films like Inception and Interstellar in the past.
It comes as a surprise then, that not only was Nolan nominated for Best Director, but Dunkirk was also nominated for Best Picture considering — 1) The film's minimal dialogue, lack of authentic story line (it was after all pretty much a retelling of the historic Dunkirk evacuation of 1940), 2) The fact that the Academy does not usually take notice of movies that are primarily pioneers in technical fields (only giving them nominations in technical categories as consolation prizes i.e. Interstellar), or 3) Keeping Nolan's complicated relationship (and frequent backlash) with the Academy in mind.
Nolan's repeated Oscar snubs (Inception, Interstellar, The Dark Knight) are considered to be in line with those of cinematically hailed stalwarts like Alfred Hitchcock and Stanley Kubrick, the former of which never won an Academy Award even after making films like Psycho, Dial M for Murder, Notorious, Rear Window, Spellbound and Shadow of a Doubt (save for one lifetime achievement prize in 1968) and the latter who raked up a sum total of one Academy Award (1968) in his entire career, that too for his contribution to visual effects (2001: A Space Odyssey).
So what was it about Dunkirk that finally compelled the Academy to acknowledge Nolan's directorial prowess?
The Academy's soft spot for War films
The very first Academy Award for Best Picture was given to the 1927 war drama Wings starring Gary Copper and Clara Bow. It chronicled the story of two American army pilots who were vying for the love of the same woman amid the tumult of the First World War. Since then several war films — namely Gone With the Wind, The Best Years of Our Life, Platoon, The English Patient and The Hurt Locker, which are just a few in a much larger list — have taken home the Best Picture award.
Even three-time Academy Award winner Steven Spielberg was overlooked by the jury until he made the highly acclaimed Schindler's List and Saving Private Ryan. Till date, all three of Spielberg's Oscars have been for his war dramas.
It is no surprise then, that Dunkirk is the one movie out of his 11 full-length feature films that has inducted Nolan into the Best Director nominee club.
Visual masterpiece
Dunkirk can easily be called Nolan's most ambitious IMAX project till date. Even though Interstellar had major portions that were shot on IMAX cameras, Dunkirk surpasses that count by far. A relentless (yet pleasant) assault on ones senses, Dunkirk tapped into the IMAX format like never before, making it vastly appealing to the modern day moviegoer who prefers a wholly immersive cinematic experience as the years pass and technology advances.
Hoyte van Hoytema's cinematography took Dunkirk beyond the realm of expectations, while Nolan used the minimal dialogue and lack of storyline to his advantage, ensuring that whatever was taking place on screen left the viewer glued for the film's entire one hour 46 minute duration. Visually, Dunkirk was as daring and out of the box in terms of pure cinematic portrayal as Interstellar, going one step further due to the unparalleled IMAX.
Hans Zimmer's background score
Dunkirk marks composer Hans Zimmer and director Christopher Nolan's most powerful collaboration yet. Nolan's war film was unprecedented in its judicial use of a background score, making the movie feel intense from start to end. This was done by design, with Zimmer using the Shepard tone, an auditory illusion consisting of a superposition of sine waves separated by octaves, graciously.
It was Zimmer's score that shaped several moments in the movie and majorly influenced Nolan while he wrote the script, according to the director's own admission.
The soldiers were not the heroes
Perhaps it was the fact that Dunkirk's heroes did not lie in its soldiers but in the common man, which appealed to the audience and made the movie such a massive hit. In its totality, Dunkirk was essentially a feel-good film with a happy ending, wherein the ordinary citizens saved the day. How wrong could one possibly go with that?
A different depiction of war
It's true that the Omaha Beach Scene in Steven Spielberg's Saving Private Ryan is considered to be the most authentic depiction of war and a battleground till date. However, Nolan's depiction of war in Dunkirk was just as authentic, albeit from a vastly different lens, lending a new perspective to the quintessential blood, bombs and conspiracy war films that have been fed down our throats for decades.
Nolan masterfully depicted one of the most tense instances in World War II history without actually showing a shred of violence. The war was in the background even though it was a 'war film', and situations, reactions and relationships were at the forefront.
Nolan himself doesn't consider Dunkirk to be a war film. Instead, he calls it 'a story of survival' and that perhaps, is what makes all the difference.
The perfect blend of art and commerce
Christopher Nolan has found the sweet spot which creates the perfect marriage between art and commerce, ensuring both popular and critical acclaim for almost all his projects. It is not often that such a technically superior movie makes the cut for getting nominated in the top categories at the Academy Awards.
Popularly touted by cinephiles as the thinking man's Steven Spielberg in the contemporary climate, Nolan respects his audience's intelligence unlike a certain James Cameron.
Made on a $100 million budget, Dunkirk grossed a total of $525.6 million at the worldwide box-office, which can only be a value addition to the reasons behind its Best Director and Best Picture nominations.
World
Polish Prime Minister Mateusz Morawiecki insisted Germany to allow the delivery of Leopard 2 tanks for war-torn Ukraine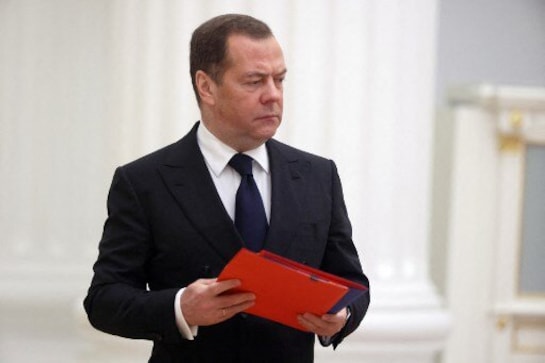 World
He slammed Western leaders for saying that "Russia's defeat" is the only way that the Ukraine war can end. Earlier, Polish PM Mateusz Morawiecki said that Ukraine's defeat would result in World War 3
Entertainment
The actor, speaking to The Associated Press, exclained, "It feels surreal. I cannot believe this is happening. When I heard the nomination, I jumped up and I screamed so loud."