Oprah Winfrey to be honored with 2018 Cecil B. DeMille Award at the 75th Golden Globes
Oprah Winfrey will receive the Cecil B. DeMille Award at January's Golden Globes.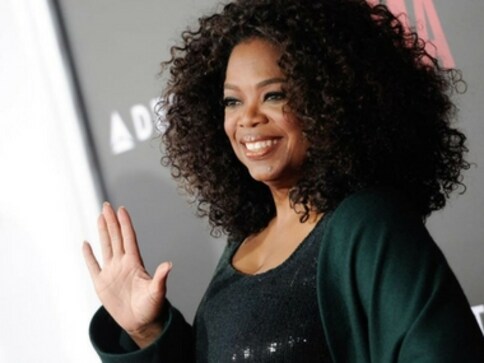 Oprah Winfrey will receive the Cecil B. DeMille Award at January's Golden Globes.
Morgan Freeman made the announcement for the Hollywood Foreign Press Association during its broadcast of the "Golden Globe 75th Anniversary Special" Wednesday on NBC.
HFPA President Meher Tatna called Winfrey "one of the most respected and admired figures today" and "one of the most influential women of our time" in a statement Wednesday.
The DeMille Award is given annually to an "individual who has made an incredible impact on the world of entertainment." Best known as the host of her multi-award-winning talk show, The Oprah Winfrey Show which came to an end in 2011, Winfrey is also the founder of the Oprah Winfrey Leadership Academy for Girls in South Africa which provides education for academically gifted girls from disadvantaged backgrounds and is celebrating its 10th anniversary this year and celebrating the school's seventh graduating class.
Winfrey will receive the award during the 75th annual Golden Globe Awards ceremony on Jan. 7, 2018.
Honorees of the Cecil B. DeMille Award include individuals such as Morgan Freeman, Audrey Hepburn, Barbra Streisand, Denzel Washington, George Clooney, Harrison Ford, Jodie Foster, Lucille Ball, Martin Scorsese, Meryl Streep, Michael Douglas, Robert De Niro, Robin Williams, Sidney Poitier, Sophia Loren and Steven Spielberg.
The 75th Annual Golden Globes will be hosted by Seth Meyers and air live on 7 January.
Watch Morgan Freeman announce Winfrey as the 2018 Cecil B. DeMille Award recipient below.

Entertainment
Dr John was known as the funky New Orleans "night-tripper" musician who blended several musical styles with a hoodoo-infused stage persona and gravelly bayou drawl. He was a six-time Grammy winner and Rock & Roll Hall of Famer who was a white man that found a home among Black New Orleans musicians.
Entertainment
In spite of not being released in major international territories like China, India, parts of Australia and some Latin American countries, Black Widow's international box office earnings stand at $78 million.
Entertainment
Warner Bros officials said the expansion — that includes a new building — took five years to develop in Burbank. Officials say the studio tour will follow all city, state, and federal COVID-19 safety protocols.