Narcos: Mexico trailer — Netflix spin-off series to explore origins of US-led war against drugs
In Narcos: Mexico, Felix Gallardo travels to Colombia as he looks to expand his drug empire by entering the cocaine business.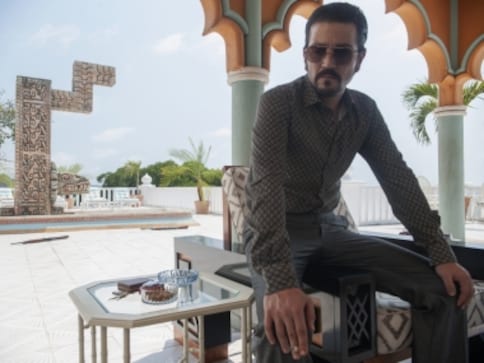 A new, full-length trailer for Netflix's Narcos: Mexico reveals the spin-off will delve into the origins of the US-led war against drugs in Mexico.
After the demise of Colombian kingpin Pablo Escobar and the Cali cartel, the fourth season of the hit Netflix series moves to Mexico. The companion series will chart the rise of the Guadalajara drug cartel in the 1980s, pitting DEA agent Kiki Camarena (Michael Pena) against drug kingpin Félix Gallardo (Diego Luna). Set to Sugarhill Gang's "White Lines," the new action-packed trailer finds the ambitious Felix (aka "Rockefeller of marijuana")  travel to Colombia as he looks to expand his empire by entering the cocaine business.
The Guadalajara cartel was founded by Miguel Angel Felix Gallardo, Rafael Caro Quintero and Ernesto Fonseca Carrilloto to smuggle first heroin and marijuana, and then later cocaine, into the United States. It was one of the first Mexican drugs rings to work with the Colombian cartels, which were later eclipsed by the Mexican organizations. The Guadalajara cartel was where famed drugs lord Joaquin "El Chapo" Guzman cut his teeth before founding his own outfit, the hugely powerful Sinaloa cartel.
The previous three series of Narcos focused on the drugs wars in Colombia, first with Escobar's Medellin cartel and then the rise of the rival Cali cartel after his death.
Narcos: Mexico is set to premiere on Netflix globally on 16 November.
Watch the trailer here
Entertainment
Batgirl, starring Leslie Grace in the titular role with Michael Keaton reprising his Bruce Wayne part, was expected to bow sometime in 2023.
Entertainment
James Howard Jackson, 19, was being held on suspicion of shooting Lady Gaga's dog walker and stealing her French bulldogs, has been recaptured, authorities said.
Entertainment
The quartet band Blackpink has just announced their new single Pink Venom on their official Twitter account. The single will appear on their album named Born Pink.