Nani on hosting Bigg Boss Telugu season 2, dealing with trolls: Learnt how strong a person I am
The Bigg Boss Telugu 2 finale marked the end of a long, and often complicated, journey for Nani, who hosted the show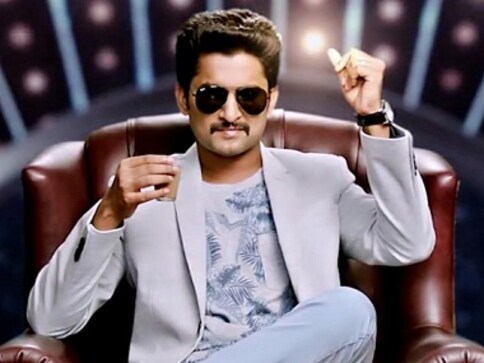 The grand finale of Bigg Boss Telugu 2, aired on 30 September, was a blockbuster affair with the season's hot favourite, Kaushal Manda, winning the title. His victory send a wave of jubilation among his fans.
However, Kaushal wasn't the only person who turned emotional after winning the trophy. The season's finale marked the end of a long, and often complicated, journey for Nani, who hosted the show. Marking the end of his stint, he said, "Today is the finale and my last as the Bigg Boss host. I gave it my best. It was an amazing experience; learnt a lot, unlearnt a lot. For those who liked me and the show, thank you so much….(it) means a lot. And for those of you who didn't, we shall meet soon in theatres."
The past few months have been incredibly stressful for Nani. Apart from hosting the weekend episodes of the show, Nani had to complete shooting for his recent comedy drama, Devadas, which also had Nagarjuna in the lead role. But the challenge of hosting a reality show was in a different league altogether. In the past few weeks, the actor has been subjected to incessant trolling on social media with people calling him 'biased', with majority of the heat coming from 'Kaushal Army'. Nani had even jokingly revealed that Sriram Adittya, the director of Devadas, had included 'Antha Bhranthi Yena', a popular song from ANR, Savitri's Devadasu, to reflect his state of mind, given the trolling. "Hosting Bigg Boss opened my eyes to a lot of things," he says, adding, "I thought it was going to be a simple task, but it turned out way more complicated. I guess I needed to go through this experience."
Prior to hosting the show, Nani confesses that he hadn't followed the previous season or even the Hindi version of the show. Not surprisingly, the extreme reactions from people almost on a weekly basis came as a revelation to the actor. "When I took up the offer to host the show, I had no idea what I was getting into (laughs). Week after week, I got a taste of how everyone perceived it and how seriously people took it. People get extremely judgmental, but that's okay, I guess," he says.
Ask him if hosting the reality show was more challenging than facing the camera while acting in films, and he says, "We have to admit that we live in a bubble when we are just movie
stars. There's a lot of positivity around you when it comes to movies and people are extremely supportive. But hosting Bigg Boss was anything but that! The opinions of people can be quite contradictory to your perspective and you really can't please everyone. Everyday is a challenge and you just learn to deal with it. Thanks to Bigg Boss, I learnt how strong a person I truly am," Nani confesses. "Earlier, when people used to praise me for my work in films, I used to feel lucky. But after hosting this show, I've respect for myself because I tried to stay honest and not succumb to any pressure."
His recent comedy film, Devadas, received a good response in its opening week, and Nani credits the success of the film to his onscreen chemistry with his co-star Nagarjuna. "We had a blast shooting together for this film. It hardly took a day for us to get along with each other and there was no looking back after that. The best part about Nagarjuna, apart from his professionalism and punctuality, is that he just knows what the right thing to do is, in a scene. He delivers his dialogues in a casual manner, and whatever he does turns out to be the right thing to do. Call it magic or an in-built X factor, there's something special about him that makes you like him even more on screen. I need to crack that formula now," he says. The actor is all praise for the film's director Sriram Adittya, whose excitement left him puzzled at times. "Sriram has a habit of confusing people with his excitement. If you do something right, he wants to celebrate the occasion. There's a lot of excitement when he's around and he has handled the project well."
In the film, the actor plays a doctor, who befriends a mafia don under unusual circumstances, and the story is about how their friendship and how it evolves over a period of time. The original story was written by Sridhar Raghavan. However, Sriram Adittya was brought on board to rewrite the story. "Sridhar's version of the story had plenty of bold ideas, but we needed someone to adapt it to our sensibilities. If you liked my performance in the film and thought it was effortless, I must add that a lot of work has gone into making it look so. In a film like MCA, I could be myself; however, Dr Das, the character I play in Devadas, can't be Nani from any angle. It was both fun and challenging to play the role," he says.
After a short break from work, Nani will soon begin shooting for his next film, Jersey, which will be directed by Gowtam Tinnanuri. He is set to play a middle-aged cricketer and admittedly, he has been practising the game a lot every day ahead of the shoot. "I'm thrilled that this script came to me. I loved the detailing in the script and I genuinely feel that this will be a film that will earn me a lot of respect. It's not everyday that you get a film which pushes you to be perfect and I can confidently say that Jersey is going to be just that," Nani signs off.