My Sridevi: Read a chapter on the veteran actress from Ram Gopal Varma's memoir Guns and Thighs
My journey to Sridevi began when I was working on my debut film Shiva, writes Ram Gopal Varma
The following account has been excerpted from 'Guns and Thighs: The Story of my Life' by Ram Gopal Varma, and is reproduced here with permission from Rupa Publications India.
When I was studying engineering in Vijayawada, I would so often, while standing in the line to buy a ticket for the new Sridevi movie, keep staring longingly at her on the hoardings in the theatre compound.
Sridevi passes away: President Ram Nath Kovind, Rajinikanth and several others offer condolences
Her beauty and sex appeal were so overpowering that it took many many films and many many years for both the audience and the industry to recognise the actress in her, who was first showcased, according to me, in the most effective way by Shekhar Kapur in Mr India. Even though her acting prowess was evident right from her debut film, her superstardom kind of gave prominence only to her sex-symbol image, which was so strong that it blinded everybody to her tremendous talent.
Mr India made the audience discover a new Sridevi, primarily because of the way Shekhar Kapur aesthetically captured both her extraordinary beauty and her incredible performance.
My journey to Sridevi started when I was preparing for my debut film Shiva. I used to walk from Nagarjuna's office in Chennai to a neighbouring street where Sridevi used to live, and I would just stand and stare at her house. I just couldn't believe that the goddess of beauty lived in that stupid-looking house.
I say stupid because I believed that no brick-and-mortar house deserved to hold that ethereal beauty called SRIDEVI. I used to desperately hope to catch a glimpse of her as she went in or out of her house, but sadly no such thing ever happened.
From Mr India, Chandni to English Vinglish, MOM; a look at Sridevi's best roles from 300 films
And then, after Shiva became a big hit, producer Gopala Reddy S came to me and asked if I was interested in doing a film with Sridevi. I said 'Are you mad or what? I will die just to see her, let alone make a film with her!' Gopala Reddy arranged a meeting with her, and took me to meet her in that very same house I used to stand and stare at. We went at around 7.30 at night, and as luck would have it, there was a power cut in her house. So I was sitting in her living room in candlelight along with Gopala Reddy, waiting for the angel to appear and my heart was thumping like mad. Her mother told us she was busy packing as she was about to catch a flight to Mumbai.
As we were waiting, every once in a while Sridevi rapidly crossed the living room as she moved
from one room to another in a rush to finish her packing, apologetically smiling at me for the delay. Every time she appeared and disappeared in a flash, the director in me started slow motioning her and running her backward and forward for my visual pleasure.
Finally, she came and sat in the living room, just uttered a mandatory few lines that she would very much like to work with me, which I am sure she said to a host of other directors as well, and then she left for Mumbai. I continued talking to her mother with enormous respect and awe because she had actually given birth to Sridevi.
I went back to my place feeling like I was in the seventh heaven. The way Sridevi had sat in front of me in the candlelight got imprinted in my mind like an exquisite painting, and with her image completely filling both my mind and heart, I started writing Kshana Kshanam.
I wrote Kshana Kshanam with the one and only purpose of impressing Sridevi. Kshana Kshanam was my love letter to her.
Throughout the making of Kshana Kshanam, I just couldn't take my eyes off her. Her charm, her beauty, her personality and her demeanour were a new discovery for me. She had an invisible wall around her, and she did not let anyone cross that. Behind that wall, she maintained her dignity and her self-respect and she never let anyone inside. Also, in the course of working with her and observing her acting technique, I began to understand more and more as a director the nuances of her performances and characterisations. For me she was the epitome of cinematic acting, which I believe is many times more complex and effective than theatre acting.
When I was shooting the song 'Andanantha Ettha Tara Theeram' in Kshana Kshanam, after a certain shot in which Venkatesh and Sridevi were dancing, I said 'fantastic' and the dance master asked for one more take. After the shot was done, once again I said 'fantastic' and the dance master again asked for one more… I asked my assistant why he was asking for one more take, and he said, 'Sir, you are looking at Sridevi and he is looking at Venkatesh.' Well, if she was in the frame, no matter who else was there and what else was happening, I and millions of others had eyes only for her.
Her popularity and stardom had to be seen to be believed. We were shooting for the climax of
Kshana Kshanam in Nandyal, and the whole town came to a standstill. Banks, government offices, schools, colleges, everything in town stopped functioning as everyone wanted to see Sridevi.
She was staying in a traveller's bungalow, a little distance from the bungalow where Venkatesh and I were staying. There used to be a crowd of at least 10,000, just staring at her bungalow throughout the night. There were about fifty local toughs along with a 100-strong police force continuously deployed to guard her.
When we were on location, we used to know when Sridevi had started from her bungalow to come
to location, because we could see a column of dust travelling towards us from the distance. The dust was kicked up by the thousands of people running behind her car.
Well anyway, to cut the long, touching story of my feelings for Sridevi short, I finished Kshana Kshanam and then went on to make Govindha Govindha with her. In due course I saw her undergoing a lot of personal tragedy like her father's death and her mother's mental illness.
The woman who was the object of lust of the entire nation's male population, was suddenly left all
alone in the world till Boney Kapoor stepped in to fill the vaccum. So, straight from her superstardom, magazine covers and her dazzling beauty on the silver screen, I saw her in Boney's house serving tea like an ordinary housewife. I hated Boney Kapoor for bringing that angel down from heaven to such an ordinary, humdrum existence.
I don't go to Boney's house these days because I can't bear to see Sridevi in a real everyday setting.
For me, she is a highly precious jewel to be showcased only in exotic locales and brilliant cinematic settings.
Sridevi is one of the sexiest and most beautiful women God ever created, and I think he creates such exquisite pieces of art only once in a million years.
So what if Boney has the real Sri in his house…? I have her captured as a cinematic goddess in my
mind's camera and as a divine angel in the heart of my celluloid dreams.
I thank god for creating Sridevi, and I thank Louis Lumiere for creating the movie camera to capture her beauty forever.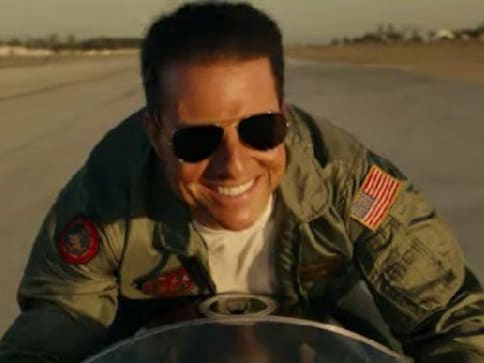 Entertainment
Brad Pitt and Tom Cruise to Ryan Gosling and Chris Evans, action stars bank on self-deprecating wit for an edge.
Entertainment
Police had increased the security of Salman Khan after he allegedly received a death threat from Lawrence Bishnoi and the Goldie Brar gang.
India
In yet another case of migrant labourer killings, a man from Bihar was gunned down by unidentified gunmen in Jammu and Kashmir's Bandipora district on the intervening night of 11-12 August, police said.