Mission: Impossible 6 — Tom Cruise reportedly injured in London while performing stunt
Tom Cruise has reportedly been injured on the sets of Mission: Impossible 6 while performing his own stunt as he jumped from a building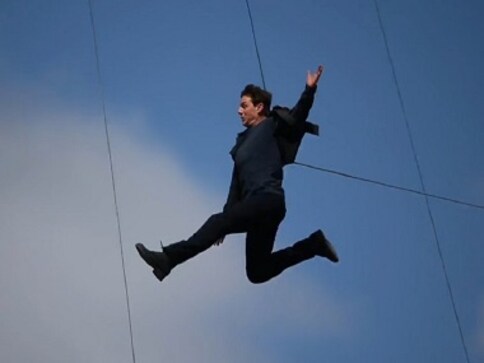 Tom Cruise has reportedly suffered an injury while filming for his upcoming movie Mission: Impossible 6, the sixth installment in the Mission Impossible series.
A video has surfaced from the movie's set during the shooting schedule in London, in which Tom Cruise is performing a stunt in which he jumps from one building onto an adjacent one. However, Cruise is seen missing his mark and banging into the building instead, and after pulling himself up, landing safely and getting back on to his feet — we see an injured cruise limping away.
Cruise was able to move just enough to get himself back to the original building from which he jumped, after which we see crew members rushing to aid him as he tries to walk. No official statements have been made reporting an injury however.
Cruise, 55, has a long drawn history of performing his own stunts, the riskier the better. One of his most famous stunts was the Mission: Impossible — Rogue Nation plane sequence, which even served as a major marketing gimmick for the film. The opening scene of this movie sees Cruise's on screen character Ethan Hunt hanging on to an Airbus 400 as it taxies it way down on a runway, with the plane eventually taking off.
Mission: Impossible 6 stars Alec Baldwin, Frederick Schmidt, Rebecca Ferguson, Henry Cavill, Angela Bassett alongside Tom Cruise and also sees director Christopher McQuarrie returning to the popular movie franchise for the sixth installment.
Mission: Impossible 6 is all set to release in theatres on 27 July, 2018.