Men In Black: International trailer — Chris Hemsworth, Tessa Thompson step up their game in F Gary Gray's spin-off
Men In Black: International is scheduled to hit theaters on 14 June, 2019
Men In Black: International's trailer sees the new duo of Chris Hemsworth and Tessa Thompson get ready to kick a** in the big bad world of aliens. Both Tessa and Chris, referred to as Agents M and H respectively, take on the franchise from the iconic roles created by Tommy Lee Jones and Will Smith in the much-loved series.
The fourth installment comes in with interesting plot details, depicted in typical MIB swagger. Audiences get a brief introduction to the world of the men in black through Tessa's entry. Emma Thompson looks better than ever in tailored black suits and a clean, sharp hairdo.
Hemsworth brings in comedy elements into the narrative as he is depicted as a hungry (sort of) slob right after his introduction as one of MIB's best agents.
The trailer offers some of the best lines to Thompson, who astutely says, "We are a rumour. Recognisable only as deja vu and dismissed just as quickly."
The film is directed by F Gary Gray, whose previously notable works include The Fate of the Furious and Straight Outta Compton. Men In Black: International is scheduled to hit theaters on 14 June, 2019.
Thompson and Hemsworth have previously worked together in Thor: Ragnarok.
Watch the trailer here.
Entertainment
In Honk For Jesus…the way the couple Lee-Curtis and Trinitie bond is excruciatingly funny. You can see they are acting, even when alone. Writer-director Adamma Ebo is unsparing in her indictment of organized religion.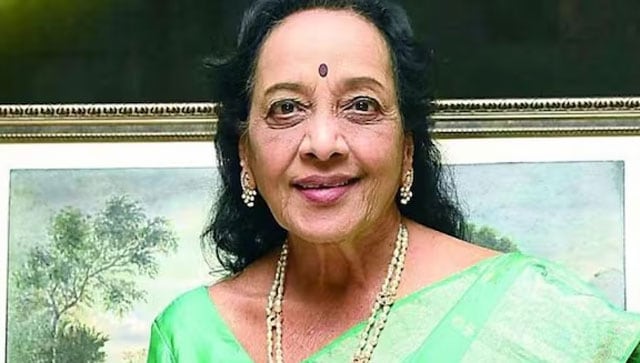 Entertainment
She had won the Filmfare award for Hindi Film 'Milan'. Some of her iconic films include 'Missamma', 'Gundamma Katha' and 'Sri Krishna Tulabharam'.
Entertainment
Aftersun's final act shows Calum and Sophie dancing to Queen and David Bowie's Under Pressure. Feelings are felt. Emotions are stirred. A tear or two rolls down. Perhaps, in the afterlife, Calum is happy that Sophie is trying to process her trauma instead of passing it on to her child.