Manto: Nandita Das' brilliantly crafted biopic isn't inclusive enough of those unaware of the writer
With Manto, Nandita Das may alienate those who are not well-versed with the writer's stories but that doesn't make the film any less brilliant
Last year, Nandita Das' short film on Manto, In Defence of Freedom, was released online. It was touted as a precursor to Manto, a feature film that releases this week. Nawazuddin Siddiqui's powerful, flawless portrayal of the controversial writer, and Nandita's tight writing and direction set the tone for what looked like an immersive, layered account of Saadat Hasan Manto.
Also read: Making of Manto: Behind the scenes of the Saadat Hasan biopic
Throughout Manto, Nandita comes across as clearly smitten by the life of the misunderstood Urdu writer. But she does not let her awe translate into forced empathy towards Manto, unlike say a Sanju where Rajkumar Hirani whitewashed Sanjay Dutt's life to a large extent. On the contrary, Nandita strikes a balance between Saadat Hasan (the human being) and Manto (the writer). She blurs the line between fact and fiction to convey exactly what the writer preached and practised throughout his short yet celebrated career – he only holds up a mirror to society and it is for society to decide if it wants to acknowledge its reflection or shatter the mirror into pieces.
Reality and imagination are diffused through skilfully weaving the narrative of Manto's life with that of his famous short stories. 'Dus Rupay Ka Note', 'Sau Watt Ka Bulb', 'Khol Do', 'Thanda Gosht' and 'Toba Tek Singh' make their way into the film that encapsulates four years of Manto's life – two before Independence and two after it. Besides the ensuing riots, prostitution also makes its presence felt in Manto's stories as the overarching theme. While the riots bring forth the dark, unforgiving times of two countries superficially revelling in their 'freedom', the plight of women employed in the flesh sale brings a poignant feeling to the worlds he transports us into.
Also read: Revisiting Manto and his 'home' Bombay, in words and pictures
These contrasting elements of soft-harsh and reality-imagination are what Nandita plays with throughout the film. It is clearly her tribute to Manto. The fact that at some point in her life, she has also been in the same creative and philosophical space of her subject's life is evident in the sensitivity with which she treats his character. But she also ensures that his demons are portrayed as well. Manto is an alcoholic with an ego of the size of undivided Punjab. Soon, his creativity wanes, his moral compass fluctuates and his idea of freedom is splintered. Torn between Mumbai and Lahore, he feels like a bird whose wings have been mutilated.
But in her attempt to produce impeccable literature just like Manto, Nandita compromises on accessibility. The majority of the dialogue being in chaste Urdu is not as much an issue (courtesy English subtitles) as the lack of background to Manto's life. The narrative is simply a page out of Manto's life book, with selective references to his past or relevance to the realm of literature. An audience member who has not researched extensively Manto's work or has little idea about his real life would run the risk of alienating themselves, as Nandita invests no time in explaining her subject. This is exactly where her genius does not translate into Rajkumar Hirani's mass appeal, just like how Manto could not attain the same popularity that Munshi Premchand enjoyed.
Nawazuddin Siddiqui is custom-made to play Manto. From not bowing down to conventions to facing the frustration of withdrawing his memoir, Nawazuddin proves he has striking similarities to Manto's life. He uses his theatre background and the assistance of a like-minded director to amplify his earnest performance. He rises above his larger than life anti-hero image to play a character that is again not very likeable but is too humane to be dubbed as a hero.
In many of the film's best moments, he shares screen space with the scene-stealing Rasika Dugal. It is a breakthrough performance for the actress who has so far only revealed the tip of the mammoth iceberg that her talent is. With the help of costume designer Sheetal Sharma, she transforms herself into Manto's wife Safia, who is his only lasting support system despite her repeated concerns about his reckless ways. She brings to her character a pristine empathy that never stoops lower to sympathy because of her fortitude.
Both Nandita and casting director Honey Trehan must be credited for rounding up an impressive ensemble, particularly in a biopic, a genre often reduced to one person's journey. Out of the diverse lot, Rishi Kapoor is funny, Javed Akhtar cute while having a ball in his acting debut, Tioltama Shome and Paresh Rawal intense, Tahir Raj Bhasin superb, Divya Dutta and Ranvir Shorey fiery, Gurudas Maan effective, Rajshri Deshpande (as Ismat Chugtai) commendable, Ila Arun (as Jaddan Bai) pleasing, and Shashank Arora wasted (in more ways than one). Special compliments to the find who plays Ashok Kumar. He gets the veteran star's mannerisms and style of speaking just right, without resorting to the crutch of mimicry.
Cinematically, Nandita leaves no stone unturned. The production design by Rita Ghosh is detailed and flawless, though the digital effects employed to recreate the old Bombay do feel synthetic in a few frames. Kartik Vijay's cinematography and A Sreekar Prasad's editing work in tandem to merge Manto's life with his stories. It is interesting to note that every great story follows a tragedy in Manto's life that leaves some impact on him, whether it is the migration to Lahore, the death of his first child or the assassination of Mahatma Gandhi. Sneha Khanwalkar's ruminative music also serves as a window to Manto's mind, which harboured unmatched honesty that gleamed even amid all the vitriol.
Nandita retains this honesty, and even celebrates it. She also spells out the consequences brutally. Her latest piece of work may not be for the masses, but that in no way robs her film of any merit.
(This is a first impression piece. Read Anna MM Vetticad's full review of the film here.)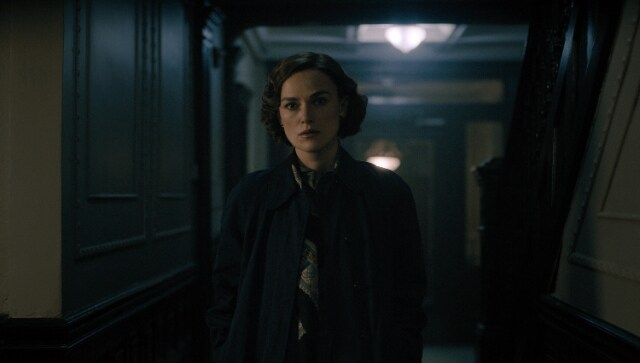 Entertainment
Matt Ruskin's film dials down on fetishizing murderous men to tell the story of women who might just see them for who they really are.
Entertainment
In conversation with Nandita Das on Zwigato and why she was compelled to tell the story of working people who are a very important part of our life.
Entertainment
Rajkummar Rao's Bheed is more than just a film portraying the chaos of the COVID 19 lockdown.